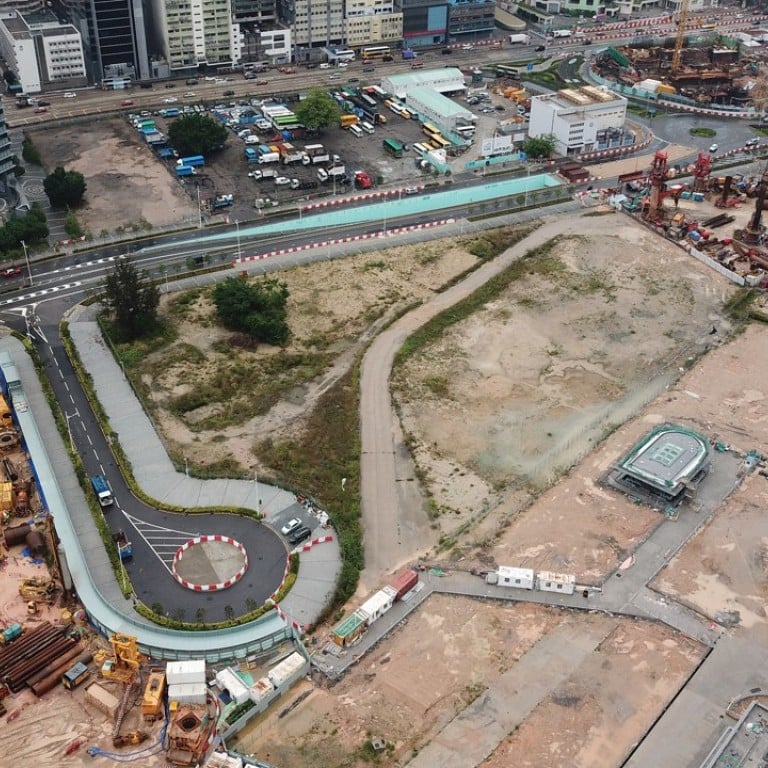 Update

|
US$3.25 billion Hong Kong land plot sale fails to spark expected level of interest
The land on the site of the former Kai Tak airport had been expected to smash the city's price record, but drew only five bids
The government tender for what could become the most expensive plot of residential land in Hong Kong's history has received weaker-than-expected interest from developers, as soaring land prices have forced some players to the sidelines.
Five bids had been submitted for the parcel on the site of Hong Kong's former airport, known as Kai Tak Area IF, Site 1, next to Kai Tak MTR station, when the tender closed at noon on Friday, according to the The Lands Department.
"The number of bids are lower than my expectation. It may be due to the involvement of large investment sum of this site. Without taking into consideration construction cost, the site itself is already worth more than HK$20 billion," said Thomas Lam, senior director at Knight Frank.
His earlier projection was for more than 10 developers to participate in the tender.
"Developers are getting cautious," he said.
Hong Kong land prices have surged to very high levels, plus the government is leaning towards imposing a vacancy tax, which will add to the uncertainties, said Lam.
"The plot definitely will smash all previous records set by residential sites sold by government tender," said Vincent Cheung Kiu-cho, a deputy managing director for Asia valuation and advisory services at Colliers International.
He expects the site to yield a total gross floor area of 1.42 million square feet worth HK$25.5 billion (US$3.25 billion), or HK$18,000 per square foot, the most bullish forecast among market expectations in the range HK$18.1 billion to HK$25.5 billion.
The value of the land in Kai Tak has the
potential to break the record set by a waterfront housing site
off Hing Wah Street West, in Cheung Sha Wan, last November. That parcel sold for HK$17.28 billion to a joint venture between Sino Land, Shimoa Property, Wheelock Properties, K Wah International and SEA Holdings.
Victor Lai Kin-fai, a managing director at Centaline Surveyors, expects developers to form consortiums to bid for the Kai Tak plot, given the sheer size of the investment.
"That would diversify the investment risk should any unexpected circumstances occur in the future," he said.
Among the consortiums that had submitted bids by the Friday deadline were one formed by Sino Land, Kerry Properties, K Wah International and Lifestyle International Holdings, another comprising CK Asset Holdings and an unnamed party.
Henderson Land Development and Sun Hung Kai Properties is believed to have submitted lone bid separately. 
Cheung said the parcel is situated between two commercial sites previously won by Nan Fung Development and Lifestyle International, close to Kai Tak Station.
In May last year, Nan Fung paid HK$24.6 billion, or HK$12,000 per sq ft, for the office-retail-hotel site, while Sogo's operator, Lifestyle International, won a plot which houses the city's first iconic twin office towers for HK$7.39 billion, or HK$6,733 per sq ft in November 2016.
Cheung believes the winning developer will require a total investment of HK$38 billion. He expects units to be offered for sale at HK$30,000 per sq ft in the future.
"It is the first residential site in Kai Tak to go on sale after HNA sold three plots in the area," said Lam.
In March HNA Group, one of the mainland's biggest global asset buyers since 2012, sold a plot it had bought in January 2017 for HK$5.53 billion to Wheelock & Co for HK$6.36 billion, or HK$15,000 per sq ft. HNA made a profit of HK$830 million from the 425,360 sq ft site. 
The group also sold two pieces of land, with a combined gross floor area of 1.06 million sq ft, to Henderson Land Development for HK$16 billion, or HK$15,000 per sq ft in February.
The Lands Department will for the first time announce all the bids when it awards the tender to the winning developer next week.
This article appeared in the South China Morning Post print edition as: Prime Kai Tak tender draws muted interest