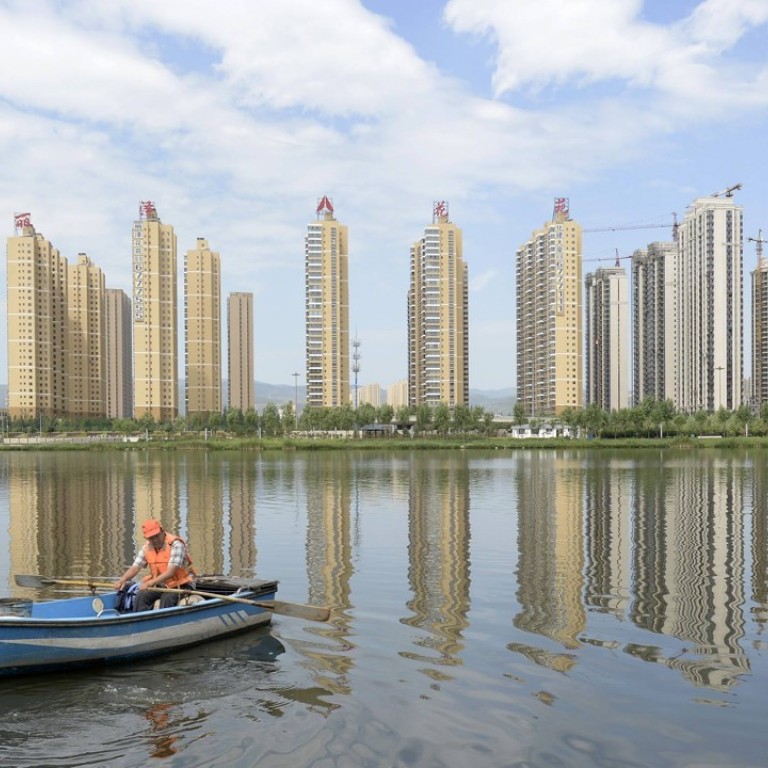 China reminds city officials of need for property price curbs in sign they may not be working
Officials from a dozen provincial cities called to the housing ministry and told to make sure measures are effective
The recent summoning of officials from a dozen smaller Chinese cities by the housing ministry for a reminder that they must take measures to cool property prices is a sign the central government is concerned its efforts to keep homes affordable may not be working.
The official Xinhua news agency reported that the Ministry of Housing and Urban-Rural Development called in officials from the second-tier cities – mostly provincial capitals including Chengdu, Taiyuan, Xian, Harbin, Kunming and Guiyang – earlier this month. The cities had registered higher home price rises than their peers.
"The ministry told the officials to bear 'political awareness' in mind and not to loosen the intensity of property market controls," Xinhua said, without elaborating.
Runaway property prices in China have alarmed authorities in recent years, because of fears of economic damage should prices crash, as well as of social unrest if large parts of the population are frozen out of the market.
Most cities have implemented measures to keep prices down, including eligibility restrictions, increases in required down payments and limits on reselling, for example no resale of a property within three years of purchase.
In the second-tier cities, the measures have also included price caps on new property, with local authorities refusing to grant developers sale permits if they deem the prices set for the homes to be too high.
On the surface all the measures have meant that new home prices did not rise too much: for example prices in Chengdu in March rose by just 0.8 per cent from a year ago, while in Taiyuan they were 7.6 per cent higher.
But an unexpected upshot has been that the selling prices of new homes have fallen below those of nearby second-hand homes, according to analysts and developers, encouraging large numbers of potential buyers to try and buy new homes in the hope of getting a bargain.
At the same time, the price caps have led to developers delaying sales, creating shortages, thus fuelling fears of further price rises. China Real Estate Information Corp said in a recent report that markets in second-tier cities have entered a "vicious cycle" where "curbs are actually driving more people to buy".
According to data provider China Index Academy, 12 second-tier cities sold 11 million square metres of new homes in April, up 23 per cent from the previous month and compared with a 10 per cent drop in sales in first-tier cities – which include Beijing and Shanghai – and a 5 per cent fall for third-tier cities.
At the same time, many developers in second-tier cities faced with caps on the prices they could charge chose to cut down building costs as much as possible, and instead demanded that buyers pay additional "decoration fees" or buy parking spaces, thus pushing up prices for property of a lower quality.
"China's price controls have gone too far in that they heavily rely on administrative curbs, instead of market-oriented supply and demand management," said Li Zhanjun, chief analyst with China Real Estate Research Association.
"The government is preoccupied with 'price', while ignoring other important issues such as the quality of homes," Li said.
In a further complication, while cities including Xian, Chengdu and Nanjing have been imposing price measures in line with central government directives, they have simultaneously been rolling out incentives to attract talented professionals to drive growth in local economies. These benefits have included easing requirements for them to acquire local residency so they can buy homes.
This article appeared in the South China Morning Post print edition as: Mainland house price curbs may not be working