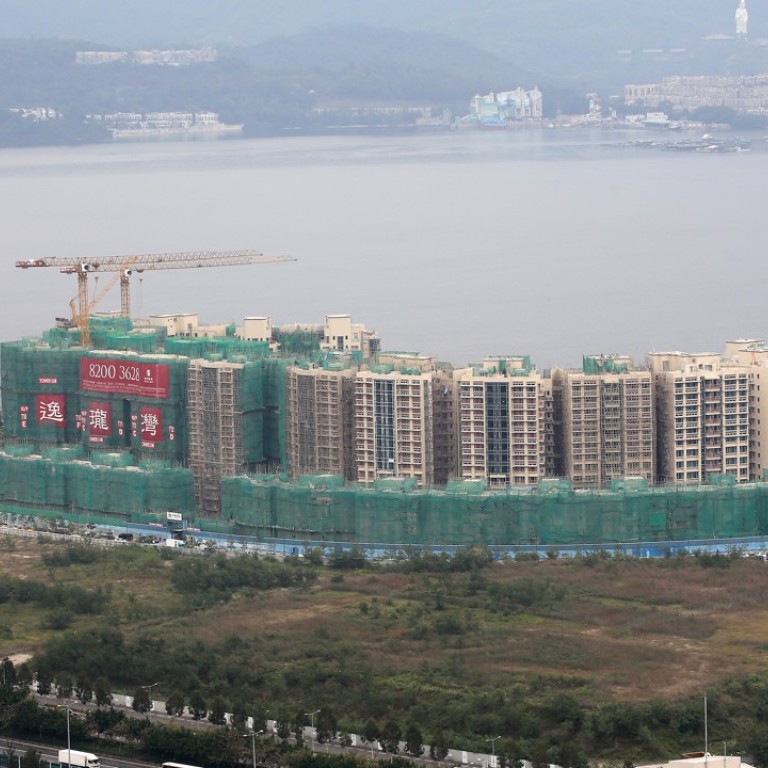 K Wah sets 24 per cent price premium at Solaria apartments amid upbeat demand for homes
K Wah International Holdings, the first developer to start selling in a massive 3,000-unit community in northeastern Hong Kong, has set a 24 per cent price premium for its Solaria apartments at Tai Po's Pak Shek Kok, confident in its belief that the higher price won't deter millennial buyers eager to get their hands on a home before the city's mortgage rates start rising.
The first 225 apartment of the 1,122-unit Solaria project will start at HK$4.62 million (US$589,000) for a 225 square-feet (21 square metres) studio, or HK$16,498 per square foot after an 18.5 per cent discount, the developer said. A larger, three-bedroom unit is listed at HK$13.92 million after discounts.
That's 24 per cent higher than the prevailing price for the six-year-old Providence Bay, and 11 per cent higher than the three-year-old Mayfair by the Sea project in the same neighbourhood, according to Centaline Property Agency's data.
K Wah and other developers were probably encouraged by strong sales recorded this past weekend, when 250 units at Lohas Park and Tuen Mun sold out within a day, said Centaline's Asia-Pacific vice-chairman Louis Chan Wing-kit.
"Solaria targets young buyers. There has never been such small flats in Pak Shek Kok," said Chan, adding that apartments priced less than HK$7 million will be the most sought after.
Property prices in Hong Kong, the world's most expensive urban centre to live in, has continued rising for 24 consecutive months, as low interest rates pushed homebuyers to park their savings in fixed assets.
The insatiable demand has driven prices higher, with the city's average home price rising 12 per cent in the first five months of 2018 to HK$14.5 million, according to Midland Realty's data.
Millennials, the generation of people who came of age at the turn of the second millennium, form the biggest group of buyers, as they are now in their late 30s, agent said.
Half of the 100 units at Wings At Sea II in Tseung Kwan O's Lohas Park, built by Sun Hung Kai Properties, were bought by millennials, said Midland's chief executive of residential division Sammy Po Siu-ming. Wings At Sea II was among the four projects that sold 250 units over the weekend.
The first batch at Solaria includes 10 studio flats, 12 one-bedroom flats, 161 two-bedroom flats and 42 three-bedroom flats.
"Our prices are reasonable. There is a double-digit discount in the prices of our first batch compared to other new developments in the New Territories. We may raise prices of other batches launched later," said Tony Wan, general manager of K. Wah International Holdings (Hong Kong Properties).
"We may raise prices of other batches launched later," said Wan.