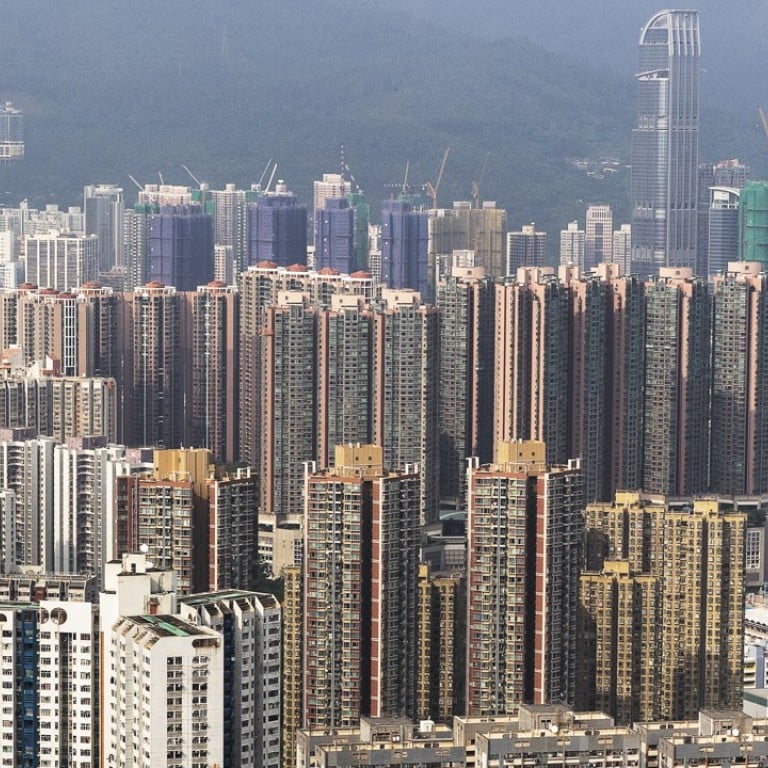 Tsing Yi's HK$3.2 million estate flat sets record as Hong Kong's housing market fever persists
With median price of homes rising for 26 straight months, buyers - especially first-time owners fresh in the workforce - are increasingly looking at lived-in and subsidised property for options
Hong Kong's first-time homebuyers, priced out of prime locations in the world's priciest residential market, are casting their eyes to the city's public housing estates in blue-collar neighbourhoods, driving up the prices of subsidised homes which were previously reserved for low-income households.
A 30-year-old studio unit measuring 150 square feet (14 square metres) at the Cheung On Estate in Tsing Yi in the New Territories has been advertised for HK$3.2 million (US$408,000), or a record HK$21,333 per sq ft, making it the most expensive apartment converted from subsidised housing.
Hong Kong's taxpayers provide housing subsidies for residents who earn less than HK$11,540 a month, or have less than HK$249,000 in assets. Public housing can be sold on the open market after owners pay a premium based on market prices, which could be up to 60 per cent of value.
With the median price of homes rising for 26 consecutive months - sales agents see 2018 prices increasing by 15 per cent - property buyers, especially first-time owners fresh in the workforce, are increasingly looking at lived-in and subsidised property for options.
The current record holder for the most expensive ex-public housing unit on the open market was reported in June. A 147 sq ft unit in the 27-year-old Fung Tak Estate in Kowloon's Wong Tai Sin, known as "a community of grass roots," was sold for HK$2.78 million, according to Ricacorp Properties' data.
"Private houses are already too expensive to buy for many individuals in the city," said Ricacorp's head of research Derek Chan. "The runaway home prices force more buyers to turn their eyes to former subsidised housing that have been converted for resale on the open market."
Sales of public housing units that each cost more than HK$3 million have risen to a record in the first half, with the number of transactions almost tripling to 160 deals, according to Midland Realty's data.
Prices have already been creeping up in Tsing Yi, an area ringed by heavy industry, dockyards and the city's shipbuilding industry.
A 150 sq ft flat in the same estate sold for HK$2.8 million, or HK$18,667 per sq ft, in June. Prices of converted units in the subsidised estate could climb by 15 per cent within two months, if the studio sells at the asking price, agents said.
"It will sell quickly," said Calvin Leung, a sales manager at Centaline Property. "Single, young buyers with limited financial help from their parents are coming to check out this kind of unit."
By comparison, the median resale price among Bukit Timah condominiums subsidised by the Singapore government's Housing and Development Board was US$432 per sq ft in May.

Affordability, particularly among new entrants in the workforce, is a vexing policy challenge for Chief Executive Carrie Lam Cheng Yuet-ngor, who has made housing a critical part of her administration.
On the eve of the first anniversary of her tenure on June 30, Lam announced a series of measures to ease the city's housing crisis, imposing a vacancy tax equivalent to two years' rental income on vacant, completed apartments to pry them loose from developers to increase supply.
Still, the increase in supply has done little to dent prices, as developers have continued to sell each successive launch at higher prices, confident in knowing that any additional unit that comes on market would be snapped up.
A week after the new measures, a 286 sq ft studio in North Point was on the market for HK$10.25 million, or HK$35,840 per sq ft. On July 6, a 179 sq ft unit at Cheung Kong Holdings' Mont Vert project in Tai Po sold for HK$3.85 million.
"Regardless of whether they're new or lived-in, HK$4 million flats are close to extinction in private residential estates in Hong Kong," said Colliers International's deputy managing director for Asia valuation and advisory services Vincent Cheung.
"Young people with limited money are eager to nail down a home as early as possible because they do not see an end to the increase in home prices."
This article appeared in the South China Morning Post print edition as: First-time homebuyers now looking at flats in public housing estates