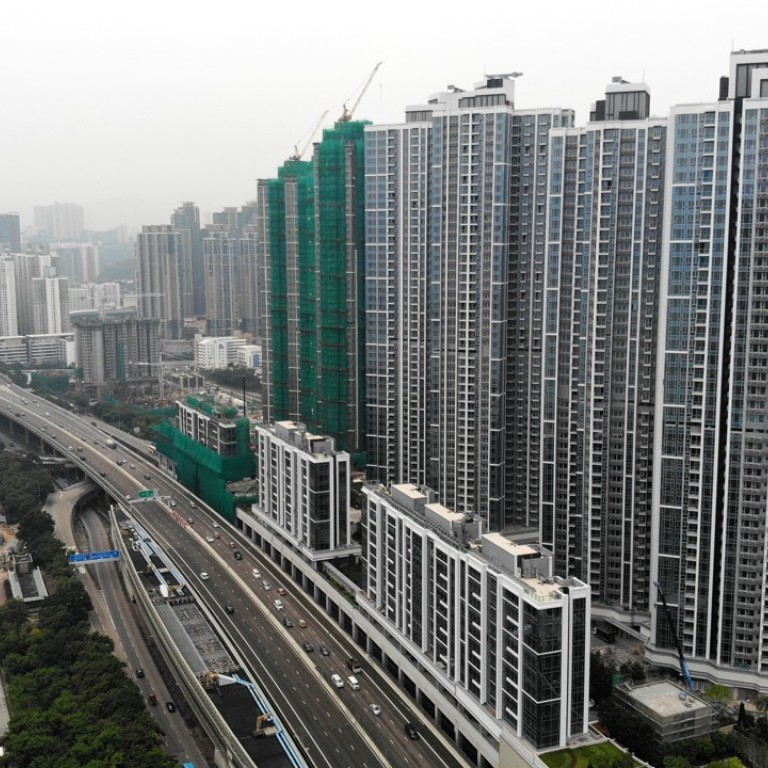 Sun Hung Kai's low-price tactic for new flats at Cullinan West II appears to pay off
Buyers snapped 350 of the 364 units on sale, with one taking six for HK$156 million
Efforts by Hong Kong's biggest developer to lure back investors to a property market showing signs of weakening by offering lower prices and mortgage incentives for a batch of new flats appear to have paid off.
Sun Hung Kai Properties (SHKP) sold about 350, or 96 per cent, of the tranche of 364 units released at its Cullinan West II project at Nam Cheong MTR station in Kowloon on Sunday, according to market sources.
The sale was the largest weekend offer of new homes since brokerage CLSA joined Citibank and UBS in predicting a sharp downturn in Hong Kong's famously unaffordable housing market. CLSA warned home prices would drop 15 per cent over the next 12 months as the market faced its worst combination of headwinds in 15 years – rising interest rates, a slowing economy and a depreciating Chinese currency.
"The good turnout means the market still has liquidity. Once developers are willing to lower their selling prices by 5 or 10 per cent, it will encourage investors and buyers to quicken their purchase decisions," said Colliers International's deputy managing director Vincent Cheung Kiu-cho.
SHKP offered the flats at an average price of HK$23,893 per square foot after discounts of up to 20 per cent, about 10 per cent lower than a previous batch that went on sale in December.
The developer was also offering first-time mortgages of up to 80 per cent of the flat's value, much higher than the standard mortgage ceiling of 60 per cent of a property valued below HK$10 million (US$1.3 million), and 50 per cent for those above HK$10 million.
The flats on offer had areas ranging from 269 to 1,500 square feet, and prices starting from HK$6.28 million. More than 4,800 prospective buyers had signed up for the 364 units, an average of 13 bids for each available new flat.
Recent strong US economic data has added to fears of an interest-rate rise next month that would weigh on home prices by making mortgages more expensive. Any increase in the Federal Reserve's benchmark rate increases pressure on Hong Kong's banks to raise the prime rate, which has not risen for 12 years.
As well as economic factors, house prices have started to feel the pressure of cooling measures unveiled last month by Hong Kong's Chief Executive, Carrie Lam Cheng Yuet-ngor, including a tax on newly built homes that remain empty.
Alfred Lau, an analyst at Bocom International, said the sales response was "satisfactory" but expected to see developers offering even bigger discounts soon.
"There are only 364 units in this batch and the pricing was not aggressive in the first place, largely in line with nearby average selling prices," he said.
"If these units had come in two weeks earlier, they would have sold at the full price. This further confirms the slowing momentum. Developers may need to offer a larger discount if they wish to push the volume."
One buyer paid HK$156 million for six units, the biggest deal on Sunday.
"This buyer bought five units for the family's use and a one-bedroom flat for leasing," said Louis Chan, Asia-Pacific vice-chairman and chief executive for residential sales at Centaline.
Another had bought three large units, from 1,200 to 1,500 square feet, for HK$120 million, according to Sammy Po, chief executive at Midland Realty's residential department.
Cheung of Colliers however does not foresee a noticeable drop in property prices, as volatility in the stock markets will help support the sector.
"It is hard for investors to make money in the stock market now," he said, "But buying properties could provide a better upside potential in the long term as Hong Kong is still struggling to increase the supply of flats. Home prices are unlikely to drop significantly."
Sunday marked the second time Sun Hung Kai has cut prices recently. At the end of July, it put 108 units at its Park Yoho Milano development in the northern Yuen Long district on the market at an average price that was 10 per cent lower than those of lived-in homes nearby.
One buyer on Sunday, who gave his surname as Tai, said he had bought two flats for HK$80 million.
"I bought because the property is in a good location and being offered at attractive prices," he said.
Another buyer, who gave his surname as Choi, said he had bought a one-bedroom flat for HK$7 million as an investment.
"I am not very concerned about the China-US trade war and the imminent increase in interest rates. I bought it because I found the price is right," he said.
This article appeared in the South China Morning Post print edition as: Bargain hunters snap up discounted flats in Kowloon