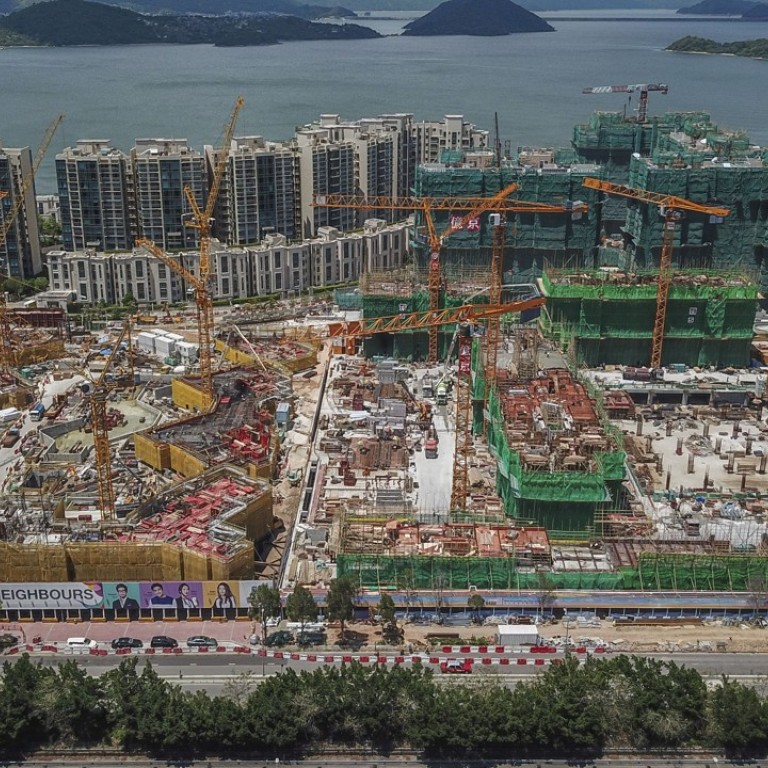 Opinion
Concrete Analysis
by Denis Ma
Concrete Analysis
by Denis Ma
Why Hong Kong buildings are bigger than they appear: it's all in the way they are measured
The lack of a standard way of measuring gross floor area leads to buildings 'growing', causing confusion for investors when valuing deals
Generally speaking, a building's size is quoted in terms of gross floor area or GFA. One of the peculiarities of Hong Kong's property market is the ability for buildings to grow in size over time.
According to Building (Planning) Regulation 23(3)(a), the GFA of a building is defined as "the area contained within the external walls of the building measured at each floor level (including any floor below the level of the ground), together with the area of each balcony in the building, which shall be calculated from the overall dimensions of the balcony (including the thickness of the sides thereof), and the thickness of the external walls of the building".
Under this definition, the GFA of a building should be relatively static if there are no alterations made.
The actual size of a building is usually limited by either conditions in the underlying land lease, building controls or planning restrictions. These can be in the form of plot ratios, site coverage or building height restrictions. In most instances, it is usually the assigned plot ratio that dictates building size. So, a 20,000 sq ft development site with an assigned plot ratio of 15 should yield a building with a GFA no greater than 300,000 square feet.
Yet the building GFA quoted in sales and marketing collateral is often significantly higher than what is permissible through initial GFA calculations utilising the plot ratio. This can be a result of bonus GFA being awarded in lieu of the provision of certain amenities or design features, but more often than not, it is a result of developers including floor areas that were exempt from initial GFA calculations.
When calculating a building's allowed plot ratio GFA, areas associated with car parking spaces, electrical and machine rooms, refuse chambers, refuge areas and similar provisions may be disregarded from calculations under Building (Planning) Regulation 23(3)(b).
The inclusion of exempted areas can inflate a building's GFA anywhere from 10 per cent to 20 per cent. For industrial buildings with ramps, GFA can be close to double. Moreover, the sum of the parts is usually greater than the whole when buildings are subdivided for strata-titled sales.
Arguments for quoting inflated GFA revolve around the real costs associated with the construction, management and leasing of exempted floor areas, and on this basis, they should be included in GFA calculations. On the one hand, it makes buildings appear larger whilst lowering the unit rate, whether it be for rental or sale.
The Hong Kong Institute of Surveyors' 'Code of Measuring Practice' emphasises that such discrepancies should be highlighted to avoid confusion when a building is being transacted, whether for sale or lease. In practice, however, the various measures of GFA are used interchangeably. In some instances, developers and market participants may use the term 'marketable GFA' to highlight the difference.
At first glance, GFA inflation may appear trivial. But it can be frustrating for investors screening investment deals as it can drastically alter unit rates, making like-for-like comparisons difficult.
This situation was prevalent in the residential sector until the introduction of the Residential Properties (First-hand Sales) Ordinance on 29 April 2013, whereby floor areas could only be quoted on 'saleable area'. Under the ordinance, the saleable area includes the floor area of a residential property along with the floor area of a balcony, a utility platform and a veranda, but excluding the area of an air-conditioning plant room, a bay window, a cockloft, a flat roof, a garden, a parking space, a roof, a stairhead, a terrace and a yard even if they formed part of the residential property.
To help avoid confusion, there have been calls for similar standards of measurement to be introduced for the city's commercial and industrial property market. In doing so, market pricing would be more transparent. According to JLL's 2018 "Global Real Estate Transparency Index" survey, Hong Kong ranked well behind market leaders such as Australia and the United Kingdom when it came to property measurement standards.
Whilst a move towards plot ratio GFAs would allow for quick and simple comparisons for en-bloc properties, it would not be possible for older buildings built before 1966, when development control was based on the volume-control method, or for strata-titled units. By adopting saleable area, similar to what has been implemented in the residential sector, an exact comparison on unit rates for development sites would not be possible until building plans were available, or without broad based assumptions.
Regardless, any changes towards a standard measurement practice is likely to lead to an increase in unit rates and to reset market expectations around prices. It would, however, greatly improve investor confidence in the market and aid with the answering of the question: which is the most expensive building transacted.
Denis Ma is the head of research at JLL in Hong Kong
This article appeared in the South China Morning Post print edition as: How can a building be bigger than it is?