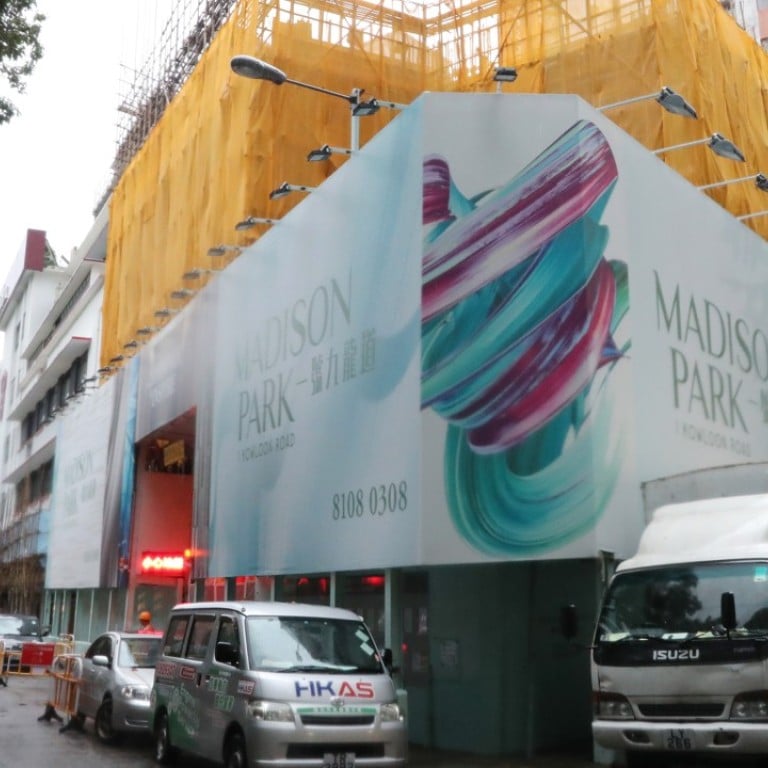 Parents join the Madison crowds, eager to help their offspring get onto the property ladder
Fifty five out of the 80 new flats at Sino Land's development in western Kowloon snapped up by 5pm on Wednesday
Potential buyers defied an amber rainstorm, flooding and thunderstorm warnings to snap up nearly 70 per cent of the flats being offered at the cheapest urban development since housing policies were rolled out in late June, before mortgage rates rise further as expected in the next month.
Fifty five out of the 80 new flats at Sino Land's Madison Park development in western Kowloon had been snapped up by 5pm on Wednesday, as some 500 potential buyers braved the grizzly weather.
"More than 90 per cent of the one-bedroom flats have been sold," said Victor Tin Sio-un, associate director of sales at Sino Land.
If all 80 flats are sold, the developer could bank as much as HK$650 million (US$82.8 million).
Agents said the project has attracted a lot of young buyers, but only with financial support from their families.
"About 70 per cent of those buyers are below 28-years-old," said Sammy Po Siu-ming, chief executive of Midland Realty's residential division. "But half of those need their parents' [financial] support."
Hong Kong Observatory issued a thunderstorm warning in the morning and amber rainstorm and flooding warnings in the afternoon on Wednesday – but neither did little to dampen buyer appetite.
Among the eager parents joining in the Madison crowd were the Moks who plan to use their savings to buy a one-bedroom flat, worth HK$6 million, for their 26-year-old daughter after she gets married.
"We will pay for everything, including the down payment and mortgage repayments," said Mrs Mok. "Young people need to depend on family support [to buy flats now]", she added, as so many just do not have the financial firepower to buy on their own.
"[If] they have a job, some can earn decent money. But saving up the necessary several million dollars is out of reach for so many young people.
"On a typical salary [for a 20-something] of around HK$10,000 a month, renting a flat itself can also amount to that. How can they ever hope to repay a mortgage?
"Really, young people are having a hard time. If parents can help, it's OK. I don't mind repaying the mortgage for her."
More than 500 registrations of interest were submitted at the site by Tuesday, or more than six buyers for every completed flat on offer.
Lung Siu-fung, an analyst at China Merchants Securities International, said he is not surprised by the number of parents rushing to buy flats for their children before Hong Kong mortgage rates are expected to rise next month.
Most on sale are below HK$20,000 per square foot on average, and this latest batch of properties to hit the market is the cheapest in an urban area since housing policies were rolled out in late June.
And there is a pretty wide range of choice across the city set to go up for grabs again this coming weekend too.
Monti, a development by Lai Sun Development and the Urban Renewal Authority in eastern Hong Kong Island, for instance, is set to sell 80 flats on Saturday.
While Sun Hung Kai Properties, the biggest developer by value in the world's least-affordable housing market, will sell 117 more flats at Cullinan West Two in western Kowloon on Sunday.