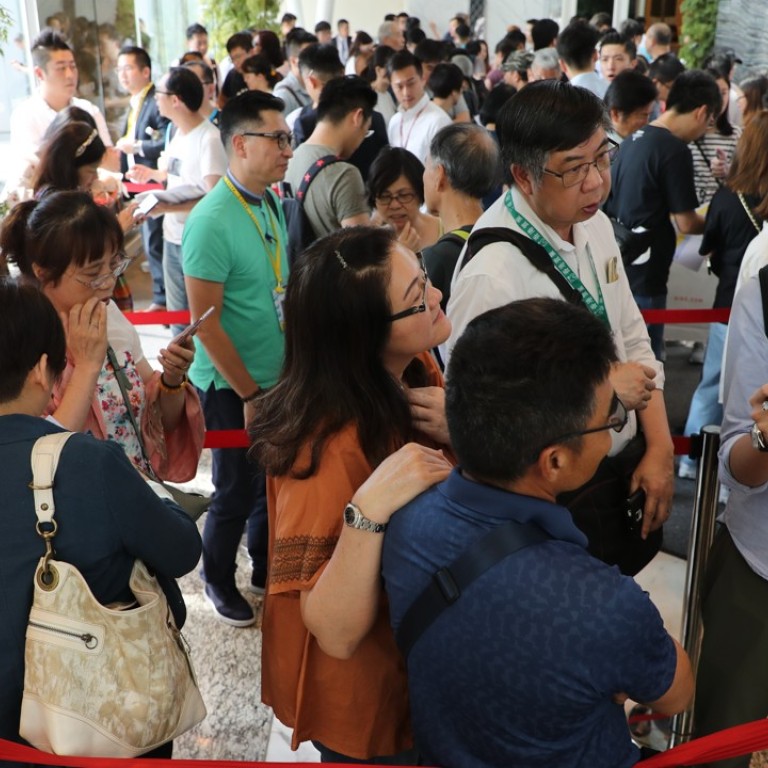 Thousands of Hongkongers snapped up new flats during the calm before Mangkhut's landfall
Enthusiasm high in hot property market despite large storm and recent downbeat investment sentiment
Thousands of Hong Kong homebuyers took advantage of Saturday's calm before a pending super typhoon to get their hands on the second batch of Nan Fung Development's LP6 flats in Tseung Kwan O, casting aside any concern of rising mortgage rates, or the city's first bear market in stocks since 2015.
The developer sold 464 apartments, or about 95 per cent of the 488 units on offer, for a total sales value of HK$4.28 billion (US$540 million) as of 9pm Saturday, while
Super Typhoon Mangkhut
was 528 kilometres away in the South China Sea on its way toward Hong Kong.
"The enthusiasm of individual buyers was not affected by the recent downbeat investment sentiment or volatile stock market," said Louis Chan, Asia-Pacific vice-chairman and chief executive of residential division at Centaline Property Agency.
As many as 5,800 buyers registered to bid for 488 flats, or about 12 buyers for every unit available, Nan Fung said.
Home ownership a life goal for most Hong Kong students, with 'Bank of Mum and Dad' expected to pay for it, survey finds
"About 85 per cent of potential buyers tried again this round after failing to buy one in the last round," said Sammy Po, chief executive of the residential division at Midland Realty, referring to the overall sales. "About half of the potential buyers were young people."
One customer, who would not be identified, bought two four-bedroom flats for a total of HK$37 million, forking out an extra HK$5.55 million for stamp duties, agents said.
A buyer, who would only reveal her surname Chow, said she was hoping to buy a one-bedroom unit of about HK$5 million for her son's use to get him on to the property ladder, even though she continues to live in a rented apartment in the same neighbourhood.
"I will pay for half of the down payment," said Chow, who added she would not worry about the current market headwinds. "You can buy a flat as long as you can afford it."
Nan Fung has picked a challenging time to launch its project. Median home price in Hong Kong, which has been rising for 28 consecutive months, is likely to decline over the next 12 months by as much as 15 per cent, due to a potent cocktail of rising mortgage rates, potential global financial crisis, and a deteriorating currency, according to forecasts by investment banks Citibank, UBS, CLSA and Nomura.
Local lenders are also expected to raise their prime rates this month, which would increase the monthly payments for borrowers whose loans are linked to the rate.
To help clear the flats on its books, Nan Fung offered discounts of up to 19.5 per cent, keeping the discounted unit prices at between HK$4.48 million and HK$18.37 million, unchanged from the first batch. The unit sizes ranged between 307 square feet to 1,086 sq ft, for an average price of HK$15,541 per square foot.
Hong Kong's home prices appeared to have broken their upwards spiral. For the first six months after Chief Executive
Carrie Lam Cheng Yuet-ngor
took office in July 2017, developers kept raising prices, even in between batches of the same project.
Sun Hung Kai Properties, the biggest developer by value in the world's least affordable housing market, last week raised the price of a 1,608 sq ft flat at its The Cullinan development in Kowloon by half to HK$132.6 million, from HK$88.42 million during its March 2015 launch.
The watershed moment came in June this year, when Lam announced she was going to impose a so-called vacancy tax on developers that were holding on to completed properties. Even though the proposal has yet to be enacted in law, it had the effect of pushing developers to put more units out on sale - for a discount, in Nan Fung's case - to ease the pent up demand.
It is possible that the trend of raising prices will reverse at the end of this year because home prices "are almost at the peak" and "raising prices further would be difficult" in luring as many buyers, said China Merchants Securities International analyst Lung Siu-fung.
Meanwhile, lived-in homes seem to be losing their appeal to homebuyers.
Transactions of used homes will plummet by 25.2 per cent to a 30-month low of 2,300 in September, the fourth monthly decline, as more buyers choose to wait for more launches of new projects, according to Centaline's forecast.