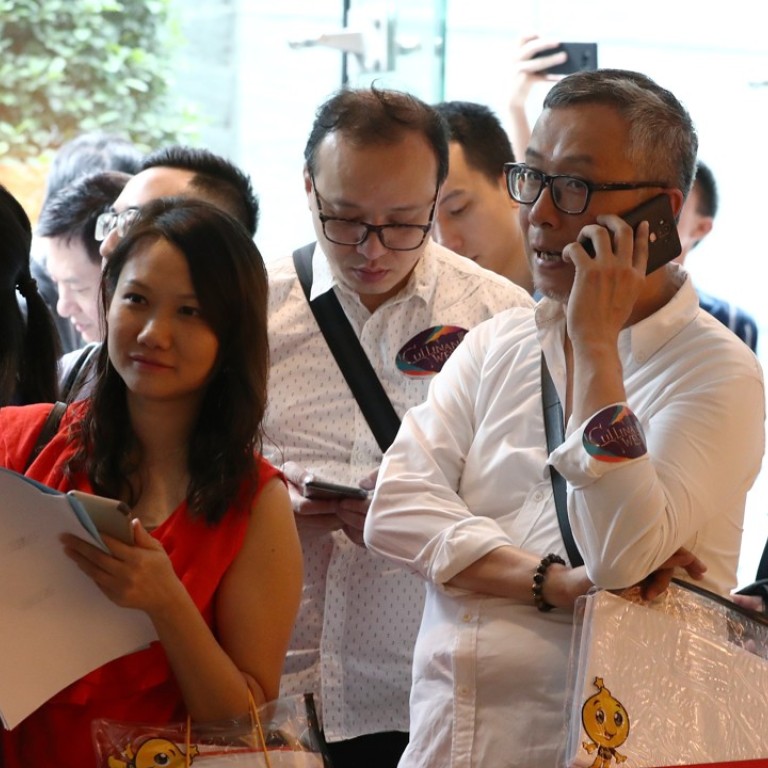 Soggy, but not discouraged, Hong Kong homebuyers overcome typhoon aftermath to snap up flats on Monday
Property sales postponed until Monday as a result of the disruption caused by Typhoon Mangkhut over the weekend received a mostly positive response, even as homebuyers struggled to cope with storm damage and transport bottlenecks.
Sun Hung Kai Properties on Monday released 33 units of its Cullinan West II development near Sham Shui Po at 2.30pm, postponing the sale by one day as the severe typhoon wrecked havoc in the city on Sunday.
Sammy Po, chief executive of Midland Realty's residential department, said one individual bought five large size units in the development for HK$190 million (US$24.22 million).
Large flats above 1,000 square feet at Cullinan West II each cost about HK$30 million, Po said.
A market source said about 30 units in the development had sold by 6pm.
Meanwhile, Nan Fung Development sold four of its LP6 units in Lohas Park on Monday, raising the total sold units to 942 flats or 97 per cent of the 975 flats put on sale in the past eight days. The developer released the price list of the third batch of 707 flats on Monday.
Separately, MTR Corp said it has received 31 expressions of interest from developers for the tender of phase two development at Ho Man Tin Station.
They included Nan Fung Development, Kerry Properties, Chinachem Group, Wheelock Properties, China Overseas Land and Investment, Longfor Group Holdings and Emperor International.
The second phase will yield a total gross floor area of 639,000 sq ft, and is expected to cost HK$11.4 billion to HK$15.4 billion, including land premium payable to the government, according to property consultants. The project, comprised of as many as 1,000 units, is due to be completed in 2024.
In a related development, the developer of the Enchantee residential tower in Mong Kok – footage of which went viral on social media when a lift shaft for transporting construction materials collapsed onto the roof of an adjacent residential block – said necessary precautions had been taken to secure the worksite in advance of the storm.
"Prior to Super Typhoon Mangkhut's arrival, the Enchantee construction site had taken the necessary typhoon measures, but Sunday's Typhoon 10 was too strong," Success Universe Group said in a statement.
"The contractor has cleaned up the lift shaft today, and the Housing Authority has already sent out personnel to inspect the surroundings."
Success Universe Group said it will commission professionals "to further review the construction site, and have contacted insurance companies to deal with the aftermath as soon as possible".
Marketing activities for the 76 flats in the development, all fewer than 200 sq ft in size, started in July, with prices ranging from HK$3.8 million to HK$5.2 million.