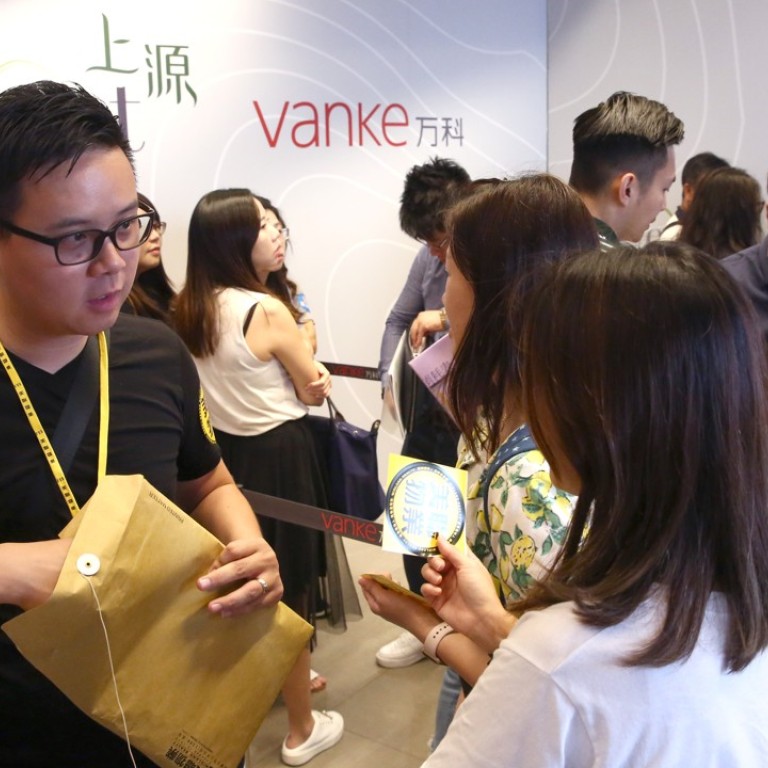 Hongkongers addicted to property as eager buyers snap up first launch after prime rate rise
Market observers expect house prices in the city to fall further after they drop for the first time in 28 months in August
Home buyers on Monday snapped up all 347 flats in a new project in Tuen Mun, ignoring the rise in prime rates, which marked the end of a 12-year low-interest rate environment in the world's most expensive property market.
The sale came after data showed that Hong Kong's home prices dropped for the first time in 28 months in August, vindicating recent forecasts by four investment banks that the surge in the city's home prices would stop soon.
All flats offered at Vanke Property (Hong Kong)'s Le Pont development in Tuen Mun, priced much lower than subsidised public housing in the area, were sold out as of 6.30pm, with the developer pulling in about HK$2.4 billion (US$306.6 million).
With units starting from HK$9,878 per square foot, the project is cheaper than flats at the nearby 30-year-old Leung King Estate, where prices range from HK$12,000 to HK$14,000 per sq ft.
"As the project is relatively cheap, it attracted a lot of young buyers, who make up about 60 per cent of the buyers," said Sammy Po, chief executive of the residential division at Midland Realty.
"If I do not buy it now, I will not be able to afford it," said one buyer in his 20s, who gave his surname as Lam. "I'm only able to buy it because it is cheap," said Lam.
The prospect of rising mortgage rates however did not seem to bother one client, who splashed out about HK$17 million for a couple of three-bedroom flats as an investment.
"At HK$35 per sq ft, the rental yield can reach 3.5 per cent," said Po.
Louis Chan, vice-chairman and chief executive of residential division for Asia-Pacific at Centaline Property Agency, said he expects home prices to drop by another three to five per cent in the next three months.
"The market has been dominated by headwinds such as the US-China trade war, rising interest rates and launch of Home Ownership Scheme flats at heavy discounts," said Chan. "Developers will also rush to launch sales in the coming three months."
He said developers have been pricing new projects 10 to 15 per cent below market expectations.
Overall property transactions in the third quarter of this year are expected to touch 20,050, down 22.2 per cent quarter on quarter, according to Centaline.
This article appeared in the South China Morning Post print edition as: young buyers in rush for tuen mun flats