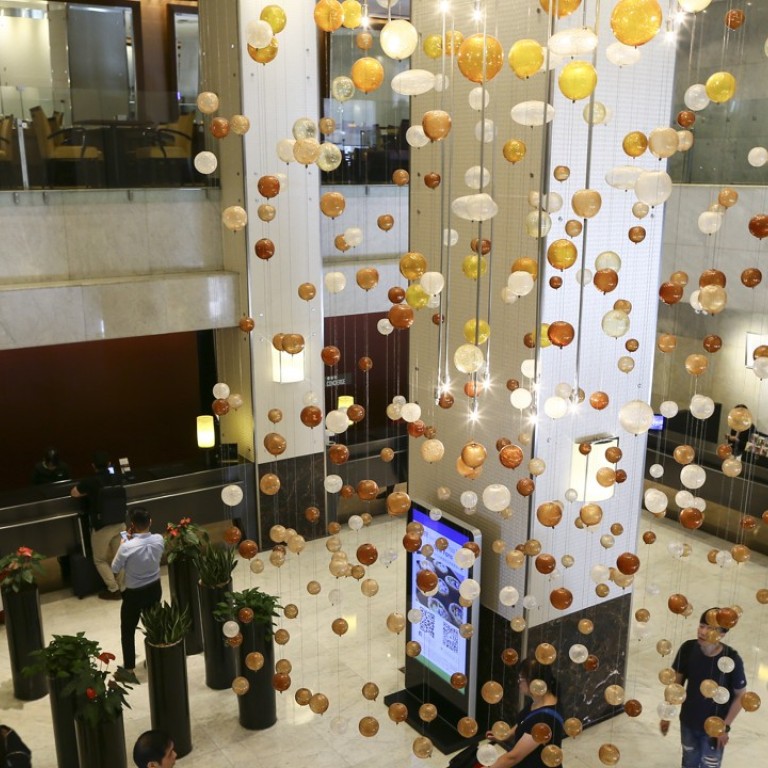 Hotel stays in Hong Kong to cost more as Excelsior's closure will tighten supply by nearly 1,000 rooms
Occupancy rates of properties in Wan Chai and Causeway Bay will immediately surge by at least 6 per cent when the Excelsior closes in March, says Colliers
Visitors to Hong Kong could end up paying more for hotels as the
closure of the iconic Excelsior Hotel
next March and rising tourist arrivals are expected to drive up occupancy and room rates in Asia's fastest growing market.
Overall hotel occupancy in Wan Chai and Causeway Bay will immediately surge by at least 6 per cent, and 2.1 per cent on Hong Kong Island, said Hannah Jeong, senior director of valuation and advisory in Asia at Colliers.
"As the 869-room Excelsior contributes 7.8 per cent of total rooms available in that district, the impact would be [really great] based on the current strong recovery of tourism market in Hong Kong," Jeong said.
Travellers could end up paying more for accommodation as competitors such as Pullman and Regal Hotel in the district adjust their room rate upwards.
JLL expects visitor numbers to rise because of the upcoming completion of the Hong Kong-Zhuhai-Macau bridge and Guangzhou-Shenzhen-Hong Kong Express Rail Link, which will boost demand for hotels.
It also expects hotel revenue growth to continue through the year, with Hong Kong recording the highest revenue growth per room among major hotel markets in Asia for this year, estimated to be more than 10 per cent.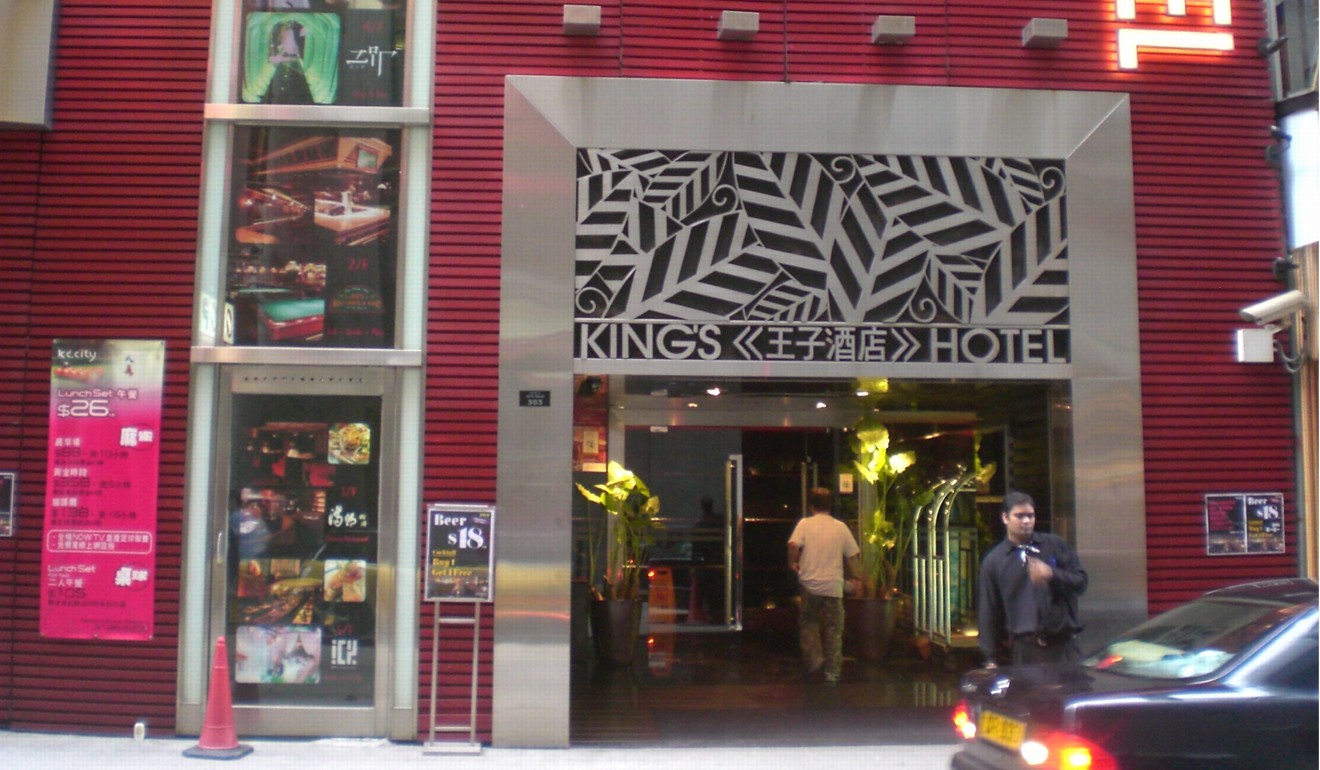 Seven other hotels in Hong Kong are currently being refurbished, redeveloped or on the drawing board for the shift, representing more than 1,000 hotel rooms, according to Colliers.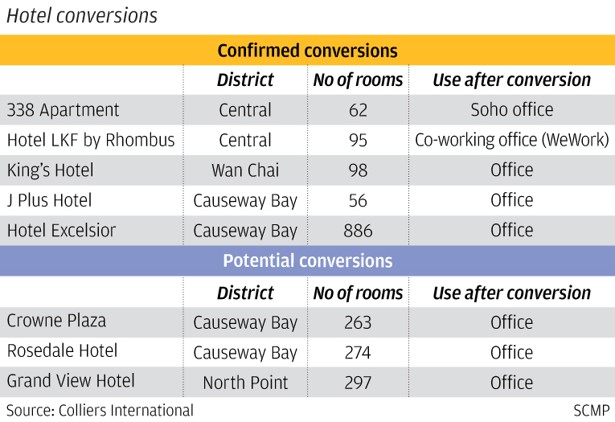 Data from the Hong Kong Tourism Board shows that the closure of the Excelsior and the potential redevelopment of the Crowne Plaza, both in Causeway Bay, alone will see about 10 per cent reduction in the number of rooms available in the Wan Chai district, which includes Causeway Bay.
The Excelsior joins 338 Apartment and Hotel LKF by Rhombus in Central, King's Hotel in Wan Chai and J Plus Hotel in Causeway Bay in converting to office use.
William Cheng Kai-man, chairman of Shun Ho Property Investments, which controls nine hotels in Hong Kong, said other hotel owners will benefit from the closure of the Excelsior.
"The closure no doubt will [divert] a lot of visitors who favour Causeway Bay to other neighbouring hotels," Cheng said.
He added the nearby 650-room Hotel Vic and Harbour Glory with 900 rooms should compensate for the loss of the Excelsior.
Edmond Wong, director of valuation and advisory services for hotels at CBRE Hong Kong, however, said the Excelsior's conversion will do more good than harm.
"The current supply of rooms in the Wan Chai district is adequate to accommodate demand from visitors so it will not impact the hotel industry in the next few years," said Wong. "However, what stands out is that the redevelopment will provide an additional gross floor area of some 683,500 sq ft to the office supply in Causeway Bay – a timely offer to the tight office market in Hong Kong."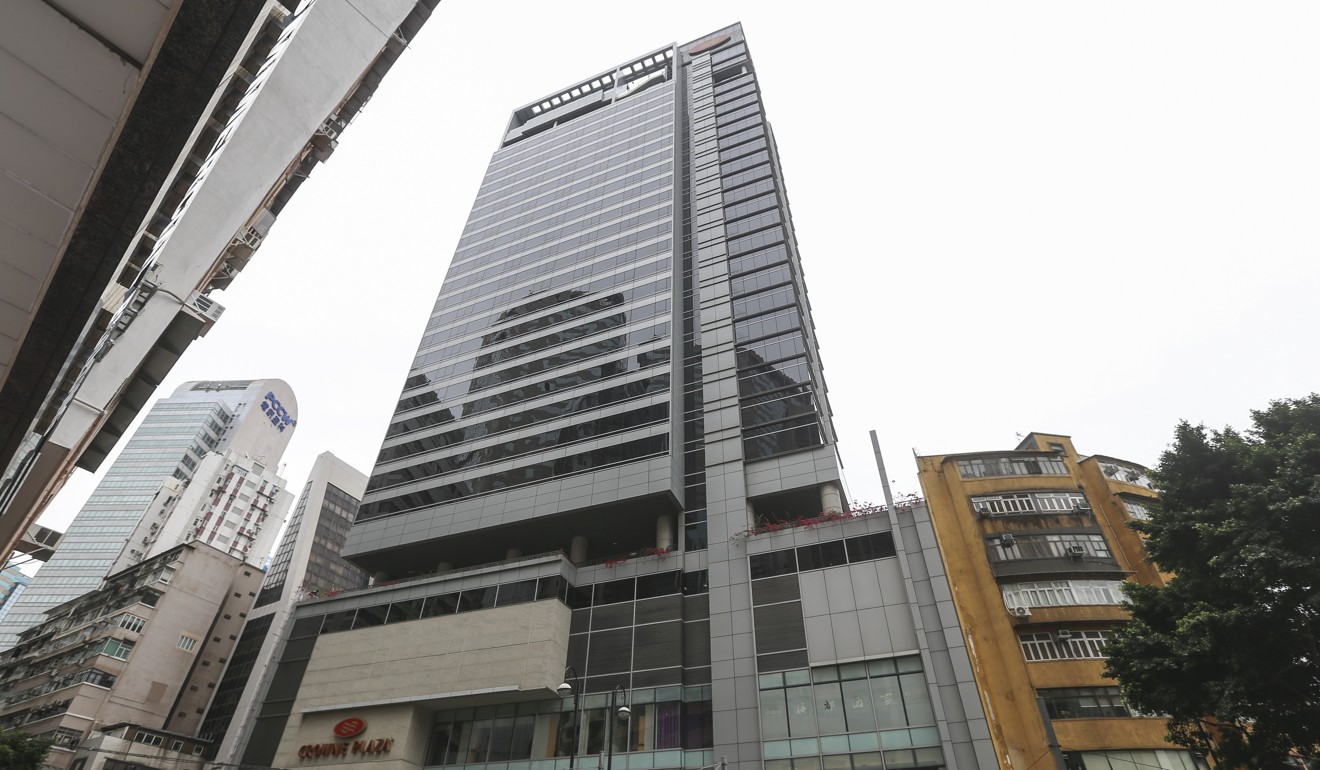 Figures from Hong Kong Tourism Board show overnight arrivals to Hong Kong grew 6.2 per cent and overall revenue per room grew 13 per cent year on year to HK$1,214 in the first half of this year.
"[Tight supply] in the market was enabling hotel operators to demand higher prices" said Corey Hamabata, senior vice-president of JLL's Hotels & Hospitality Group, who added it should help sustain growth in the market over the short and medium term.
Hong Kong currently has nearly 80,000 hotel guest rooms. The compound annual growth rate of new hotel supply in the city is expected to be 2.4 per cent between this year to 2022, below the long-term annual growth rate of 4.3 per cent during the previous 10 years from 2007 to last year.
This means a glut of new hotel openings that would have reversed the recent trend of growth in the market is unlikely.
David Marriott, senior vice-president of JLL's Hotels & Hospitality Group, said the higher rates would translate to higher profit growth for hotel owners.
"As hotels are generally a high fixed-cost business, increases in revenue typically lead to even greater increases in profit," Marriott said. "This is especially true when increases in revenue are because of average rate growth instead of occupancy."
Marriott added that growth will initially be higher in the budget to mid-scale segment than the upscale to luxury segment.
Additional reporting by Louise Moon
This article appeared in the South China Morning Post print edition as: Visitors to pay more for rooms as Excelsior shuts