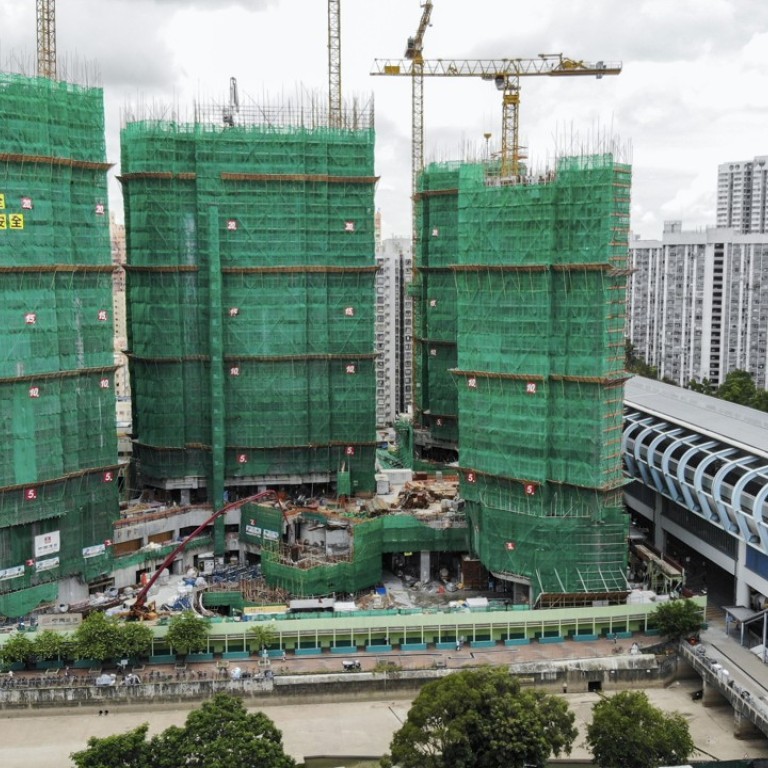 Developers to flood market with 800 new flats in Hong Kong's biggest two-day property sale in years
The release of units at three projects in the New Territories comes as developers rush to sell amid growing signs the city's property market is turning
More than 800 homes at three projects in Hong Kong's New Territories will go on sale on Thursday and Friday in a rare move that will flood the market with flats targeting first-time homebuyers.
The release of 817 units by three different builders will mark one of the biggest two-day sales of new properties the city has seen in several years. It comes as developers rush to offload their projects amid growing signs that the city's famous property bubble may be about to burst.
"It's quite rare for developers to sell flats in the same week – the last time [in the Yuen Long area] was probably seven or eight years ago," said Bernie Chan, a director at Midland Realty's Yuen Long branch.
Developers have been accelerating their sales after the city's home prices started to fall as rising mortgage rates, a moribund stock market and the impact of the US-China trade war take a toll on demand from buyers.
On Thursday, Chuang's China Investments will offer 175 out of 371 units at the Esplanade in Tuen Mun, while Billion Development and Project Management will release 138 flats at its 667-unit The Horizon in Tai Po.
In Yuen Long, Chinachem City said it would put 504 units, 70 per cent of the Sol City project close to Long Ping Station, up for sale on Friday.
This week's sales bonanza easily surpasses a major weekend sale last month in which Nan Fung Development, Sun Hung Kai Properties and Wheelock Properties between them placed just shy of 600 flats on the market. That was the biggest sale in a single weekend in six months in Hong Kong.
Hong Kong home sales have begun to slow in the past couple of weeks. Just a fifth of the 491 flats that went on sale at LP 6 in Lohas Park were sold on October 13.
To compete for buyers, Chinachem has priced its first batch of units as much as 12 per cent below older homes in the area.
The Sol City flats measuring between 322 and 749 square feet are priced from HK$4.81 million to HK$11.92 million, or HK$13,389 to HK$17,583 per square foot after discounts of up to 15 per cent.
"This might be the developer's strategy. They might have felt that the market sentiment is different from the heated market in the past and set a more attractive price to lure customers," said Chan.
In mid-October, a 416 square foot unit at Grand Yoho launched by Sun Hung Kai Properties two years ago, was sold for HK$8.81 million, or HK$21,190 per square foot. That project is by Yuen Long Station in the same district.
Located next to West Rail's Long Ping Station, Sol City had registered more than 2,600 prospective buyers by Sunday.
Among the 817 units on sale, 39 per cent of those at Esplanada and Sol City will sell for between HK$2.88 million and HK$6 million, according to registrations of interest.
The developer did not publish the price list for The Horizon, where all 138 flats will be sold through tender rather than being open for public sale.
Under existing rules, buyers of homes costing HK$4 million to HK$4.5 million can get a home loan of up to 90 per cent of the flat's value through the Hong Kong Mortgage Corporation's mortgage insurance programme. Through the same scheme, buyers will receive an 80 per cent loan-to-value ratio for flats costing HK$4.5 million to HK$6 million.
The Esplanade, a 20-minute walk away from Tuen Mun station, had registered 500 potential buyers on Sunday for 175 of its flats.
The smallest studio flat at Esplanade measures 162 square feet and is priced at HK$2.88 million or HK$17,832 per square foot. There are four other flats priced lower than HK$3 million.
Small flats have been highly sought after by younger buyers who have a limited budget.
Flats smaller than 400 square feet accounted for a third of all transactions as of the end of last month, according to Centaline Property.
Private developers have rushed to launch their mass residential projects after subsidised flats under the government's Home Ownership Scheme received a record 258,000 registered buyers for 4,431 units last week.
Wong believes demand for mass homes in the private sector has weakened as prospective buyers are lured to buy government-subsidised flats.
"Some clients have come to visit the show flats but would not make a purchase unless they failed to get a subsidised homes," he said.
This article appeared in the South China Morning Post print edition as: Big sale as three developers put 817 flats on market