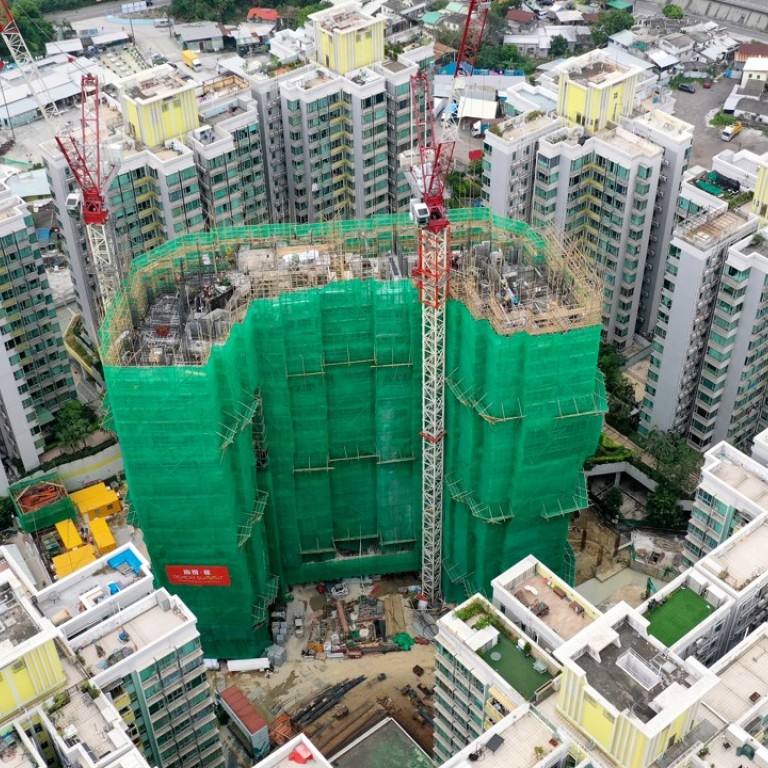 Hong Kong reports the worst sales weekend in years as private launches fail to keep up with government's discounted housing
Hong Kong's government announced a scheme on Friday that would offer flats in Cheung Sha Wan at 42 per cent of market prices starting next month
That has put the private launches in Yuen Long and Tsuen Wan at a distinct price disadvantage, as they are all aimed at the same target group of first-home buyers
Hong Kong's residential property market reported its worst sales weekend in years, as the wind was taken out of the sails of two private project launches by a government offer of discounted housing for first-home buyers.
The Reach Summit project in Yuen Long, jointly built by Henderson Land Development and New World Development, sold six flats as of 6:30pm, a mere 6 per cent of the 102 units on offer, sales agents said. In Tsuen Wan, MCC Real Estate Group sold five of the 50 units at its L'aquatique project.
"The response was lacklustre on both of the launches today," said Louis Chan, Asia-Pacific vice-chairman at Centaline Property Agency. "The discounts and incentives offered were a test of the market" on how low prices could go, he said.
Hong Kong's property market, which reported 28 consecutive months of soaring housing prices and sell-out launches until July, hadn't seen such numbers in years. The developers of one project had cut their catalogue prices by 3 per cent, but that was no match for the government's
Green Form Subsidised Home Ownership Scheme
, which would offer flats in Cheung Sha Wan at 42 per cent of market prices starting next month to get the tenants of public rental housing on to the property ladder.
According to the prices announced on Friday, Green Form units of between 184 and 452 square feet would cost between HK$932,500 and HK$3.06 million (US$390,000), prices not seen in Hong Kong in years.
That put the private projects in Yuen Long and Tsuen Wan at a clear price disadvantage, because their target buyers are precisely the intended recipients of the government's discounted housing, Centaline's Chan said.
Hong Kong's home sellers are cutting their property prices as interest rate increase looms
The prices at Reach Summit start at HK$3.27 million for a 195 sq ft unit after a 3 per cent discount.
Prevailing "prices of new homes will have to be slashed by 10 to 15 per cent for developers to unload their stock," he said.
Developers elsewhere have already trimmed prices. Lai Sun Group and Empire Group Holdings cut the prices of 12 units at Alto Residences in Tseung Kwan O by between 5 per cent and 14 per cent to increase their "competitiveness" and "attractiveness," they said.
Discounts aside, Hong Kong's housing market is also being buffeted by the deadly combination of rising mortgage rates, economic uncertainties brought by the US-China trade war, and increasing housing supply.
The prices of lived-in homes fell 1.5 per cent between July and September, ending a 28-month rally, according to data by the Rating and Valuation Department.
The New Territories have taken the biggest hit in the recent decline in home prices. Flats smaller than 430 sq ft (40 square metres) in the area, saw their prices falling by 4.9 per cent between June and September, according to the department.
Transactions have also fallen across the board, with only 417 new homes sold in the first 15 days of this month, which would bring the month-long tally to fewer than 1,000 units, on track to be one of the worst Novembers in recent years, according to Midland Realty.
Still, Henderson said it remained upbeat about its sales prospects, and would continue to raise prices in Reach Summit by between 2 per cent and 3 per cent.
.
This article appeared in the South China Morning Post print edition as: Sluggish sales weekend for private residential projects