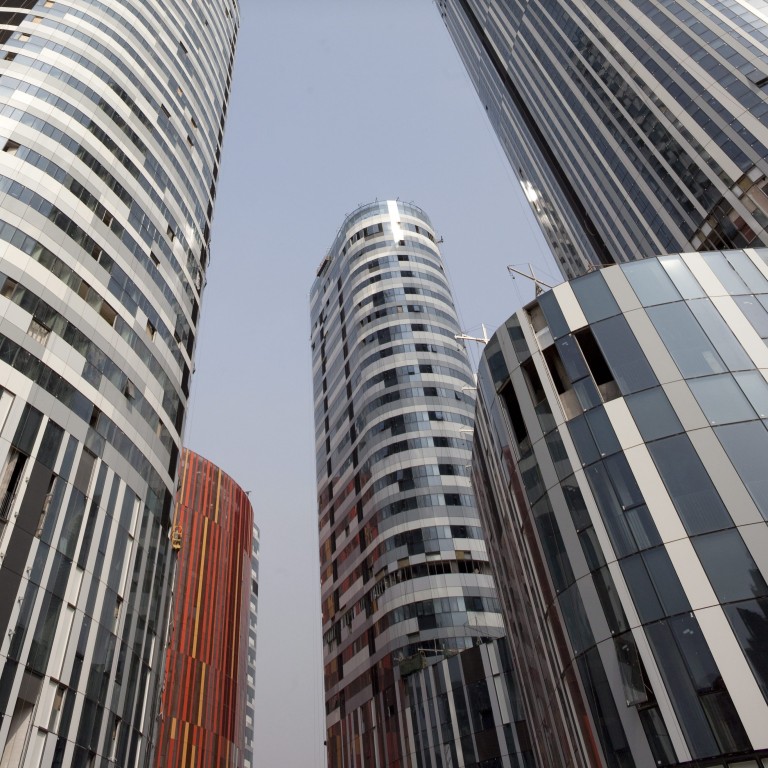 Trade war could crimp demand for China's office space by 3 million square metres as businesses downsize, CBRE says
Slowing economy, headwinds in financial and tech sectors, as well as new office supply could lead to decline in rents in 10 out of 17 cities
Hard to determine impact of trade war in 2018, but tariffs will have bigger affect this year
An area equivalent to 13 of China's tallest buildings could be hurt if the ongoing trade war between the United States and mainland China deteriorates, as businesses downsize their offices, demand to pay less rent or move to cheaper locations, according to a forecast by CBRE.
As much as 3 million square metres (32.29 million square feet) of existing office space, about 10 per cent of the office space in seven out of 17 Chinese cities CBRE covers, could be affected by the trade war, according to the real estate services firm.
The situation will be further complicated by a slowing economy, headwinds in the financial and technology sectors, as well as a glut of new office supply. These factors could weigh on rents in these cities, with 10 out of 17 possibly reporting declines in rent of as much as 4 per cent.
"We have seen sporadic cases of vacated premises [in 2018] directly caused by the trade war," said CBRE China's research head, Sam Xie. "We estimate that its effect will be more pronounced this year, especially as corporate decisions gradually make their way through the market."
He said the projection is based on an analysis of the office structure in 17 Chinese cities -how many existing tenants are directly exposed to trade war risks such as those in the trade, manufacturing and mining sectors.
"The increasing uncertainty is the biggest impact of the trade war. It is not only reflected in a few sectors but across all sectors. Corporate heads are not sure how things will turn out. Even if a deal is concluded they will ask, 'will this affect us'?" said Johnson Lin, director of commercial at Savills Beijing.
In the latest high-profile instance, 10 floors, or a total of 30,000 square metres, were vacated at Ping An Finance Centre, a 118-storey skyscraper in Shenzhen, at the end of 2018 by a secondary lessor that leases space mainly to financial companies, according to local media. Xie said it was hard to discern if the cutbacks were being caused by the US-China trade war, or not, as no further information was available.
CBRE data shows that, seasonal factors excluded, net absorption – a key gauge of an office's leasing performance minus space vacated by tenants from newly leased areas –– dwindled in the second half of 2018 across port cities, coastal cities and inland cities, but the decline in the first two groups was more pronounced. Net absorption fell 10.5 per cent from the third quarter to the fourth quarter in port cities, compared with a 9.2 per cent retreat in inland cities.
Overall, CBRE forecast, new office demand in the 17 cities it covers will decline a bit, to 5.3 million square metres this year from 5.4 million last year.
Mi Yang, acting head of research at JLL North China, also said an uncertain business outlook was making a big impact. "Amid the heightened tension late last year, a lot of our landlords and tenants asked if they should stop expanding," he said. They were worried about the prospects of the office leasing market, even when the vacancy rate was below 5 per cent, said Yang.
He, however, said even with the trade war clouding decision-making, there were a number of factors that were offsetting the negatives. For instance, the dispute had pushed Beijing to open more of its domestic financial market. Foreign securities firms, fund houses and insures have been allowed to launch directly controlled ventures in China, which will boost office demand.
This article appeared in the South China Morning Post print edition as: Trade war could affect demand for office space