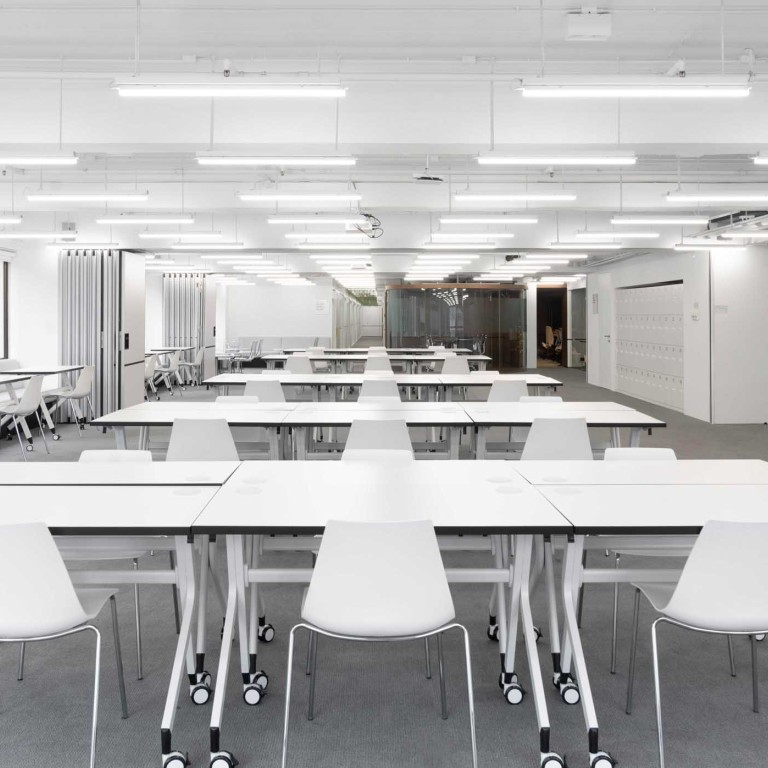 Hong Kong's theDesk to open Shanghai project as China's shared workspace providers shut up shop, scale back
Boss of shared office-space operator is confident theDesk will thrive in challenging mainland Chinese market
Dozens of co-working firms in China have gone bust while many spaces stand half-empty as economy stalls
Mainland China's shared office-space market has had a torrid time, with dozens of providers going bust last year and a vast number of co-working projects now standing half empty.
That has not stopped theDesk, an operator based in Hong Kong, from pushing ahead with plans to enter the fraught mainland market by opening a new project in Shanghai soon.
Chief executive officer Thomas Hui said he was not put off by the intensely competitive environment, which has been hit by a slowdown in the economy.
"I'm very positive about the development of the economy in China. Although there are lots of uncertainties including the trade war, I believe that China is going to open up its markets further, especially the service industry. I think theDesk is well-positioned for this," Hui said.
Forty companies in the flexible workspace sector vanished in the 10 months from January to October 2018, while about 40 per cent of co-working projects are more than half empty, according to a report by the China Real Estate Chamber of Commerce.
Many more have scaled back their expansion plans owing to a lack of fresh financing from venture capitalists. Kr Space, one of China's largest operators with about 300,000 square metres of space, had become more cautious in its expansion, and was cutting its headcount as a way to reduce operating expenses.
"The flexible workspace sector in mainland China is a challenging environment right now, the landscape is more competitive than ever and, as such, it seems a brave move for anyone to enter this market right now," said Jonathan Wright, director of flexible workspace services, Asia, Colliers International.
"However, there is always room in any market or sector for quality product and if there is a discernible difference in product and concept, the market should be receptive. Securing the right asset on the right commercial terms will be key to success."
Beijing has shaved its economic growth target from about 6.5 per cent last year to a range of 6 to 6.5 per cent this year as its economy reels from the US-China trade war, high debt and a financing squeeze on private enterprises. China's economy grew 6.6 per cent in 2018, the slowest in nearly three decades.
Presently theDesk, founded in 2016, has three locations in Hong Kong – two in Causeway Bay, and one in Sai Wan – with about 70,000 square feet of gross space. It is set to add two more spaces, in Admiralty and Sheung Wan, before the end of the year. It allots about 60 square feet for each client.
The company offers three flexible working spaces – hotdesk, dedicated desk, and private office – with rates ranging from HK$2,550 (US$325) to HK$4,300 per month.
The new facility in Shanghai will offer 22,000 square feet of space.
Hui said theDesk's no-frills design had helped it achieve a positive cash-flow after six months of operations. He did not provide figures.
Many analysts believe that co-working operators are still figuring out the best business model for them to survive.
"Co-working is adapting rapidly as [operators] respond to ever-changing consumer demands. Even big and established players are still working out the best model – desks versus small private offices, mix of both, sector specific, niche such as female-only, members versus non-members. All of this will take some time to settle," said Henry Ruiz, REA Group Asia's chief executive officer.
He said co-working solutions thrive because they reduce the risk of business failure by offering the flexibility of renting office space by the month, day, or even hour.
Wright believes the sector is poised for growth, albeit with consolidation expected to take place.
"We see a flight to quality from occupiers using this sector as part of their real estate strategy and therefore there will be growth in the more premium end of the market," he said.
This article appeared in the South China Morning Post print edition as: As co-working ventures falter, theDesk moves aggressively on Shanghai