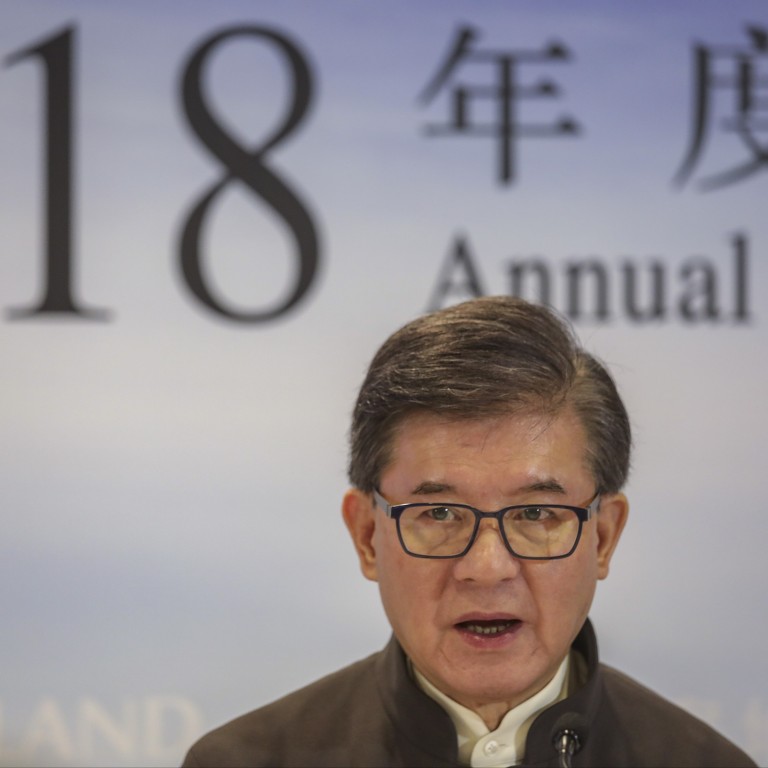 Hong Kong-listed developer Shui On reports drop in earnings for 2018 and slashes sales target for this year
Company says revenue jumped by 35 per cent to 24.84 billion yuan for the year
Chairman comes out in support of Lantau Tomorrow Vision plan
Hong Kong-listed property developer Shui On Land reported on Wednesday that its core earnings had dropped by 3 per cent to 3.06 billion yuan (US$457.09 million) for the year ending December 31, 2018.
The company, which has the second-largest commercial property portfolio in Shanghai, said its revenue had jumped by 35 per cent to 24.84 billion yuan for the year, and that it would pay a final dividend of 8.4 Hong Kong cents, an increase of 20 per cent year on year.
Vincent Lo Hong-sui, Shui On's chairman, said the company had slashed its sales target for 2019 by 16.7 per cent to 10 billion yuan after failing to meet a target of 12 billion yuan it had set last year, as well as a 4.6 per cent drop in Shanghai home prices year on year.
But he remained optimistic about the market. Lo said Shui On had cooperated with its investment partners to better utilise its branding and market position, and "to make it more influential" by increasing growth despite a strategy to have fewer capital assets.
When asked about his daughter Stephanie Lo Bo-yue, who was appointed the company's executive director in August last year and has since been given control of Shui On's shopping centre business in Shanghai, Lo said: "Her performance is very satisfactory. You know, the new mall is about young women. Even if I want to have a look, I have to ask Stephanie and [the team]."
Shui On's share price climbed 3.1 per cent to close at HK$2.02 on Wednesday before the results announcement.
Lo also used the occasion to come out in support of the Lantau Tomorrow Vision revealed by Chief Executive Carrie Lam Cheng Yuet-ngor in a Policy Address in October last year. He said: "Without land, how can you solve the land supply problem? We are always having a headache about it. You see those nano flats. How can one live in those?"
He added: "Hong Kong's home prices are too high … prices of all assets are at historical highs. We do not have a plan [for investing in Hong Kong] now."
The Lantau Tomorrow Vision plan calls for the creation of 1,000 hectares of man-made islands to the west of Hong Kong Island, at the cost of HK$624 billion (US$80 billion).
Lui Che-woo, chairman of Hong Kong property developer K Wah International and the city's sixth richest man with a wealth of US$14.8 billion according to Forbes, said on Wednesday he too supported the plan.
He said: "Hong Kong lacks land. I personally support reclamation. Some worry about the high cost, but this is a long-term [project] of more than 10 years and it can be paid gradually. The 'Greater Bay Area' plan needs a lot of land and office, but Hong Kong has little prime office [space].
"We need to support the government to find land from brownfield sites, farmlands and reclaimed land. Then home prices will not rise too much and will be stable."