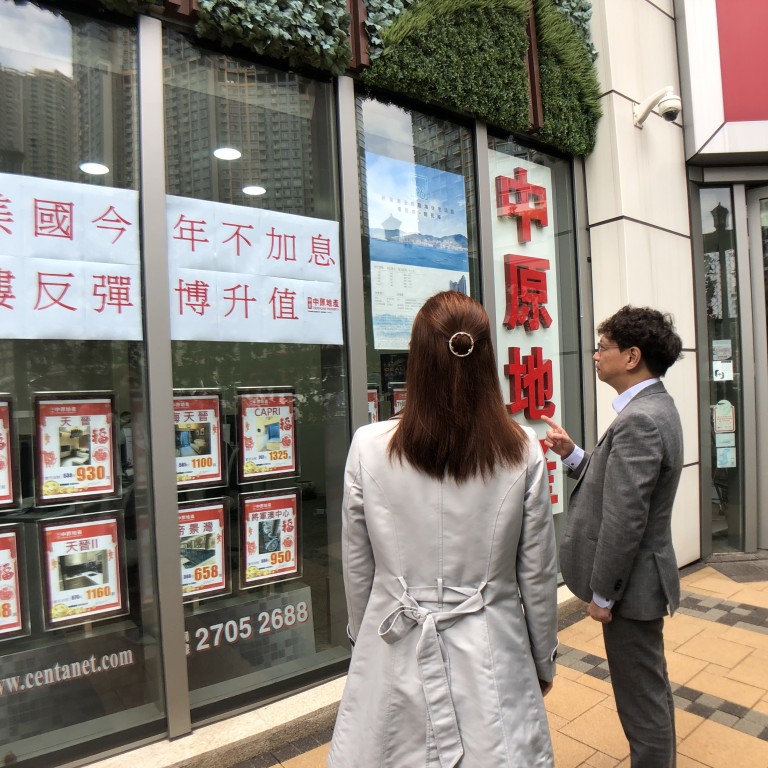 Hong Kong's chief executive chimes in with concerns over housing affordability as dovish interest rates rekindle prices
Shortages of housing and land are 'undeniable facts' that everybody can see, says chief executive
Home prices will rebound to historic high by as early as May, says Centaline Property Agency
Hong Kong's head of government has chimed in with a growing chorus of concerns about the city's housing affordability, as dovish monetary policy has rekindled a cooling property market.
"It does worry [me] because housing prices have already become very unaffordable, and they will become even more unaffordable if the reverse that we have seen since January this year is going to continue in the foreseeable future," said the city's Chief Executive Carrie Lam Cheng Yuet-ngor on the sidelines of the Bloomberg Invest Asia 2019 conference in Hong Kong on Thursday.
Lam, who increased land supply for public housing and delinked the pricing of subsidised housing for sale and private residences, said a failure to effectively handle Hong Kong's housing problem would undermine her achievements as the city's leader.
In a reference to the Lantau Tomorrow Vision plan – revealed by Lam in a Policy Address in October and concerning the creation of islands spanning 1,000 hectares near Lantau Island – she said the current situation could add to society's "sense of urgency and crisis" when it came to reclaiming more land from the sea.
"The shortages of housing … [and] land are already undeniable facts that everybody can see," she said.
Home prices in the city dropped by 9.2 per cent between a peak in July, when a 28-month rally ended, and December last year, according to Hong Kong's Rating and Valuation Department. They edged up 0.08 per cent in January.
Prices rose by another 2.1 per cent between February and March 10, according to the Centa-City Leading Index, which is compiled by Hong Kong-based Centaline Property Agency. Investment banks Nomura and CLSA expect home prices to rise by 15 per cent his year, although a forecast by DBS sees prices dropping 10 per cent.
What gave developers hope was the dovish policy signal sent out by the US Federal Reserve and the Hong Kong Monetary Authority on the outlook for interest rates.
An offer of 246 flats by Henderson Land Development in Hung Hom, priced at between HK$3.83 million and HK$8.57 million, sold out on March 9, attracting nine potential buyers for every available unit.
The flats were priced higher than a comparable project in the same neighbourhood.
Even the average price of pre-owned subsidised housing has risen, advancing 4.8 per cent in February, according to Ricacorp Properties. A 592 sq ft unit at Kornhill Garden in Quarry Bay sold for HK$9.6 million last month, Ricacorp said.
In another sign of developers' confidence, more than 900 flats would go on sale this weekend, with average prices of some of them 8.5 per cent higher than in August last year, agents said.
Louis Chan Wing-kit, vice-chairman of Asia-Pacific and chief executive of the residential division at the property agency, said: "We originally expected the prices of used homes will return to last year's high [by the end of] this year.
"We now expect they could reach last August's historical high by May."
According to Centaline, this means local banks such as HSBC will keep their mortgage rates stable and homeowners will raise their asking prices, after a surge in the number of transactions following the Lunar New Year holiday.
"More than 1,400 new homes have been sold in March so far, three times compared with February. Numerous used private housing estates have also reported a record number of transactions," said Chan.
Meanwhile, homebuyers are also speeding up their decision-making process. A two-bedroom, 309 sq ft apartment in Tuen Mun's Goodview Garden sold for HK$4.36 million (US$555,573), or HK$14,110 per square foot, on Thursday. Its price per square foot is 13.3 per cent higher than the HK$12,456 fetched by a 342 sq ft apartment in the same estate in late January.
Developers' hoard of empty flats aggravates Hong Kong's housing crisis. Will a tax fix it?
Choy Wai-kit, deputy regional sales manager at Centaline, said: "Buyers have been very enthusiastic about entering the market. The slowing pace of interest rate rises in the US will benefit Hong Kong's housing market.
"The buyer was a first-time owner who made his decision very quickly, because he was worried he would find it even more expensive later on."
The seller netted HK$1.91 million in less than six years, having bought the property for HK$2.45 million in September 2013.
The number of transactions in Hong Kong's commercial and industrial property market are also expected to rebound by up to 15 per cent starting next month, said Antonio Wu, deputy managing director at consultancy Colliers International.
This article appeared in the South China Morning Post print edition as: Lam expresses concern over housing as prices set to rise