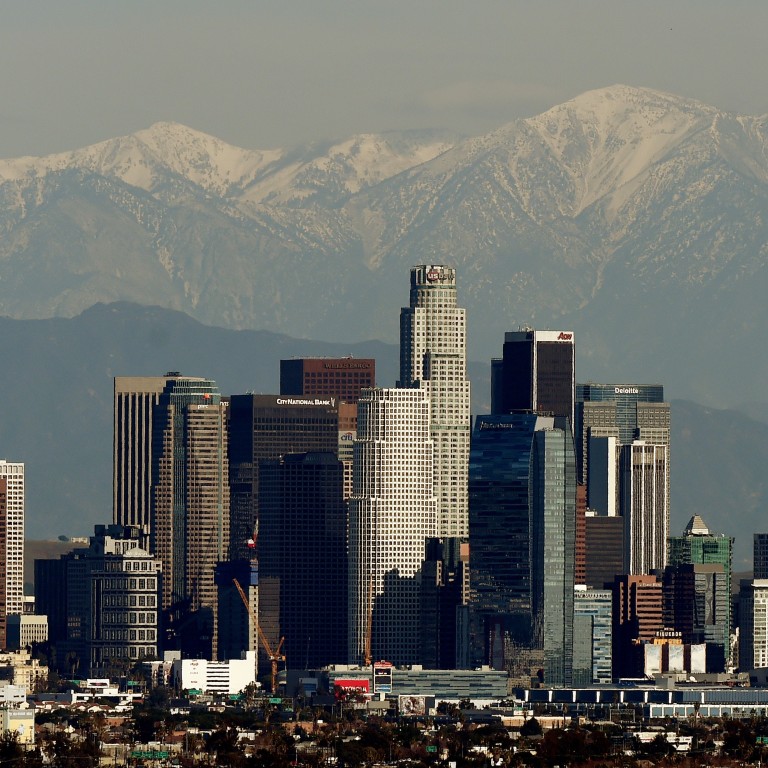 South Koreans plough into offshore property markets as mainland Chinese pare down investments
Strict capital controls and Beijing's belt and road push have led to a dramatic fall in Chinese investment in overseas real estate
The vacuum left behind has opened opportunities for other Asian countries – particularly South Korea – to increase their global real estate portfolios, say analysts
Mainland China's investments in overseas properties plunged last year amid stringent capital controls and a push by the government to get companies to put their money into belt and road infrastructure projects instead.
The vacuum left behind has opened up opportunities for other Asian countries to increase their global real estate portfolios, according to analysts. South Korea in particular has benefited.
In 2018 and the first quarter of this year South Koreans spent US$3.47 billion on overseas propery, equivalent to almost two thirds of the US$5.59 billion invested by mainlanders. A year earlier they had deployed US$2.04 billion for investments in overseas property, a mere 5.5 per cent of the US$37 billion invested by Chinese, according to data from Refinitiv.
"The Koreans and other Asian investors today are seeing less competition from the mainland Chinese companies because they are not investing in commercial real estate today [especially] in Europe because Beijing is encouraging them to invest in the 'Belt and Road Initiative' and most of these projects are related to warehousing, logistics, and industrial projects," said Terence Tang, Colliers International's managing director, capital markets and investment services, Asia.
He was referring to Chinese President Xi Jinping's flagship project to plough billions of dollars of investment into ambitious global infrastructure projects spanning dozens of countries to boost trade.
In late 2016, Beijing imposed capital curbs that restricted the yuan's outflow from China as a measure to stymie the currency's weakness against the US dollar.
Analysts said Korea's increased appetite for overseas properties reflected a quest for better returns by the country's investors after Korean monetary authorities raised borrowing rates in November.
According to the Korea Market Outlook 2019 released by property consultancy CBRE, rental growth in the office and logistics segments is likely to be 0.2 per cent and 0.6 per cent, respectively. Meanwhile, grade-A office yield was pegged at 4.7 per cent, and retail sales growth was forecast to be 2.3 per cent.
"With a sovereign wealth fund with ample capital that is looking more to invest offshore rather than at home, Korea has indeed risen as a visible player in global commercial real estate markets," said Claire Choi, CBRE Korea head of research.
CBRE estimates that South Korean investors injected US$7.3 billion into offshore real estate last year, up US$1 billion from the previous year.
The country's sovereign wealth fund, the Korea Investment Corporation (KIC), had total assets worth US$134.1 billion as of end 2017, up 21 per cent from US$110.8 billion in 2016, according to the latest annual report available on its website.
It had allocated US$7.8 billion to real estate and infrastructure, 5.8 per cent of the total and the largest allocation among alternative asset classes.
KIC had direct, indirect, and joint investments in property in North America, Europe and Asia.
Other institutional investors from South Korea have also been active in offshore property markets.
The National Pension Service, the third largest pension fund in the world, has investments in real estate in US cities such as New York, Los Angeles, and Houston.
Seoul-based investment manager IGIS Asset Management invested US$4.3 billion in offshore properties, 31 per cent of the gross value of its assets. Nearly 90 per cent of its overseas investments were office properties.
South Koreans have been increasingly buying property in non-traditional markets such as China, and Central Europe.
According to Real Capital Analytics, steelmaker POSCO, headquartered in Pohang, bought two buildings in Beijing from its subsidiary Posco China for US$887 million in November.
Meanwhile, South Korean conglomerates LG, Samsung, and Hyundai each bought development sites in Nanjing, Tianjin, and Shanghai, respectively, for an estimated combined US$48 million.
"Investors are looking for different asset classes where the assets require more work to extract value so [there has been] a shift in the profile of the investment … we've seen appetite coming out of this particularly from South Korea," said Xavier Hunter, who leads the real estate practice at law firm Linklaters.