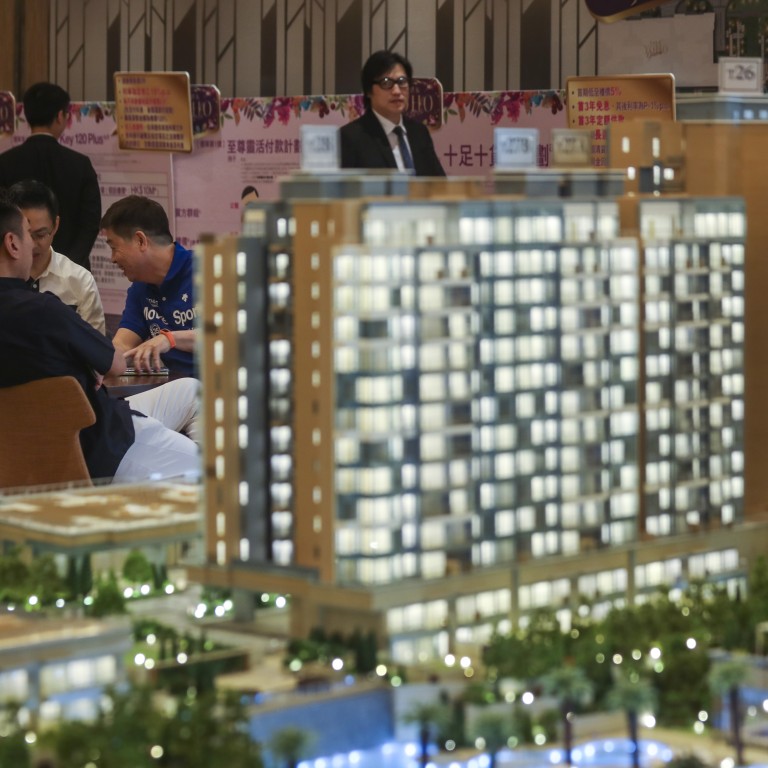 Completion of new flats in Hong Kong plummets to four-year low as looming vacancy tax spooks developers
The proposed levy on unsold flats is an attempt to curb runaway property prices by forcing developers to add more housing to the city's supply
The number of new flats built to completion in Hong Kong plunged by 88 per cent to just 1,000 in the first three months of the year, with agents attributing the decline in part to fears among developers over the impact of the government's planned vacancy tax.
It is the lowest number since the first quarter of 2015, and represents an enormous fall from 8,300 in the October to December period, according to figures released by the Transport and Housing Bureau on Friday.
"The vacancy tax may be one of the reasons for the fall in completion of new flats. Lower supply will help to boost home prices in short term," said Derek Chan, head of research at Ricacorp Properties.
He said seasonal factors such as the Lunar New Year holiday would also have affected the progress of construction.
中原地Cliff Tse, senior director of valuation advisory services at JLL, said: "There were only 1,000 private housing flats completed in the first quarter. This appears to be a general pattern to have lower supply in the first quarter every year but will catch up in the forthcoming quarters. "
Tse believe around 20,000 flats would be completed in 2019 as about 25,500 units commenced construction works in 2016.
"The new supply for this year is anticipated to be in line with that of last year."
Hong Kong's Chief Executive, Carrie Lam Cheng Yuet-ngor, proposed the vacancy tax last year in an attempt to curb runaway property prices by forcing developers to add more housing to the city's supply. Some had held on to finished units for more than a decade as they waited for the right moment to cash in.
Under the proposal, completed homes left unsold for more than six months after receiving an occupation permit are liable to a levy of 5 per cent of the property value. The tax is already being discussed by lawmakers in the Legislative Council and could come into effect as early as this year.
Hong Kong's home prices rose 1.6 per cent in the first two months of this year, after dropping by 9.2 per cent between August and December, according to government data. Prices were bolstered by stock market rallies in Hong Kong and on the mainland, as well as the dovish stance on interest rates taken by monetary authorities in the United States and in the city.
A straw poll by the Post between March 22 and 25 found that more than half of market observers believed the correction in prices was over.
中原地產亞太區副主席兼住宅部總裁陳Chan expected some developers to adjust their layout plans to build more small flats in certain projects after the government announced it intended to levy empty flats.
Developers have called for the government to exclude bigger luxury homes from the tax, arguing that buyers take longer make their decision than those purchasing smaller units.
According to government figures, 9,000 private flats that have secured an occupation permit are currently unsold.
Centaline Property Agency said that number had remained unchanged for four consecutive quarters.
"As developers accelerate sales of completed flats, the number could drop to 6,000 by the end of this year," said Wong Leung-sing, a senior associate director at Centaline.
Separately, Wheelock Properties on Friday released the price list for the first 124 units – ranging from 368 to 775 square feet – at Montara development in Lohas Park, Tsueng Kwan O, at an average price of HK$13,990 per square foot after factoring a discount as much as 21.5 per cent .
Meanwhile, government data showed construction starts on private residential developments edged up 15 per cent to 2,300 units in the three months to March from 2,000 in the previous quarter.
But the figure was down 59 per cent from 5,600 units in the same period a year ago.
The bureau projected Hong Kong's supply of new private flats would reach 93,000 over the next three to four years.
This article appeared in the South China Morning Post print edition as: Number of completed new flats falls to lowest since 2015