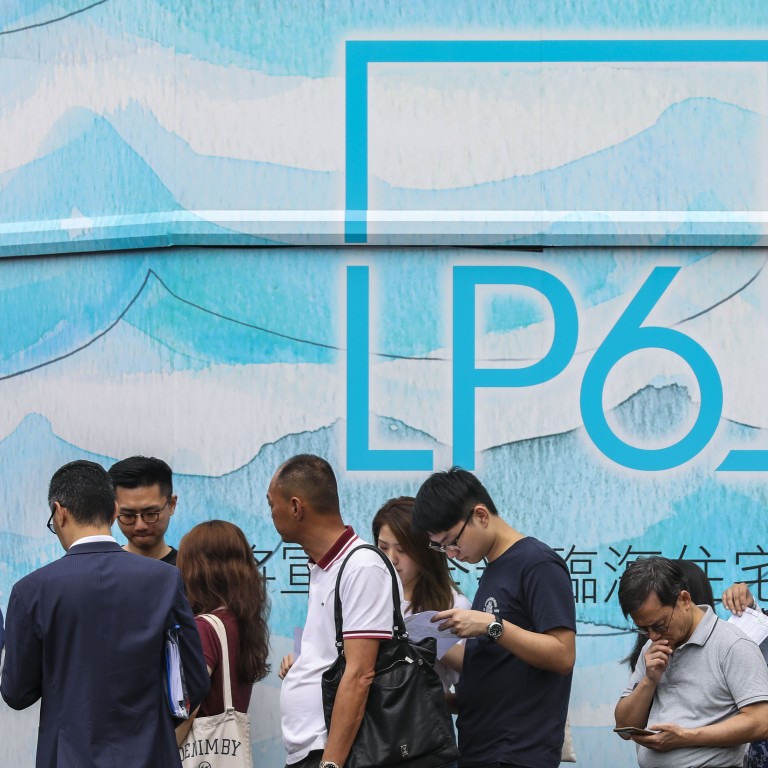 April property boom as Hong Kong transactions set for highest monthly level in six years
Total monthly transactions for property assets including homes, parking spaces, and commercial sites reached 7,850 as of April 24, the highest since November 2016
The city's used home price index could breach a fresh record by the end of April, according to one analyst
The number of property transactions in Hong Kong this month is on track for a more than 50 per cent gain from March, reflecting the highest monthly level for more than six years and an indication that bullish sentiment in the sector has returned.
Total monthly transactions for property assets including homes, parking spaces, and commercial sites reached 7,850 as of April 24, according to data released by Centaline Property Agency on Sunday.
"The number of transactions in April is expected to reach 9,700, up 50.9 per cent compared to March," said Wong Leung-sing, senior associate director of research at Centaline. "As the market continued to boom, the deal number could be the highest during any single month since 11,581 in November 2012, after the government introduced a buyers' stamp duty and a tougher special stamp duty."
The properties sold as of April 24 had a combined value of HK$68.26 billion (US$8.7 billion). Wong said the amount could reach HK$84 billion, up 59 per cent compared to March and the highest since the HK$99.37 billion in July last year.
At LP6 in Lohas Park, a project by Nan Fung Development, a total of 298 new homes were sold this month worth a combined HK$3.05 billion.
Prices of previously lived-in homes rose 1.6 per cent for the week ended April 21, reflecting the 11th consecutive week of gains, according to Centaline Property Agency's Centa-City Leading Index. The weekly rise was the biggest jump since March 18, 2018.
The index's current reading of 183.19 is less than 3 per cent below the prior peak set last August. At the current pace, prices of lived-in homes could set a record by the end of April, said Willy Liu Wai-keung, the chief executive of ­Ricacorp Properties.
Midland Realty said the total value of new homes sold in the six years between May 2013 and last Wednesday amounted to HK$1.14 trillion, up 65.8 per cent compared to the HK$686.07 billion in the previous six years. The number of transactions was also up 29.4 per cent to 98,763.
Separately, Savills said that multiple factors supported positive market sentiment in the office sector, which could drive prices and volumes over the next six to nine months.
"Investors and end users began to look for bargains, with landlords quick to increase asking prices in the face of improving economic conditions and more positive sentiment," said Peter Yuen, managing director and head of investment and sales at Savills. "As we can see, positive indicators like the 4,000-point gain in the Hang Seng Index since the turn of the year and a rebound in trading value both suggest a strong influx of capital into the territory looking for investment opportunities."