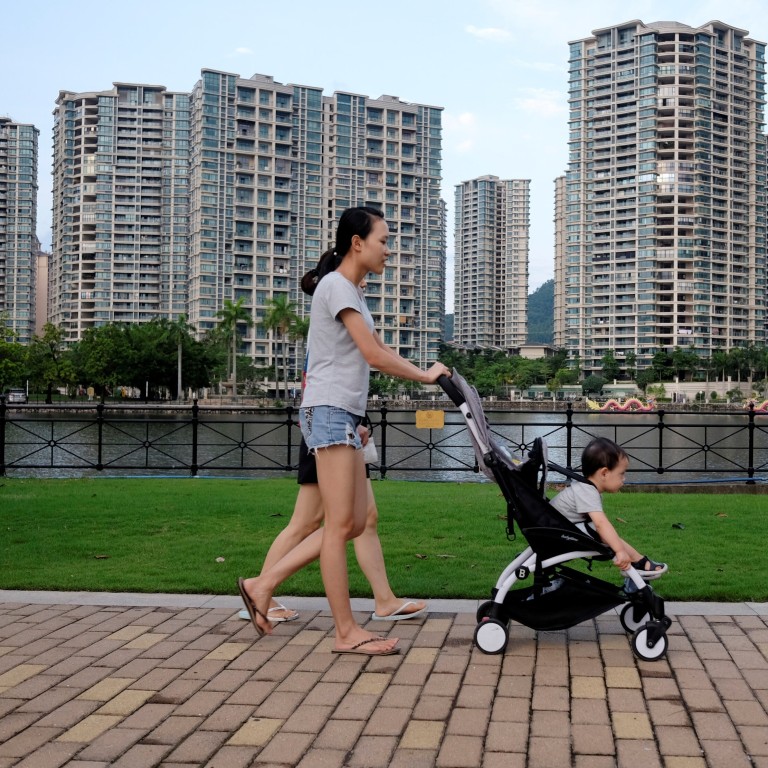 Zhuhai property lures Hongkongers betting mega bridge will boost Greater Bay Area
Hongkongers splashed out 10 billion yuan (US$1.48 billion) last year on homes in the bay area, by one estimate, 10 per cent more than a year earlier
Hongkongers splashed out an estimated 10 billion yuan (US$1.48 billion) on homes in the Greater Bay Area last year as they bet the new Hong Kong-Macau-Zhuhai bridge would boost property prices, according to industry experts.
They bought some 10,000 homes in the nine mainland Chinese cities the area covers, for an average price of a million yuan, said Andy Lee Yiu-chi, chief executive for southern China at Centaline Property Agency.
By that estimate, buyers from Hong Kong spent 10 per cent more than they did in 2017, said Lee.
Zhuhai, Foshan and Zhongshan – where homes sell for slightly more than a tenth of the average price in Hong Kong – were the favoured destinations for Hong Kong buyers.
Hong Kong's Chief Executive Carrie Lam Cheng Yuet-ngor is struggling to increase the supply of affordable homes to rein in the city's galloping property prices which have made it the most expensive place on the planet to buy a house.
She hopes the integration of the Guangdong-Hong Kong-Macau Greater Bay Area will make it easier for Hongkongers to live and work in the bay area, as well as facilitating the flow of people and goods within the area.
The 55km Hong Kong-Zhuhai-Macau Bridge, the world's longest sea crossing, opened for traffic in October.
Chinese developers are hoping to lure more Hong Kong buyers to the bay area for investment and retirement by offering homes priced as low as 530,000 yuan.
Property agents anticipate the southern Guangdong city of Zhuhai will gain popularity with Hongkongers, particularly now the bridge is open and increased investment is starting to attract white-collar migrants.
"Hong Kong people already make up 10 to 15 per cent of the buyers of our property in Zhuhai," said Chen Decai, a regional president of Logan Property, which has teamed up with Hong Kong property agent Century 21 to sell homes in Hong Kong.
A 30 minute drive from Zhuhai, in the town of Sanxiang, between 60 and 70 per cent of properties are going to buyers from Hong Kong and Macau, Chen added.
The Greater Bay Area refers to the Chinese government's scheme to link Hong Kong and Macau with nine neighbouring cities in Guangdong, including Guangzhou, Shenzhen, Zhuhai, Foshan and Zhaoqing, to form an integrated economic and business hub.
"The Zhuhai-Macau-Hong Kong bridge has made Zhuhai another important gateway to China," said Gong Weizong, the Zhuhai regional manager for Centaline. Gong believes Hong Kong buyers will increasingly flock to the Zhuhai property market.
On April 23, Logan Property offered 300 units in the Original Riverside development in Doumen district, which is 50 minutes' drive from the city centre, for sale in Hong Kong.
The cheapest one is a 441 square foot, one-bedroom flat costing 550,000 yuan, or 1,247 yuan per square foot. The most expensive, measuring 1,367 square feet, was priced at 1.75 million yuan.
Century 21 said they have sold 80 per cent of the units and Hong Kong buyers make up 10 per cent of that number.
Meanwhile, Gree Real Estate, through its sole agent in Hong Kong, Centaline Property Agency, is releasing 40 units, with sizes from 398 to 1,205 square feet, for 530,000 yuan to 1.6 million yuan at the Nine Pingsha City development to the west of Zhuhai's Pingsha district.
Since the two companies began selling units in Hong Kong in April, about 1,000 people have viewed the property, but Centaline declined to provide updated sales figures.