Taiwan real estate market waits with bated breath as election holds prospect of pro-Beijing president
Taipei is Taiwan's most expensive city, where prime office space at the Xinyi district near the Taipei 101 skyscraper costs on average US$1,250 per sq ft to buy
Taipei's residential units can be had at US$900 per sq ft, about a quarter of the US$3,570 per sq ft in Hong Kong
Excitement is creeping into Taiwan's property market, as the race for the self-ruled island's presidential race heats up ahead of next year's election, holding the prospect of a new head of government who would be more friendly towards mainland China.
Commercial property prices, up 18 per cent at an average of US$1,322 per square foot since Tsai Ing-wen swept to victory in 2016 for the Democratic Progressive Party (DPP), may break out into a bull market, depending who gets to occupy the seat of government on Taipei's Ketagalan Boulevard.
"Presidential elections do have some impact on the property market," said Erin Ting, Savills Taiwan's research director. "Each political party has a different attitude for cross-strait relations and this will further impact the communication and cooperation between Taiwan and China."
The politics of Taiwan, administered separately from mainland China since 1949, swings between periods of rapprochement and hostility with Beijing, which regards the island of 23 million people as a renegade province that has to be unified by force if necessary. The occupant of the Taiwan president's chair determines the island's relations with mainland China, where an estimated 1 million Taiwanese live, work and study, and where an estimated US$150 billion had been invested as of 2008.
Two major political parties have held Taiwan's presidency since universal suffrage and free elections were introduced.
When Chen Shui-bian held the presidency for independence-leaning DPP from 2000 to 2008, median commercial property prices nearly doubled to US$657 per square foot, from US$345 per sq ft. Relations across the Taiwan Strait improved when Ma Ying-jeou was elected president for the Kuomintang (KMT) party between 2008 and 2016, with office prices again doubling during the period to US$1,218 per sq ft.
By the time the DPP's Tsai won the 2016 presidential election in a landslide victory, average office prices had already retreated 12 per cent from the record US$1,325 during the penultimate year of the KMT's tenure.
Taipei is Taiwan's most expensive city, where prime office space at the Xinyi district near the Taipei 101 skyscraper costs on average US$1,250 per sq ft to buy. That means a typical office of 2,500 sq ft (232 sq metres) costs US$3.13 million, about half the US$2,574 per sq ft for owning a Grade A office space in Hong Kong.
Mainland Chinese cities are cheaper for owning offices because of the larger supply of premises, with Beijing prices at US$1,181 per sq ft, and Shanghai at US$988, according to Savills data. Monthly rental charges for commercial offices in Xinyi range between US$1,500 and US$1,700 per sq ft.
The same applies to median home prices, where Taipei's residential units can be had at US$900 per sq ft, about a quarter of the US$3,570 per sq ft in Hong Kong, and cheaper than Shanghai's US$1,355 per sq ft, and Beijing's US$1,295 per sq ft.
Terry Gou, also known as Guo Taiming, is probably
one of the more keenly anticipated presidential candidates
in next year's race. The 68-year-old multibillionaire founder of Foxconn Technology Group – the world's largest assembler of electronic devices including iPhones employing more than 1 million people in mainland China – has the reputation as a China dove, someone known as an "old friend" to Chinese President Xi Jinping.
"If the pro-China party wins and returns to power, Taiwan will have the opportunity to maintain good relations with China in 2020," said James Chou, senior managing director of Hong Kong-based boutique investment firm Arch Capital Management, which paid US$450 million in December for Taimall Shopping Centre in Taoyuan, outside Taipei. The acquisition is a joint venture with a Taiwan Reit.
Richard Yue, the CEO of Arch Capital, said improved relations between Taipei and Beijing could boost Taiwan's property market.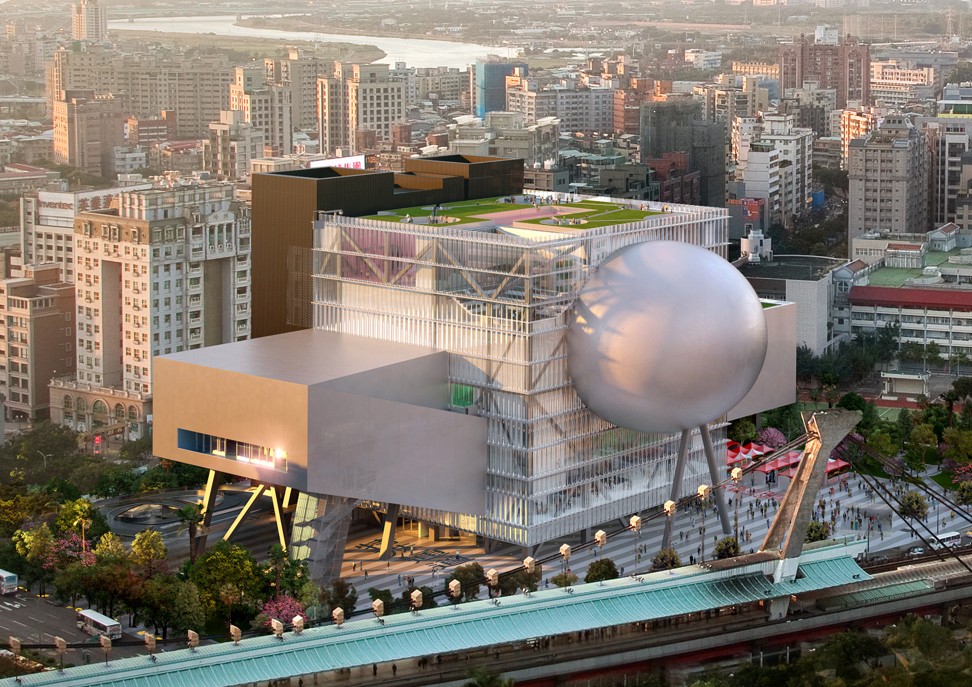 For now, mainland Chinese investors are barred from owning property or developing projects in Taiwan. A rigorous vetting process is in place to ensure that the island's real estate industry is free of mainland Chinese involvement.
"If the money is from China, then the application [for investment] will be rejected," said Savills' Ting, citing the NT$70 billion (US$2.26 billion) Taipei Twin Tower by Hong Kong's Nan Hai Development and Malaysian property developer Malton Berhad, which is still awaiting the go-ahead after the bid was won in December.
While Taiwan welcomes foreign investment, the government is limiting investment into residential property as the public is sensitive to high residential prices, Ting said.
Tourism also took a hit when Tsai took office in 2016, as the number of Chinese tourists dropped from 4 million in 2015 to 2.7 million in 2018, she said.
"Each candidate has yet to say much about their major policy. But we expect that if the new president is going to build a closer relationship with China, the tourism industry and hotel sector will receive benefits quickly," Ting said.
In the first quarter of 2019, investment in Taiwan property amounted to at least US$431 million, including loans, and mergers and acquisitions, among others, according to data provider Dealogic.
Acquisitions of income producing properties in Taiwan last year – defined as office, retail, industrial, hotel apartment and senior housing – surged 91 per cent on year to a record US$4.6 billion, according to Real Capital Analytics.