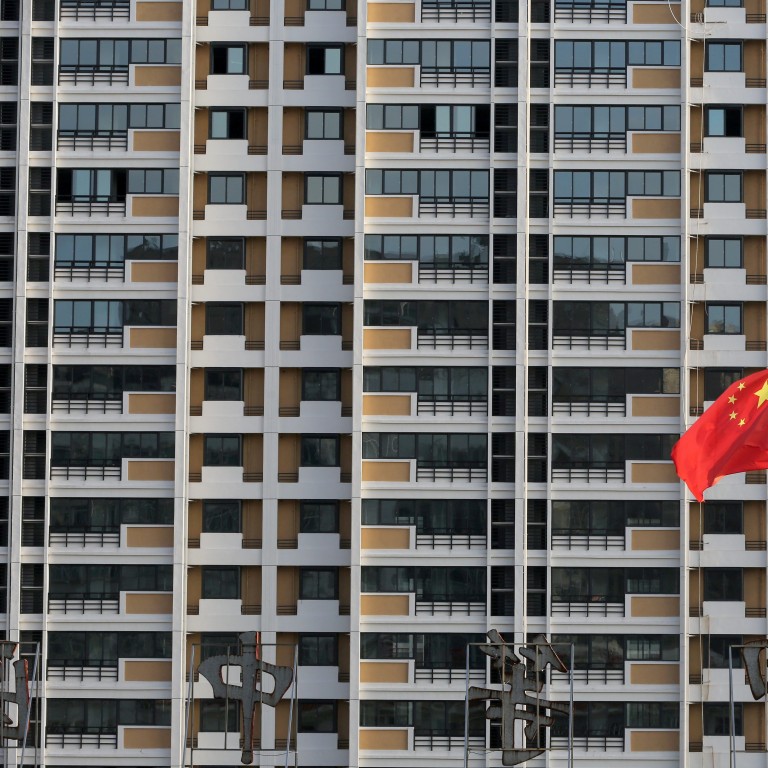 China's nationwide new home sales storm ahead in April, extending rebound for second month
Data tracking the nation's 100 biggest developers showed contracted sales of 779.8 billion yuan ($115.8 billion) for April, in line with pickup in March
Mainland developers reported April sales topping US$115 billion, surging nearly 17 per cent on year and extending upbeat momentum from March, even as new curbs to cooling the housing market were imposed in some cities.
Combined contracted sales by the largest 100 Chinese developers totalled 779.8 billion yuan ($115.8 billion) for the month, 5.8 per cent lower than March, according to property consultancy China Real Estate Information Corp (CRIC).
The April sales figure represents a gain of 34.6 per cent from January and is 74.7 per cent higher than February, although analysts caution the data was open to distortion by the week-long Lunar New Year holiday.
"On a year on year basis, April's sales grew 16.6 per cent. Pent-up demand in first and some second-tier cities and a policy easing outlook pushed up the recovery of the overall market," said the CRIC report.
The sales data from the nation's leading property developers represents two-thirds of overall sales and is viewed as an important barometer of the heath of the mainland's housing market. Official data for April won't be released until the second half of May.
Thanks to buoyant sales in March and April, overall aggregate sales for the first four months are up 3.6 per cent from the same period a year earlier.
Analysts attribute the upturn to new project launches after the Lunar New Year, loosened mortgage lending and a dovish stance on fiscal conditions from Beijing.
However, market watchers are divided on whether the recent uptick is a seasonal bump or the beginning of longer uptrend for the property market.
Property investors were reminded of Beijing's commitment to rein in the housing market during a high-level economic meeting in mid-April which concluded with an official statement that included the phrase "houses are for living, not for speculation".
Meanwhile the Housing Ministry said it will monitor markets in major cities on a monthly basis and issue warnings of overly-rapid gains in home and land prices.
Administrative measures to cool down housing were introduced this week in Dandong, a small city bordering North Korea. Officials stipulated that non-residents can only buy one flat in the city and banned resales for five years. The cooling measures were introduced after home prices in the city rose the most in March among 70 cities tracked in official data.
Suzhou, a city west of Shanghai renowned for its canals and classical gardens, recently implemented bid price restrictions on land sales and is considering a ban on resales after recent gains in property prices that attracted the attention of developers and pushed up land premiums.
"Overall the government's 'city-specific' policy is not changed, which means a tougher stance on cities facing upwards price pressure, but a softer stance on cities facing downward pressure," Yang Kewei, a research head with CRIC, said.
He said that some cities have eased property buying restrictions through residency permit relaxation.
J.P. Morgan property analyst Ryan Li said that the government appears committed to maintaining stability in the property market.
"Current policy is a 'property sale-put', meaning that if the market is too good then the tightenings come and vice versa," Li said in a recent research note. "To developers, we believe the operating environment will still be favourable, as the market is still doing well, the prices [are] up slightly and margins stabilising."
Country Garden reported 225 billion yuan in contracted sales in the first four months, reflecting a drop of 3 per cent from a year ago. Evergrande and China Vanke reported sales of 175.8 billion yuan and 167 billion yuan respectively during the period, ranking in the second and third spots in terms of nationwide sales among developers.
This article appeared in the South China Morning Post print edition as: Top mainland developers see sales rise in April