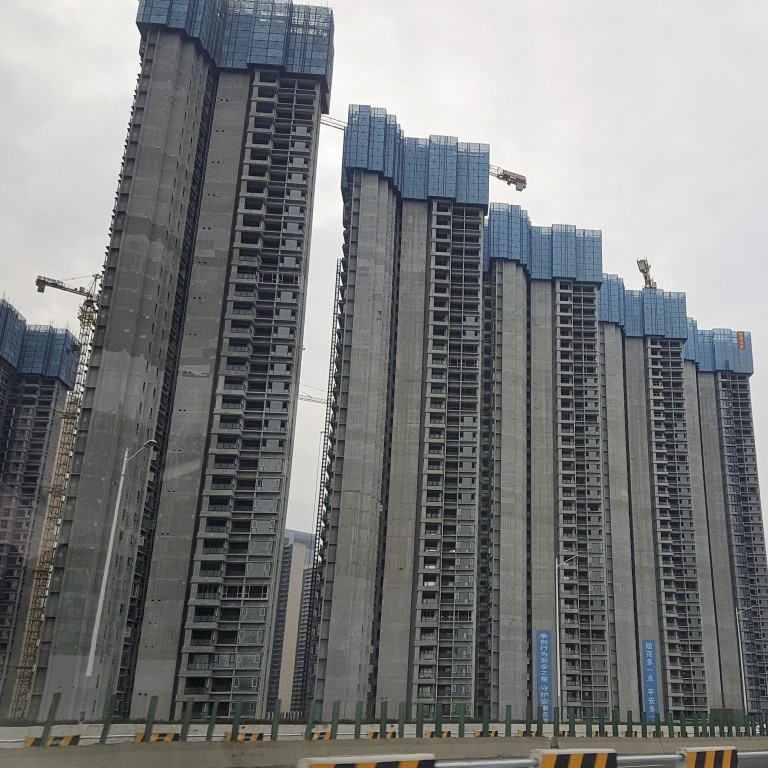 New home prices rise in almost all Chinese cities as lower mortgage rates, lighter restrictions spur demand
New homes cost more in 67 out of 70 cities tracked by the government in April, a jump from 65 and 57 cities in March and February respectively
The average cost of a new house in China increased by 0.62 per cent
New home prices rose in almost all of the 70 Chinese cities monitored by the government in April, as upbeat sentiment extended its reach.
The average cost of a new house increased by 0.62 per cent, about the same as the rise in March and higher than the 0.53 per cent gain in February, according to a Bloomberg calculations based on National Bureau of Statistics data released on Thursday morning.
Prices climbed in 67 out of the 70 cities tracked by the bureau, a jump from 65 and 57 cities in March and February respectively.
Bucking the trend were Ganzhou in Jiangxi and Shaoguan in Guangdong, where prices dipped 0.1 per cent. Guilin, a tourist city in Guangxi, saw flat home prices in April.
Home price growth snapped a four-month deceleration in March, as lower mortgage rates, an easing of home purchase restrictions and price-control regulations encouraged buyers.
"Home prices are entering an upward trajectory, enabled by an easing in mortgage policy and the unleashing of previously pent-up demand," said Yan Yuejin, a director with E-house China R&D Institute. "If this trend continues, more cities may upgrade their curbing measures."
China's property sales volume extended its buoyant performance last month, increasing 1.3 per cent year on year in terms of floor space, after a 1.8 per cent gain in March and a 3.6 per cent decline in the first two months of 2019, according to the bureau. Sales by value jumped 13.9 per cent from a year ago, a much faster pace of growth than the 2.8 per cent seen in the first two months of 2019. New starts, investment and developers' funding all showed stellar performance.
"We expect developers' contracted sales to rebound for the rest of the year. Policies could be relaxed further to support China's GDP target given the ongoing US-China trade war," said Raymond Cheng, head of Hong Kong and China property research at CGS-CIMB Securities.
"China property and related sectors account for about 40 per cent of GDP. Relaxing sector policies is an easy way to achieve its GDP target."
The upturn has been largely fuelled by rising sales and sentiment in first and second-tier cities. Four first-tier cities, Beijing, Shanghai, Guangzhou and Shenzhen, saw their month-on-month increase widen to 0.6 from 0.2 per cent in March. Growth in 31 second-tier cities accelerated from 0.6 per cent in March to 0.8 per cent in April.
Land markets are sizzling in places such as Hefei and Suzhou, where a single auction in late April raked in 20 billion yuan (US$2.9 billion) and 13.6 billion yuan for each government's coffers respectively. Both cities in the last days have stepped up market-cooling measures, including tougher conditions for developers bidding, and a ban on home resales.
"But the recovery is uneven. Impressive land sale premiums have occurred in a few big cities in the eastern region but there is no similar uptick in central and western regions. Developers now prefer first and second-tier cities," said Zhang Hongwei, a research head with consultancy TopSur.
This article appeared in the South China Morning Post print edition as: mainland new home prices extend gains