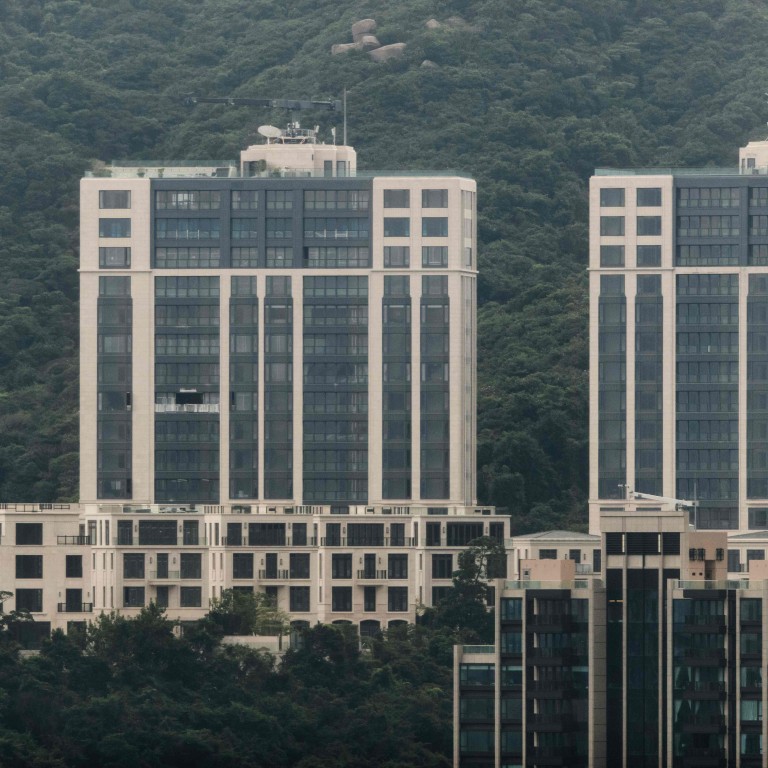 Hong Kong's luxury home prices creep up 0.3 per cent as global average sinks to slowest growth in a decade, says Knight Frank
The average cost of a high-end residential property in 45 cities across the world rose 1.3 per cent in the first quarter, the slowest pace in 10 years
Luxury home prices in Hong Kong edged up just 0.3 per cent in the first quarter as prices globally rose at their slowest pace in a decade, according to figures from Knight Frank.
High-end residential property prices in 45 cities across the world crept up by 1.3 per cent in the first three months of 2019 from the same period a year ago, as the US-China trade war and stuttering economies in Europe dampened growth.
Vancouver's luxury home prices registered the poorest performance with a fall of 14.5 per cent. London and New York declined 5 per cent each, and Shanghai lost 4.5 per cent during the period, according to the real estate consultant's prime global cities index, released on Thursday.
"The last six months saw political and economic headwinds intensify," said Liam Bailey, global head of research at Knight Frank.
"In the first quarter of 2019, the threat of a global trade war loomed, uncertainty surrounding Brexit peaked and the International Monetary Fund projected that 70 per cent of the world's economies would see a slowdown in growth in 2019."
He also cited the rising costs of home finance – the US alone has seen nine rate rises since December 2015, with a knock-on effect on 13 currencies pegged to the dollar.
European cities occupied seven of the top 10 spots, with luxury home prices in Berlin jumping 14 per cent, 10 per cent in Frankfurt, and 8 per cent each in Edinburgh and Paris.
The index tracks the movement in luxury residential prices of the top 5 per cent of the housing market.
The gap between the world's top four cities – Monaco, Hong Kong, London and New York – is significant, therefore a 4 per cent or 5 per cent decline in values for some markets over the last year has made little difference to the rankings, said Knight Frank.
Letizia Garcia Casalino, head of residential services at Colliers International, believes residential property is still a very good option for investors globally.
"Although it might be more expensive in some cities like Hong Kong, the return on residential property investment is usually good and steady," she said.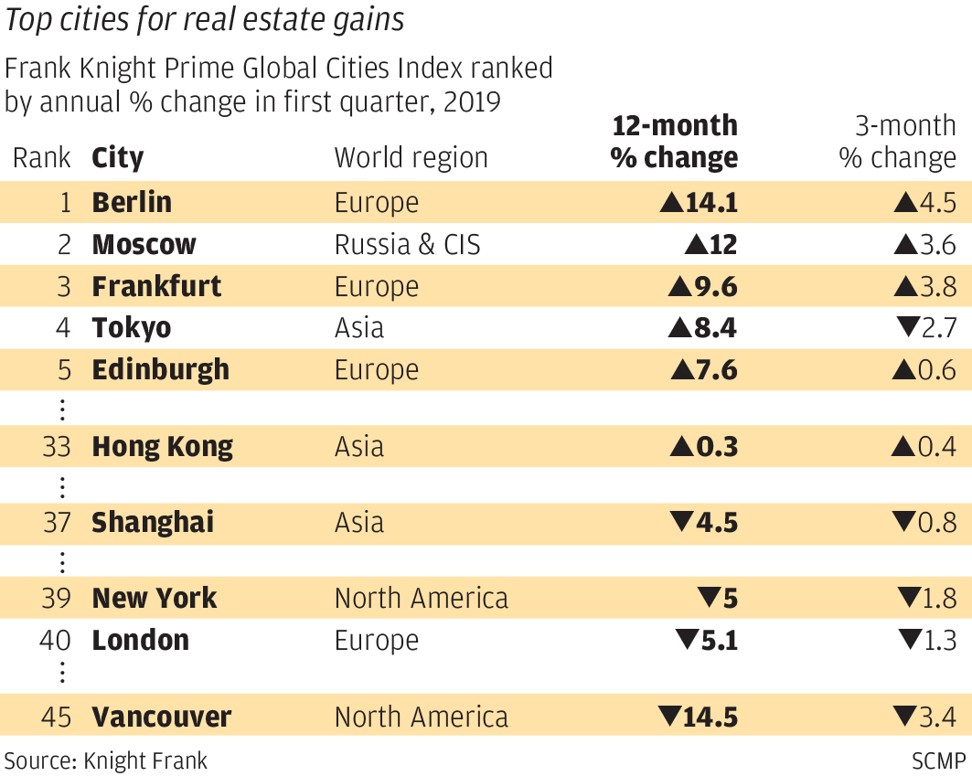 Hong Kong has consistently been ranked the world's least affordable city in which to own a home. Property prices have recently been recovering from a drop last year.
Rosanna Tang, head of research for Hong Kong and southern China at Colliers, said buyers of luxury homes in Hong Kong are mostly cash-rich and sometimes the property itself could be seen as acquiring a "dream home" rather than just as a pure investment.
Hong Kong developers forked out HK$23.7 billion for two seafront parcels of land on the runway of Hong Kong's former Kai Tak airport within the space of a week.
On Wednesday, Gold Financial Holdings won the tender for a hotel-office site at Kai Tak for HK$11.1 billion, or HK$12,888 per square foot, the highest rate in the area.
A week earlier, a consortium including Henderson Land Development and New World Development won a residential site on the runway for HK$12.6 billion, or HK$19,636 per sq ft.
This article appeared in the South China Morning Post print edition as: HK luxury home prices gain 0.3pc in first quarter