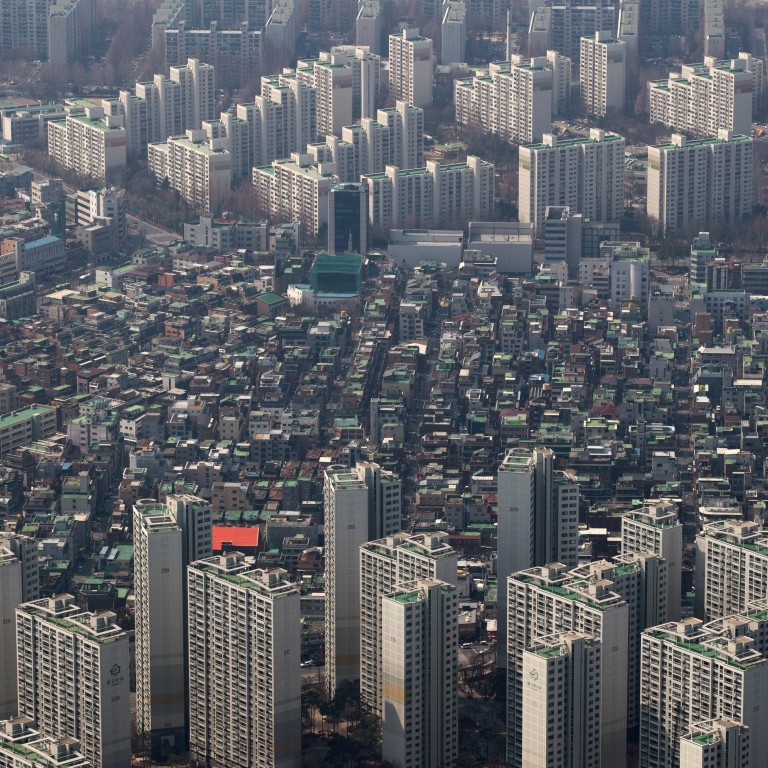 South Korean property boom fizzles out as investors balk at plan to remove tax incentives
Foreign and local investment declined 31 per cent to US$4.44 billion in the first quarter from a year earlier
Real estate funds and private real estate investment trusts, which enjoyed lower levels of tax, will have to pay the same tax rates as regular companies
Local and foreign investment in South Korean real estate dropped by nearly a third in the first three months of the year as Seoul announced plans to remove tax perks granted to the most common ­investment vehicles used by institutional investors.
In the first quarter of the year, total foreign and local investment declined 31 per cent to US$4.44 billion from US$6.47 billion in the same period last year, data from Real Capital Analytics showed.
Under the country's current tax regime, real estate funds (REF) and private real estate investment trusts (Reits) enjoy a flat property tax on land of 0.24 per cent per annum, lower than an incremental tax rate of up to 0.48 per cent for regular companies.
REFs and Reits are also exempted from paying aggregate real estate tax, while regular companies pay an incremental tax rate of up to 0.84 per cent.
Under the new proposal, private REFs and Reits will have the same tax rates applied to regular companies for certain taxes. The property tax on land of up to 0.48 per cent per annum will have an additional 0.14 per cent added if the property is in a city area.
The amendments are expected to be confirmed and promulgated into law following a public notification period that will end on May 29. 
Analysts said demand for South Korean real estate was likely to soften until the uncertainty over the change in the way REFs and Reits are taxed is ­resolved.
"There is potentially going to be a change in the tax treatment for specialist real estate investment vehicles. That might slow volumes going forward," said Ben Vickery, associate director of the investment advisory division at Savills Korea.
South Korean law firm Kim & Chang has estimated that return on equity investments into REFs and Reits could fall by as much as 15 per cent under the impact of the proposed changes.
The Korean property market has recently seen a boom with domestic and foreign investment hitting US$26.15 billion in 2018, up by 38.7 per cent from US$18.85 billion in 2017, according to Real Capital Analytics.
More than half the total came from equity funds, investment managers and Reits.
Last year, Hong Kong investors poured US$203 million into South Korean property. That was down 39 per cent from US$334 million 2017 but above the US$154 million invested in 2016.
Vickery said that REFs and Reits contributed about 20 per cent to 30 per cent of the total ­volume of investment in the South Korean property market. He noted that the fundamentals of the market remained sound.
Petra Blazkova, senior director for Asia-Pacific analytics at Real Capital Analytics, said record ­investment volumes in the South Korean property market would be difficult to match this year owing to a deteriorating investment environment.
"In South Korea, last year's robust investment flows will be difficult to match in 2019 ... Domestic investors took a step back after a record year in 2018 and were concerned about the impact of ­declining exports on economic growth," she said.
Property consultancy CBRE said returns of domestic private real estate funds will fall between 0.2 per cent and 0.5 per cent owing to the amendment of the law, while some asset management companies expect returns to decline by at least 1 per cent.
"Despite worries about the decline in yields, it is expected that there will be no large capital outflows from the market when the domestic commercial real estate investment activity is still active and very competitive this year," said Claire Choi, CBRE Korea head of research.
This article appeared in the South China Morning Post print edition as: Tax change plan cools investment into South Korea