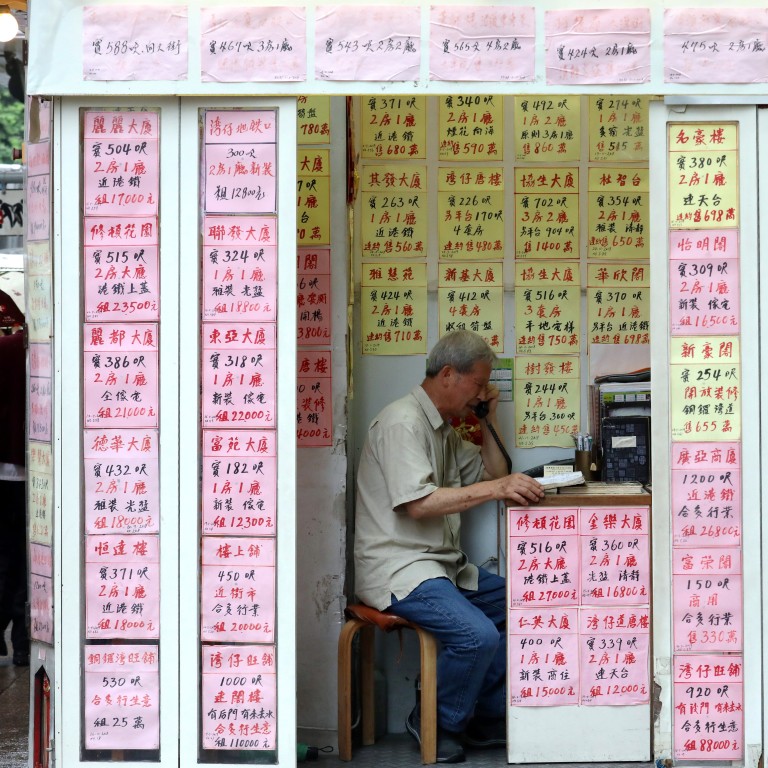 Bears gather as data shows Hong Kong home prices retreat for second week after peak in May
Sentiment has become more risk averse amid questions on the political and economic outlook for the city, analysts say
Prices of older homes dropped 1.43 per cent to 186.26, for week ended June 9, according to Centa-City Leading Index
Hong Kong home prices were down for a second consecutive week through Sunday, after hitting a record at the end of May, evidence that may suggest a broader correction is underway, according to experts.
The Centa-City Leading Index, a home price gauge compiled by Centaline Property Agency, showed prices for lived-in homes dropped 1.43 per cent to 186.26, for the week ended June 9.
"The uptrend of home prices has been hindered," said Wong Leung-sing, senior associate director of research at Centaline. "The impact of the escalation of the China-US trade war has emerged, and … in July we will see recent uncertainties in the city further impact the housing market."
The Centaline data, released on Friday, covers transactions that coincide with Sunday's protest march against a controversial extradition bill, but not the violent street protests on Wednesday.
The Hong Kong government on Thursday said it would postpone the tender of a large waterfront residential site at the former Kai Tak airport, citing blockage of public access to the Government Secretariat Tender Box during
clashes between police and protesters
.
Property analysts said the housing market would face headwinds as potential buyers turned risk averse amid growing questions on the political and economic outlook for the city.
"The sentiment has turned really bad now as no one would like to buy a house. It is such a big decision when we see protests in the city almost everyday, " said Vincent Cheung Kiu-cho, managing director of Vincorn Consulting and Appraisal. "This is a catalyst while trade war talk is still the key issue. If that fails, Hong Kong's macro economy will sour and then we will see a bigger correction in the city's housing market."
Henry Chan Chi-Sheung, head of research at Caitong International Securities, said the darkening trade outlook would eventually take its toll on the local economy.
"If exports fall, then corporate earnings fall, then household income will fall. New household formation will decline as new private and public housing will increase, so prices will fall," he said.
Chan said he expects the correction in home prices to be aggravated by higher mortgage rates in coming months.
"It's too late to sell now, there will be no bids," he said.
Separately, Henderson Land Development has applied to the government to boost the plot ratio on converted farmland in Tai Po, according to a document submitted to the Town Planning Board.
The firm is seeking to raise the plot ratio to 3.6 from 1.2. If approved the 392,288 sq ft site will yield a total gross floor area of up to 1.41 million sq ft from its current 417,000 sq ft, equivalent to 1,455 extra flats, or almost 1.8 times the number of homes approved currently.
The developer successfully converted the land in October 2016, agreeing to build 795 homes.
"The chance of getting the approval is good because the government's major mission now is to boost the supply of new homes," said Cheung.