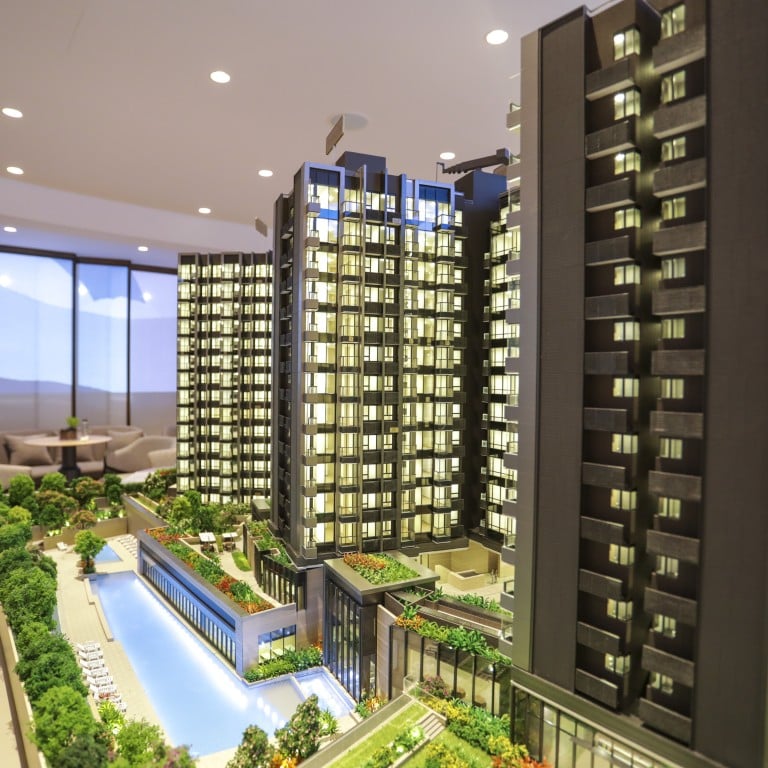 Great Eagle launches Ontolo, first residential project in 29 years, at lowest prices in Tai Po after getting land for record-low five years ago
The commercial builder shocked the market in 2014 by winning the tender for the waterfront site for HK$3,300 per sq ft, 17 per cent below forecasts
Commercial developer Great Eagle Holdings is offering its first residential project in three decades with prices below the prevailing rate, having secured the land in Tai Po for a record low five years ago.
The builder, best known for its portfolio of hotels, is selling flats at the Ontolo project at Pak Shek Kok for a little as HK$11,446 per square foot, the cheapest on the market in the upscale area near the Science Park. The average price in the first batch of 150 flats is HK$13,567 per square foot, compared with HK$13,774 per square foot price at nearby Centra Horizon, which was launched in April.
The builder released the price list for Ontolo on Thursday, two weeks after another "micro-flat" development in Tuen Mun slashed prices by as much as 38 per cent.
Developers have been cutting prices in a bid to attract buyers amid a series of mass demonstrations that have rocked Hong Kong in recent weeks.
"The low-price strategy indicates developers are preferring to sell fast in fear that market sentiment will further deteriorate as the protests spread quickly to different districts and the trade tension with the United States remains unresolved," said Alvin Cheung Chi-wai, an associate director at Prudential Brokerage.
"Great Eagle bought the site at a stunningly low price, which allowed it more flexibility in its pricing should any dramatic change in market conditions occur."
The mid-tier developer surprised the market in May 2014 when it won the tender for the waterfront site for HK$2.412 billion, or HK$3,300 per square foot. It was nearly half the price for which nearby waterfront sites had changed hands in 2007.
Analysts at the time said Great Eagle's winning bid – 17 per cent below forecasts – showed the government's eagerness to offload land as it sought to increase housing supply.
The timing was everything; land prices in the area had increased 18 per cent when Sun Hung Kai Properties won a nearby site in 2015.
It is now offering flats measuring between 389 and 1,231 square feet for HK$5.53 million to HK$19.94 million, or HK$11,446 per sq ft to HK$16,202 per sq ft.
"The prices take into account transaction prices in the nearby area, and there is room for further price increases," said Great Eagle executive director Alexander Lo, son of the firm's chairman, Lo Ka-shui.
It is the first residential project built by Great Eagle since the Eaton Residence in Wan Chai, which was completed in 1990.
Thomas Lam, senior director at Knight Frank, said the developer would enjoy a 15 per cent profit margin even if the Ontolo units all fetched just HK$11,000 per sq ft.
"Most developers will launch their projects at attractive prices in order to draw market attention," he said.
Ontolo comprises 725 units and is scheduled to be completed in July 2020.
Hours before the release of the price list, a property survey by Citi Hong Kong found more than 70 per cent of respondents quizzed in the second quarter felt that it is a very bad time to buy a home.
The latest result was a sharp jump from 57 per cent in the first quarter.
The average price of lived-in homes in 50 major housings estates in Hong Kong dropped 0.2 per cent to HK$15,555 per sq ft last month, ending a five-month rally, according to new figures from Ricacorp.
This article appeared in the South China Morning Post print edition as: Great Eagle offers Tai Po flats below prevailing rate