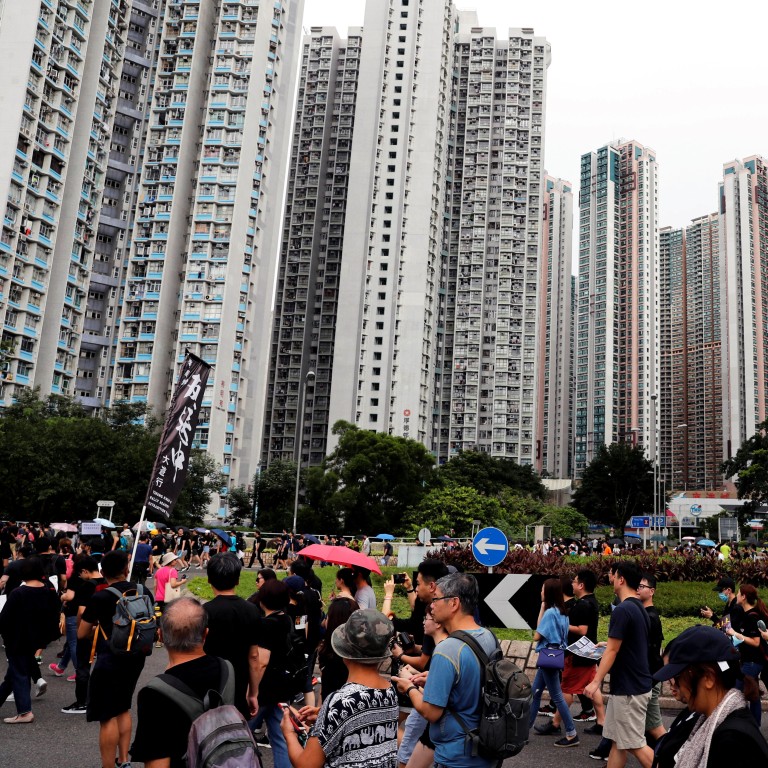 Hong Kong's lived-in home prices see steepest decline of the year as protests, trade war persist
The price index for lived-in homes in August slumped 1.4 per cent to 389.8, a third successive monthly fall
Analysts see worse to come as the pro-democracy rallies engulfing the city show no sign of abating
Hong Kong's home prices have fallen at the fastest rate this year, as the world's least affordable housing market finds itself under increasing pressure from social unrest and the effects of the US-China trade war.
The price index for lived-in homes in August slumped 1.4 per cent to 389.8, a third successive monthly fall, according to figures released by the Rating and Valuation Department on Monday.
"Mainly it's because the social movement persists, which has made both developers and secondary market homeowners cut prices and [that has] driven a home price correction. August saw a more significant reflection of that," said Derek Chan, head of research at Ricacorp Properties.
"The US-China trade war has continued despite the occasional truce, which has been troubling the market since buyers are worried about whether the overall economy would be affected or some manufacturing businesses would close, dampening buying confidence."
Chan said August's drop was the biggest since the 2 per cent drop in December last year, adding that there was no end in sight for the correction in home prices.
The number of mortgage applications in August decreased by 26.5 per cent month-on-month to 11,133. The value of mortgage loans approved stood at HK$45.3 billion, down 2.8 per cent from July, data released by the Hong Kong Monetary Authority showed.
"We believe the housing market will continue to be under pressure. September will see a fall of more than 1.3 per cent, possibly close to 2 per cent," said Chan. "It is because the political and social movement factor is more difficult to predict. As long as it keeps lingering, the market will continue to be under pressure."
Chan said the disappointing sale on Friday at Upper Riverbank in Kai Tak, where fewer than half of 218 new flats priced higher than neighbouring secondary-market units found buyers, signalled pressure on developers to keep prices down. That could translate to even lower prices in the secondary market.
"Secondary market homeowners need to adjust prices down when new flats are cheaper," Chan said.
The failed sale of a commercial parcel on the runway in Kai Tak – the third to be withdrawn from sale in a year – also "reflects that the entire market's sentiment and confidence is relatively weak."
Meanwhile, rents fell for the first time since January. The average rent per square foot dropped by 1.2 per cent to HK$37.46 (US$4.78), according to Ricacorp, which tracks 50 estates across the city.
Festival City in protest-hit Tai Wai saw the biggest decline, plummeting 8.3 per cent to HK$36.6 per sq ft. Lake Silver in Ma On Shan, where protesters besieged a police station on August 2, dived 6.2 per cent to HK$32.8 per sq ft.
Developments in districts unaffected by the protest rallies, however, bucked the trend. Lei King Wan in Sai Wan Ho saw the biggest jump, with average rent surging 8.9 per cent to HK$41.9 per sq ft. The Latitude in San Po Kong shot up 6.9 per cent to HK$36.7 per sq ft.
This article appeared in the South China Morning Post print edition as: Home prices decline as protests and trade war bite