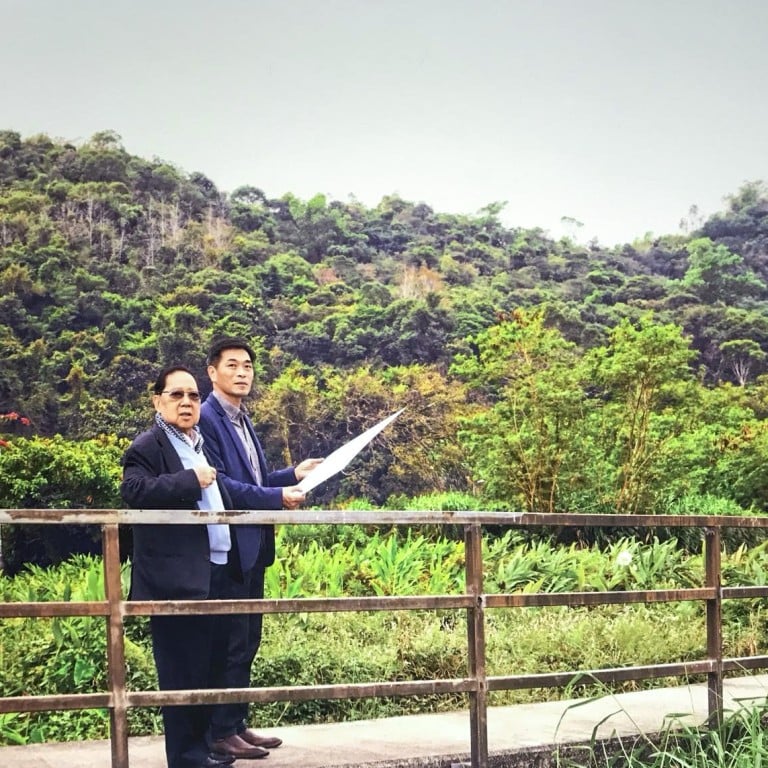 Wheelock to loan three plots of land at HK$1 each to NGOs for 2,000 'transitional' homes to ease housing crisis
The developer offers to lease 500,000 sq ft of land to the Hong Kong Council of Social Service and Lok Sin Tong charity for token sum
The sites could provide temporary homes for families on the waiting list for public housing as developer denies any pressure from outsiders
Wheelock Properties has become the third Hong Kong developer to volunteer to ease the housing crisis in the city, offering to loan less than a tenth of its land bank for a token sum to accommodate more than 6,000 families.
The developer said it will loan three plots of land, with a total area of 500,000 square feet for just HK$1 each, to the Hong Kong Council of Social Service and the Lok Sin Tong charity, for eight years. The parcels are located near Tai Po Industrial Estate, Tuen Mun and Tung Chung.
The three plots can provide about 2,000 "transitional" homes for more than 6,000 families, or about 20,000 people, that are on the waiting list for affordable public housing. The company is thus giving up the use of about 7 per cent of its land bank, according to company data.
"The housing shortage is the most pressing issue in Hong Kong," said Stewart Leung, chairman of Wheelock Properties. "In October, Chief Executive Carrie Lam announced [the government] would provide 10,000 units over the next three years."
The gesture isn't in response to criticisms levelled against the city's developers by mainland Chinese news outlet earlier this quarter, during the height of anti-government protests, Leung said. Its offer follows discussion on various means of cooperation with the city's government, he added.
"[It has] nothing to do with Beijing's politics," Leung said. "At this time, the government has such a need, we try our best to help. Eight years is not a short time. After eight years, the implementation of the government's housing policies will be more appropriate."
Leung said Wheelock had up to 5 million sq ft of farmland and would join the Land Sharing Pilot Scheme by offering two to three parcels to the project as part of its duties as a corporate citizen.
Besides Wheelock Properties, others have also stepped up their acts. Henderson Land Development and New World Development, the city's third and fourth largest developers by value, which have both pledged to lease a total of 3.43 million sq ft of land for housing earmarked for poor families in need of temporary refuge.
A task force looking into transitional housing last year said it had identified land bank to produce 6,000 temporary homes for the needy. Wheelock's plan can add 2,000 more.
Frank Chan, Secretary for Transport and Housing, said the government is "grateful" for the Wheelock's contribution as it brings "hope to families living in terrible homes" at a difficult moment in the city's history.
"2019 has been the grimmest year since Hong Kong's handover" to China in 1997, said Chan. "Continued social unrest, falling economy and rising unemployment rate have cast a shadow on Hong Kong's future prospects.
"Although the supply of public housing has improved, a gap between supply and demand is still expected," he cautioned. "We are in the process of talking to a few developers and we are hopeful that we will be able to make up the 10,000 unit target next year."
Andrew Wan, deputy chairman of the panel on housing at Legislative Council, said developers must reveal the locations of the land bank they offered. "If there is other land reserve next to it, the lease may make the government speed up the development of surrounding infrastructure,' he said. "It is possible developers use land donation to prevent the government from using the Land Resumption Ordinance to reclaim their agricultural land."
Wan added that developers should allow the government to reclaim a large amount of agricultural land to build public housing under the Land Resumption Ordinance to solve the housing problem in the long run.
Sun Hung Kai Properties, the city's biggest developer by value, said previously it would cooperate with the government's move to seize private land via the Land Resumption Ordinance, but has yet to reveal any plans to actively donate its land bank.
This article appeared in the South China Morning Post print edition as: Now Wheelock offers land to ease housing crisis