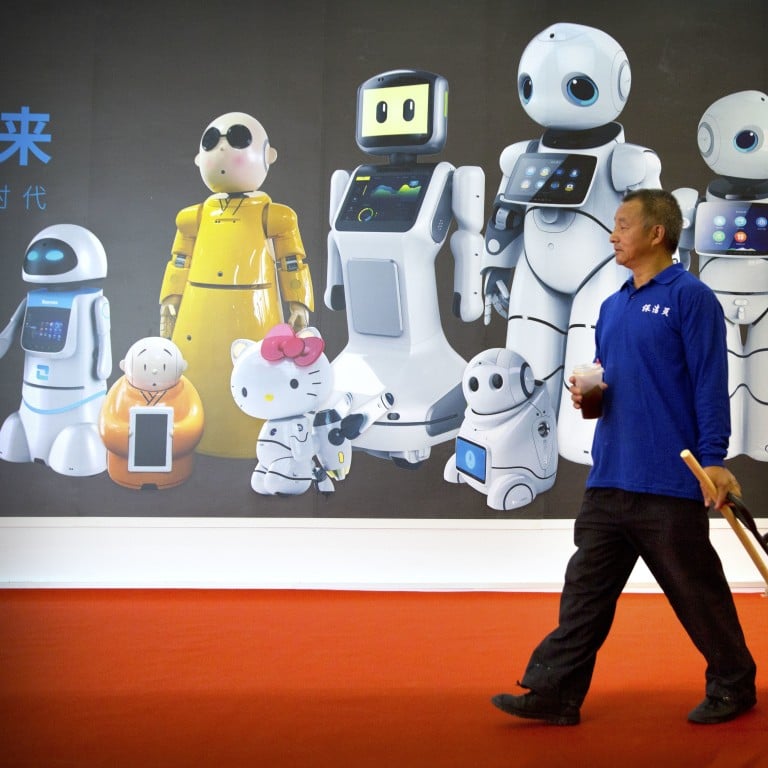 Robots and new technologies become mainstays in Hong Kong malls, offices as landlords adapt to pandemic
Social distancing rules and work-from-home regime have renewed pressure on businesses amid infection fears
Swire Properties, Hysan, JLL and Sunlight Reit among managers who have deployed technologies to reduce human contact
Landlords in Hong Kong and mainland China are embracing new technologies with greater urgency as many are struggling with dwindling retail footfall and rents amid the coronavirus pandemic.
Social distancing rules and work-from-home regime have renewed pressure on businesses, after social unrest and the viral outbreak sent the retail sector into a free fall. Some landlords have now deployed machines to replace humans, on top of offering rent concessions to help retailers beat the slump.
Projects that use robot cleaning machines include Infinitus Plaza in Sheung Wan and JLL's offices in One Taikoo Place and Dorset House in Quarry Bay. They are also deployed at Swire Properties' HKRI Taikoo Hui mall and office towers in Shanghai and One Indigo office tower in Beijing.
"We have used this opportunity to explore and adopt new and innovative measures to keep our customers, tenants and staff safe," a spokesperson at Swire Properties said in an email. "We're looking into how we can extend its use in other areas, such as car parks or surrounding areas around our malls."
The group continues to take extensive precautionary measures across its portfolios during the pandemic, the person said.
Retail sales fell by a record 44 per cent in February, as border closures and event cancellations slammed tourist arrivals that have become the lifeblood for shop owners over the past decade.
In Swire's locations, automatic cleaning machines run on programmed orders and clean within the areas preset in their systems. They complement daily cleaning works by workers and help reduce direct human contact.
Swire also used ultraviolet lamps that kill germs in the centralised air-conditioning system at its One Taikoo Place building.
Robots can ensure staff safety by minimising the chances of viral exposure, making cleaning more cost-effective in the long run, said Chung Chi-hung, head of property management at JLL.
"We would suggest the property with busy human traffic to use the robot," said Chung. "We believe there will be a higher adoption rate in time to come" and should continue when the health crisis improves, he added.
Sunlight Reit has budgeted HK$250,000 (US$32,244) for additional equipment and manpower, said Vivian Yip, general manager of investment and investor relations of Henderson Sunlight Asset Management, which manages the property trust.
Its buildings like Sunlight Tower in Wan Chai and Strand 50 in Sheung Wan are using the "Rapid Infrared Screening System" for rapid temperature screening to filter potential Covid-19 cases among building tenants and visitors.
The manager also uses self-sanitising spray and Nano-fotocide Photocatalytic Oxidation Technology to decompose or oxidise pollutants, viruses and bacteria on surfaces and in air.
They are used in high-traffic malls and buildings like MCP One in Tseung Kwan O, Sheung Shui Centre Shopping Arcade and office buildings. Sunlight Tower has also been using the oxidation technology in its ventilation and air conditioning system for some years.
Link Reit, Asia's largest real estate investment trust, also uses thermal-cameras to check body temperature at The Quayside, its commercial property in Kowloon East, a company spokesman said.
Its smart washroom system can track usage rate with wireless odour detectors and door sensors at its TOP shopping centre in Mong Kok, he added.
Apart from extra cleaning sessions for air-conditioning systems, ventilation systems and air purifiers, Hysan Development also used automatic ultraviolet handrail steriliser for escalators.
Robots and other technology applications are being appreciated within commercial real estate facilities because they offer reliable and consistent services, save human resources and limit human contact, according to CBRE.
"It is not just about saving costs but about the way people deliver services and reduce human contact for containing the virus outbreak," said Ada Choi, who oversees Greater China research and also occupier research across Asia-Pacific.
Sign up now and get a 10% discount (original price US$400) off the China AI Report 2020 by SCMP Research. Learn about the AI ambitions of Alibaba, Baidu & JD.com through our in-depth case studies, and explore new applications of AI across industries. The report also includes exclusive access to webinars to interact with C-level executives from leading China AI companies (via live Q&A sessions). Offer valid until 31 May 2020.
This article appeared in the South China Morning Post print edition as: Landlords look to new tech as business slows