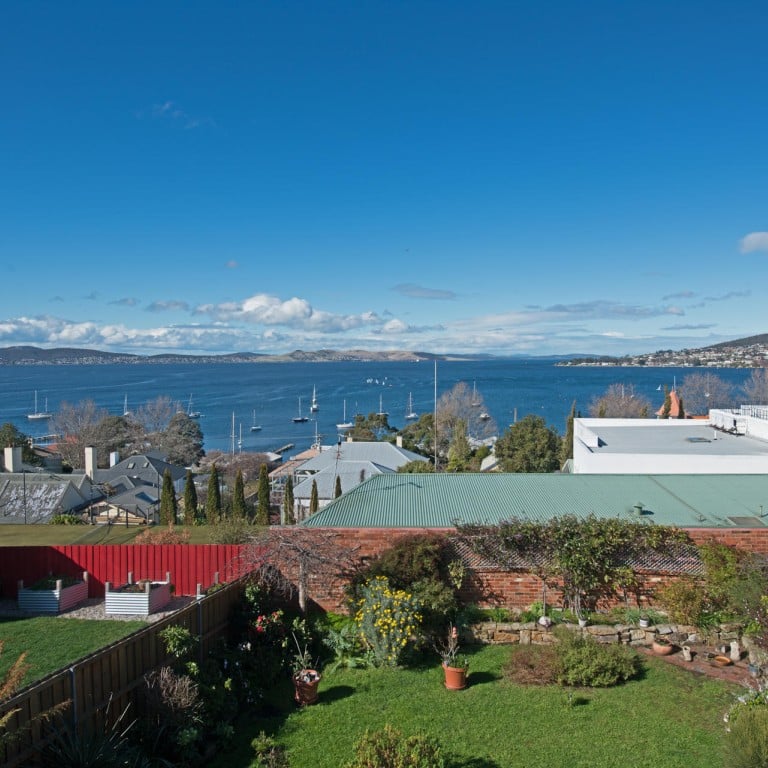 Prices drop amid economic slump in the Australian state, writes Peta Tomlinson
There's a place in Australia where the air is believed to be the world's cleanest, the scenery stretches from pristine coastline to mountain wilderness, and the soil is a rich larder of nature's bounty. That place is Tasmania - Australia's southernmost state and second-oldest settlement. Tasmania is also home to some of the most affordable real estate in the country.
Granted, the cheapest properties are not near the cities. But in a 2012 list of affordable locations, Tasmania claimed the top spot: A$91,000 (HK$656,000) being the median house price in Queenstown, an historic mining town on the west coast. But in the Derwent River suburb of Bridgewater in the southeast, only 19km from the central business district of the capital city Hobart, the median house price last year was still just A$177,822, according to RP Data.
While this year's list is not due for release until next month, it's likely that prices have dropped even further. The latest RP Data-Rismark index shows that prices in most Australian capital cities continue to creep up month by month, taking the cumulative recovery in home values to 7 per cent since the market bottomed out in May last year. Tasmania, which lost 1.1 per cent year-on-year, is the only exception.
Tim Lawless, research director at RP Data, agrees that the market is suffering. "Hobart's housing market has been the weakest-performing across Australia's capital cities, with values down 1.1 per cent over the past 12 months and 11.5 per cent lower compared with its previous market peak in late 2009. The housing market is suffering from weak economic conditions across Tasmania, where unemployment is the highest of any state or territory at just over 8 per cent," he says.
"Population growth is virtually stable, with growth of just 0.1 per cent, dragged down by a net interstate migration outflow. To top it off, residential vacancy rates are high at 4.9 per cent, which is providing for an anaemic rental market where weekly rents have moved lower for both houses and units over the most recent quarter."
There is some light amid the gloom, Lawless says. "While the market remains very weak, we have seen a substantial improvement in buyer numbers, albeit from a very low base. The number of house and unit sales was 37 per cent higher over the June quarter compared with the same period a year ago."
Adrian Kelly, president of the Real Estate Institute of Tasmania (REIT), sees this renewed activity as a positive sign. "It's not so much that the market has turned, but more a case of starting to claw back what we've lost. Over the last few years, we've been trading at numbers not seen for two decades," he says.
The downturn in forestry, a key industry in Tasmania, has had a huge impact, Kelly says. Between 2008 and 2010, employment in the industry fell by one-third.
"A lot of people haven't been buying and selling as they've been worried about their jobs. Banks have also tightened up their lending criteria," Kelly says. "Having said that, we've noticed a lot more inquiries this calendar year. Interest rates are low, and people seem to be thinking that they might as well get on with it. We're also getting multiple offers on properties, which hasn't been the case for years. I'm not saying everything is rosy down here - it just feels good." And the state's economy is diversifying. A massive pipeline is being built to irrigate land for Tasmania's "new" industries - winemaking and food growing. These two sectors, leveraging on Tasmania's pristine natural environment, will take up where forestry and mining left off, Kelly believes.
From an investment perspective, Kelly also maintains that Tasmania is a relatively stable market, without the highs and lows of the mainland states and territories.
REIT's figures, which, unlike the RP Data methodology only, reports contracts that become unconditional, reveal a 10.5 per cent increase in property sales for the quarter - up 19.2 per cent for the year. In Hobart, sales were up 18 per cent for the quarter, the highest volume for three years. Launceston recorded a 34.4 per cent increase for the quarter and an 11.8 per cent increase for the year, the highest rate in two years.
REIT's data also shows that the median house price statewide is actually increasing - up 2.5 per cent for the quarter to a 3.2 per cent increase over the year, it found.
Even investment magazine seems to have changed its tune: from stating in June that "Tasmania has little to recommend in the form of emerging property hotspots", its September report now notes that "economic conditions in Tasmania remain difficult, but they result in affordable prices that could work favourably for investors".
So, where to buy? REIT data shows that the five most expensive suburbs in Tasmania right now are Battery Point, Tolmans Hill, Sandy Bay, Richmond and Taroona. The most affordable are Queenstown (median price A$74,000, down 6.9 per cent year-on-year, according to REIT), Waverley, Ravenswood, Risdon Vale and Scottsdale.
Overseas buyers account for just 0.8 per cent of all property sales in Tasmania, but Andrew Taylor, co-CEO of Chinese property investment website
Juwai.com
suggests the state is now on their radar.
"Our data show strong growth in interest from individual Chinese real estate buyers in Tasmania over the first eight months of this year, although from a lower start than some other states. From July to August alone, Tasmania's activity on our site increased 67 per cent," Taylor says.
Tasmania faces the same challenge with Chinese buyers that it does with Australian buyers: it is relatively distant and has limited economic activity, Taylor says.
"Our forecast is for Chinese buyers to continue to show greater interest in Tasmania, because we are seeing their activity increase in regional areas all over Australia. As Chinese buyers get more sophisticated and more comfortable in international markets, they begin to look at marketplaces like Tasmania, where they might not have shown much interest in the past."
Buying Guide

46 Colville St, Battery Point - Hobart's most prestigious suburb, known for its character homes. A short stroll from the Salamanca Market and Hobart waterfront district, the three-level home commands 180-degree views of the Derwent River.

A three-bedroom cottage with study, lounge and separate kitchen in the historic town of Queenstown. The property has two garden sheds and backs onto Crown Reserve land.
This article appeared in the South China Morning Post print edition as: Deals abound in Tasmania