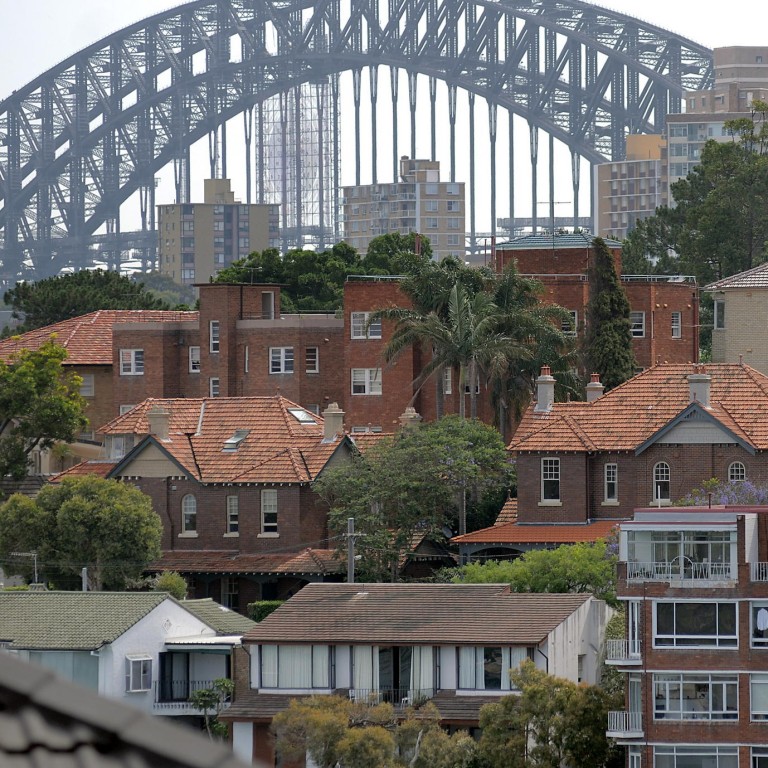 Record number of Chinese buyers pump up property prices in Sydney
Buyers from China have, overnight, become third-biggest investors down under, bagging 80pc of the homes in parts of biggest city
Home prices in Sydney could rise by as much as 10 percent over the next 12 months, driven in part by unprecedented levels of demand from China, according to McGrath Estate Agents.
As much as 80 per cent of homes in parts of Sydney are being sold to buyers from China, said John McGrath, chief executive officer of the company, which recorded A$7 billion (HK$50 billion) of property sales in the year to June 30.
Record-low interest rates and the biggest influx of investors in almost a decade are also fuelling prices.
"The Chinese market is extremely strong, the strongest I've seen in a new entrant into the market," McGrath said.
"Record low interest rates and the ability to fix such rates for a long period of time is very attractive."
Chinese buyers, facing government restrictions on purchases at home, were the third-biggest source of foreign investment in Australian real estate, behind the US and Singapore, in the 2012 financial year, the latest figures from the Foreign Investment Review Board showed. They accounted for A$4.2 billion of transactions, a 75 per cent jump from 2010, according to the data, which does not break out residential property sales.
Chinese are buying in Australia on expectations of capital growth, to provide a home for their children attending university in the country or simply to live outside China, McGrath said.
At a recent property auction in Eastwood, 17 kilometres (11 miles) northwest of Sydney's city centre, all 38 of the registered bidders were Asian, McGrath said.
A three-bedroom house with a double lock-up garage and two sun rooms opening onto the rear garden sold for A$2.39 million, more than A$1 million over the reserve price, after 62 bids by eight hopeful buyers, according to the agent.
In an auction, serious potential buyers register their interest before it starts and an auctioneer then solicits offers. If bids reach the reserve price, the house is sold to the highest bidder. If the maximum bid is below the seller's minimum price, the home is "passed in" and remains unsold.
About one third of Eastwood residents were of Chinese ancestry, the biggest demographic group in the area, according to 2011 census data.
At the 56-apartment Gordon Grand development in Gordon, a suburb some 17 kilometres north of Sydney's centre, half the buyers were Chinese, according to figures provided by McGrath, which marketed the project.
In new developments, particularly those with harbour views, inquiries from Asian buyers make up as much as 40 per cent of the total, data from McGrath's new-project marketing division shows. At the first open house of a home with an A$8.25 million price tag in the affluent eastern suburb of Bellevue Hill, nine of the 15 groups were Chinese, illustrating climbing demand in traditionally non-Asian neighbourhoods, according to McGrath.
Fewer than 4 per cent of people living in the suburb were of Chinese ancestry as of the 2011 census.
McGrath, which has offices in New South Wales, Queensland and Canberra, has created a China desk in Sydney to cater to Mandarin-speaking clients and could eventually start operations in China, he said.
"I haven't seen a trend like this in 30 years - in terms of a brand new demographic group entering the Australian market with so much impact - as I've seen in the last 12 months," McGrath said in a separate interview with Bloomberg Television.
While Sydney has been a "stellar performer" over the past six months, the city's house price growth rate is unsustainable, he said.
House and apartment prices in Sydney rose 7.4 per cent in the eight months to August 31, compared with a national average of 5.1 per cent, the RP Data-Rismark Home Value Index showed.
More than 85 per cent of the homes that went to auction in the city sold in the first weekend in September, the highest rate since 2008, according to Australia & New Zealand Banking Group.
"There are long-term growth prospects, but the current growth rates probably need to slow at some point soon," McGrath, who forecasts prices could rise by between five and 10 per cent in Sydney in the next year, told Bloomberg Television.
Demand from investors, drawn by rental yields that remain above 4 per cent even as mortgage rates drop below 5 per cent, is also spurring price gains, he said.
This article appeared in the South China Morning Post print edition as: Chinese spree pumping up Sydney prices