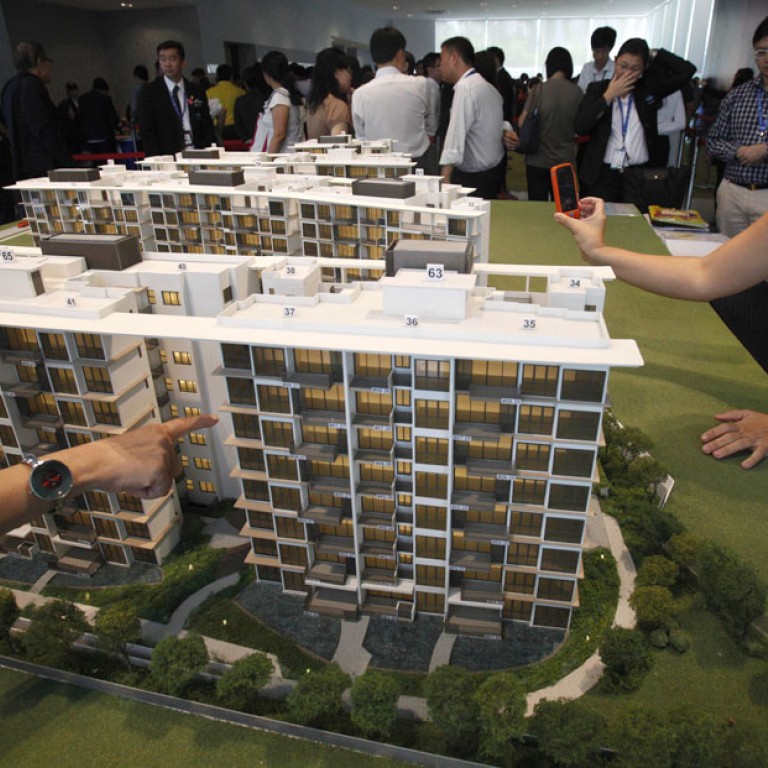 Singapore home prices fall at faster pace of 1.2pc in October as curbs bite
Government measures to cool an overheating property market appear to be working
Singapore home prices fell at a faster pace in October, dropping 1.2 per cent from the previous month as evidence builds that the government's efforts to cool the property market are working.
The city state's residential property index fell to 159.1 points after declining a revised 0.9 per cent in September, according to the National University of Singapore's Singapore Residential Price Index. The measure tracking prices in the central region decreased 1.4 per cent in October.
Record home prices amid low interest rates raised concerns of a housing bubble and prompted the city state to introduce new taxes and higher minimum down payments in 2009 to curb speculation in Asia's second most expensive housing market.
Home sales have been falling in the past four months after the government imposed new rules in June governing how financial institutions grant property loans to individuals.
"The latest statistics are a reflection of the current measures starting to bite in the residential market," said Alice Tan, head of consultancy and research at Knight Frank in Singapore. "Prices are still the key consideration for many prospective homebuyers."
Home prices have jumped 40 per cent since Singapore started introducing curbs four years ago. The gains led to the country being ranked the most expensive city to buy a luxury home in Asia after Hong Kong in a Knight Frank wealth report in March.
Singapore's home sales fell 19 per cent in October to 1,009 units from a month earlier, according to data from the Urban Redevelopment Authority. From the previous year, sales dropped 48 per cent, the data showed.
The earlier cooling measures have jammed the brakes on transaction volume in the residential property market, according to a DTZ research report released in October.
Buyers will be more selective given that it is now harder to obtain loans to finance property purchases. This is especially so for multiple property owners, who will also have to pay higher additional buyer's stamp duty.
Even though foreign purchases fell in absolute terms, the smaller fall in purchases meant that the proportion of foreign purchases increased from 7.4 per cent in the second quarter to almost 9 per cent in the third quarter.
This article appeared in the South China Morning Post print edition as: Fall in Singapore home prices gains pace