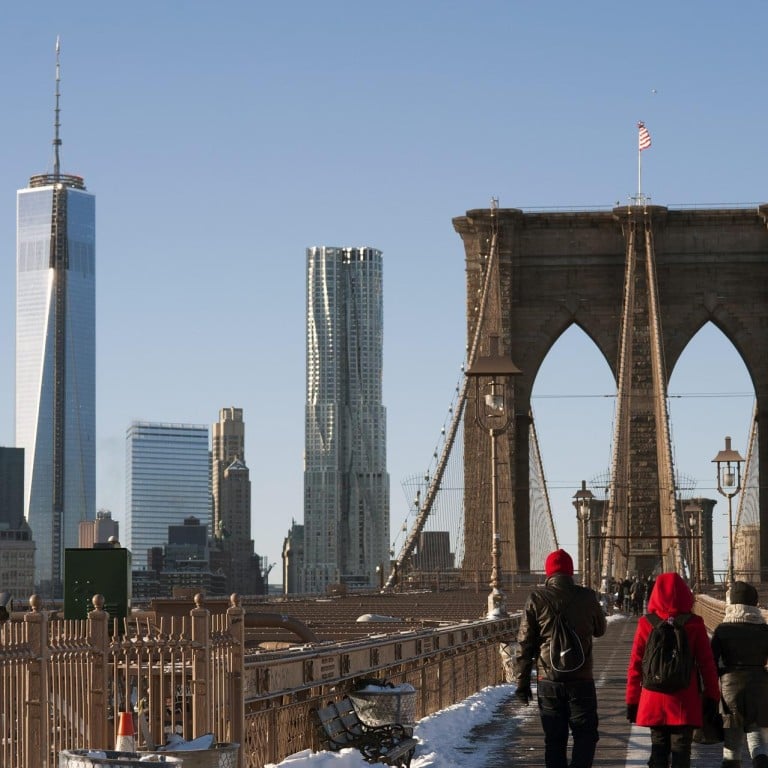 Manhattan flat sales rise on fears of mortgage rate and price increases
Apartment sales in upscale New York borough surged at year end, with buyers anticipating rising mortgage rates and a seller's market
Manhattan apartment sales surged in the fourth quarter, setting a record for year-end transactions, as the prospect of rising interest rates and prices pushed buyers to make deals before purchases became costlier.
Sales of condominiums and co-ops jumped 27 per cent from a year earlier to 3,297, the highest fourth-quarter total in 25 years of record-keeping, according to a report from appraiser Miller Samuel and brokerage Douglas Elliman Real Estate. The previous record was set in 2012, when sellers sought to finish deals before an expected jump in capital-gains taxes.
Buyers are rushing into Manhattan's market after a jump in mortgage rates since May, heightening competition for properties at a time when supply is dwindling. The inventory of homes for sale at the end of last month fell 12 per cent from a year earlier to 4,164, the lowest since Miller Samuel began tracking that data 14 years ago. Demand is pushing values higher, with the median price for a condo reaching a record.
"There's a concern that home ownership will be more expensive and therefore the time to act apparently is now," said Jonathan Miller, president of New York-based Miller Samuel. "It's a combination of rising mortgage rates and concern that prices are going to rise."
The average rate for a 30-year fixed mortgage jumped from a near-record low of 3.35 per cent in May to 4.53 per cent this week, according to Freddie Mac. The US Federal Reserve said last month that it would begin to scale back its stimulus plan that has kept borrowing costs low, fuelling speculation that mortgage rates will rise further.
The median price of Manhattan transactions that closed in the fourth quarter climbed 2.1 per cent to US$855,000, Miller Samuel and Douglas Elliman said. The average price per square foot climbed 8.7 per cent to US$1,178. Buyers paid the asking price or more in 43 per cent of sales, versus 12 per cent a year ago.
The average condo price rose 14 per cent to a record US$1.32 million in the quarter. The surge was propelled by a 27 per cent increase in the price of flats in newly constructed developments, to US$1.73 million. Properties built and completed since the recession tended to have larger units and were tailored to luxury buyers, which accounted for some of the price jump, Miller said.
"I don't see demand going away," said Gregory Heym, chief economist at Terra Holdings, owner of brokerages Brown Harris Stevens and Halstead.
He expects that inventory could decline further this year while prices continue to rise. Homeowners were hesitant to list apartments for fear they would have nothing to buy once they sold, while limited new development activity was focused on rich buyers, he said.
"There's no relief coming," Heym said. "You're seeing new developments being sold before they're finished, and there's no reason to expect people will put their apartments on the market. The frustration is finding something to trade up to."
StreetEasy.com
, a property-listings website owned by Zillow, said the median new-development price rose 76 per cent to US$2.18 million.
"The product that's been offered this year, while there's not been a lot of it, its really been hitting the sweet spot in the market where there's a high demand for larger apartments," said Pamela Liebman, chief executive officer of brokerage Corcoran. "The mood is very positive right now."
On the Upper West Side, the median price of previously owned condos jumped 14 per cent from a year earlier to US$1.34 million, Corcoran said. The average price per square foot of condos was US$1,576, the highest in Manhattan. Co- ops in the neighbourhood saw the average price per square foot climb 10 per cent to US$1,067.
Properties in that area also sold the quickest in the quarter, spending an average of 80 days on the market, StreetEasy said.
On the Upper East Side, previously owned condos traded at a median price of US$964,000 in the quarter, a 3 per cent increase from a year earlier, Corcoran said. The median price of co-ops declined 10 per cent to US$745,000, although the price per square foot climbed 2 per cent to US$946.
This article appeared in the South China Morning Post print edition as: Manhattan flat buyers rush in before prices rise further