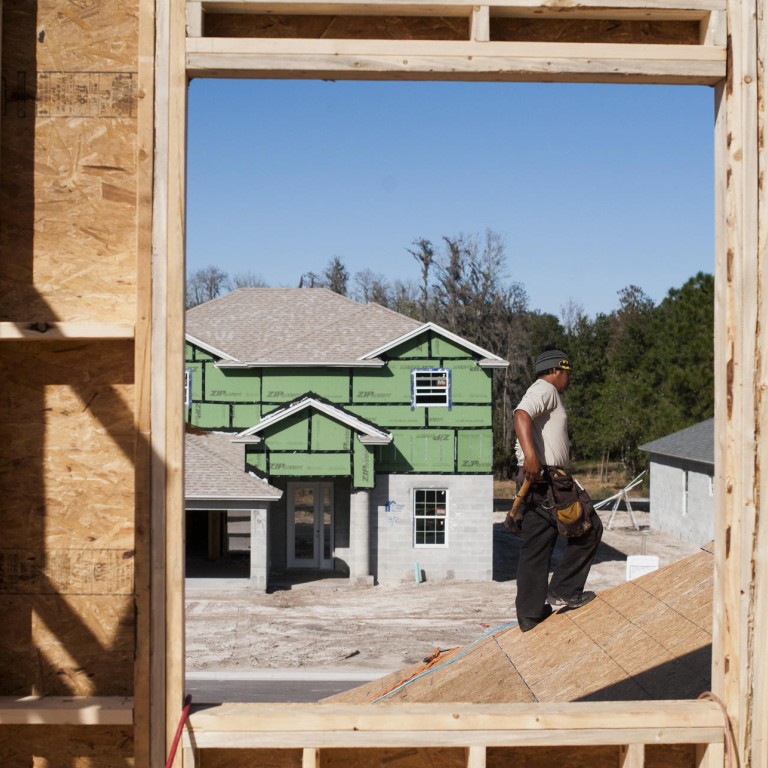 US homeowners look to peak spring season to claw back equity lost in 2007 crash
US homeowners looking to claw back equity after the devastating crash in 2007 fuel increase in supply, offering more choice to would-be buyers
Suzanne Baker and her siblings bought a foreclosed home in Atlanta two years ago, added a fourth bathroom, then waited for values to rebound before considering a sale. Now, she says, they're ready to cash in.
The family last month listed the four-bedroom house in the affluent Buckhead neighbourhood for US$710,000.
It was purchased as an investment for about US$375,000 in late 2011, before bulk buyers snapped up many of the area's distressed homes, helping to drive up prices in Atlanta by more than 25 per cent.
"The market is back up," Baker said. "We think we can make a good amount of profit so we're going to try."
For two years, a shortage of sellers like the Bakers has propped up prices across the US as shoppers jostled for a dwindling supply of houses.
Now, as the market's busiest season approaches, escalating values are spurring more listings as homeowners regain equity lost in the 2007 crash - the worst since the 1930s.
While new-home construction at a third of its 2006 peak will keep inventory tight, the supply increase is poised to dampen price gains while higher mortgage rates cut into demand.
For would-be buyers, more choice would mean relief from the bidding wars of last year, when the supply was at a 12-year low leading into the key spring season. The period traditionally starts at about this time, with deals picking up in the following months as the weather in much of the country starts to warm up.
Prices "won't be rising as much as they were rising last spring", said Jed Kolko, chief economist of San Francisco-based Trulia, operator of an online property listing service.
"It will be a less frantic market with more inventory and fewer investors."
The number of available homes climbed on a year-on-year basis in each of the last four months of last year after 30 straight declines, according to the National Association of Realtors. The increase in December was 1.6 per cent.
Inventory rose the most in some of the tightest areas, from Arizona and California to Georgia and Florida, where leaps in prices erased negative equity and encouraged homeowners to lock in profits, according to a separate report from
Realtor.com
, the property listings website for the Realtors association.
In Sacramento, California, where asking prices climbed 11 per cent last year, listings jumped 58 per cent in December, according to the website. The supply rose 35 per cent in the Minneapolis area; 31 per cent in Orlando, Florida; 27 per cent in Atlanta; 24 per cent in Dayton, Ohio; 23 per cent in Oakland, California; and 21 per cent in Phoenix.
"Rising inventory is the primary reason that we expect the pace of price gains to drop back," said Paul Diggle, property economist for Capital Economics in London.
Lawrence Yun, the Realtors group's chief economist, said: "Buyer enthusiasm has really softened in the past three months." He said colder-than-normal weather may be partly to blame. "In some markets, prices may rise further and buyers will want to catch it" before the rises put them out of their budget.
In Southern California's Inland Empire, east of Los Angeles, homeowners got a jump on the spring selling season and began listing properties earlier than usual, said Paul Reid, an agent with brokerage Redfin.
Sellers are "nervous about what the spring is going to bring," said Reid. "They don't know if everybody will list this spring - then you'll have a big counterbalance toward too much inventory, or if there'll be a crunch again. They figure they'll get out ahead of the market, list, sell and be done with it."
Rising inventory may unlock sales in severely constrained markets such as California's Silicon Valley, where homes spend a median of 18 days on the market, according to Redfin data.
While those types of areas will benefit from more supply, demand in much of the country remains relatively weak and won't recover without stronger job growth, said Sam Khater, senior economist for CoreLogic.
Adjustable-rate mortgages, used by first-time buyers in past decades to purchase more expensive properties, may not be an option because of stricter lending standards adopted after the crash, he said. "More supply will not create its own demand," Khater said. "It will slow prices to a more sustainable rate of growth, but it won't make the market more affordable. Once prices reach their natural state, future price appreciation will depend on income increases."
The US gained 74,000 jobs in December, the fewest in almost three years, even as the unemployment rate fell to a five-year low of 6.7 per cent. The jobless rate for Americans in their early 20s, many of whom are living with their parents longer rather than renting or buying properties, was more than 10 per cent.
First-time buyers accounted for 27 per cent of completed home purchases in December, down from 30 per cent a year earlier, said the Realtors group.
An increase in supply would indicate the housing market is moving towards more normal conditions as it rebounds from the five-year slump that started to turn around in 2012.
"Inventories had been very, very low and still are despite this turnaround," said Mark Zandi, chief economist for Moody's Analytics. "It's part of the process toward normalisation.
"Although the weakening in demand needs to be watched carefully because if demand does not pick up in the spring, that's going to call into question the strength of any recovery."
This article appeared in the South China Morning Post print edition as: Sellers bank on peak season to put a spring into market