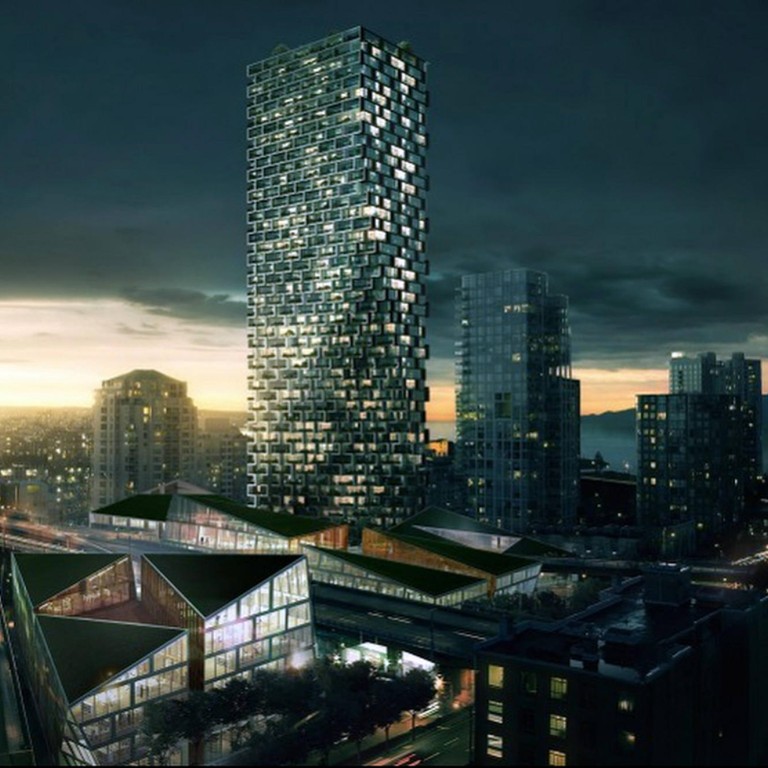 Vancouver developer targets world's wealthy with his '52-storey sculpture'
Canadian developer Ian Gillespie was in full spate as he described his vision for Vancouver as an Asia-Pacific hub, attracting the best and brightest to what is routinely ranked as one of the world's most liveable cities.
Canadian developer Ian Gillespie was in full spate as he described his vision for Vancouver as an Asia-Pacific hub, attracting the best and brightest to what is routinely ranked as one of the world's most liveable cities.
It is a vision that underpins his latest project: Vancouver House, a futuristic-looking high-rise that Gillespie predicted would become a landmark for the city when completed in 2018.
The luxury residential tower is being marketed around the world, including Beijing, Shanghai and Hong Kong, where Gillespie and Danish architect Bjarke Ingels are due to officially unveil the project today.
Yet in a recent interview in his Vancouver office, Gillespie admitted his home city was experiencing "growing pains" after a decade in which more than 40,000 rich immigrants, 80 per cent of them Chinese, moved to the city under a recently axed millionaire migration scheme.
In addition to being one of the world's most liveable cities, Vancouver is now the second-most unaffordable housing market in the world behind Hong Kong, according to the Demographia* consultancy's study of 378 cities around the world in nine markets.
With prices of detached homes now averaging more than C$1.2 million (HK$8.6 million), can Vancouverites afford any more internationalisation?
"I think it's a good thing to aspire to because I just know myself that I learn more when I am around people from other cultures," said Gillespie, greyhound lean with the hunted look of a former competitive runner (he almost made the Canadian Olympic team in his youth).
"I know that my personal life is enriched from taking the best that different cultures can offer. I don't think anyone has an argument with that unless they truly have their head in the sand.
"I think we're past that conversation. I think the real issue is that when you have a city that's growing like our city is, and that's attracting all this talent, how do you try to buffer some of the negative consequences that come from that. Obviously, affordability is the primary one."
Gillespie, president of his privately owned firm, Westbank Projects Corp, has been one of the key players in Vancouver's transformation, with landmark projects scattered across the city.
But he has a particular passion for Vancouver House as the synthesis of his philosophy of , a German word for "total design" - encapsulating architecture, art, infrastructure and city building.
The ambitious design of the tower is a product of necessity. Planning requirements included setbacks from a nearby bridge that reduced the 100,000 square foot site to a miniature 6,000 sqft triangular plot on which to build the main tower.
To overcome this, Ingels had the floor plan expand as it ascended, resulting in a cantilevered 13,000 sqft rectangular floor plan on the upper levels.
The result has been likened to a 52-storey sculpture, or a curtain being drawn back on the city.
Gillespie said the tower would be the most expensive ever built in Vancouver.
"Vancouver has lots of good buildings. It doesn't have one building right now that takes your breath away," he said. "You can't have a whole bunch of buildings that take your breath away. It's like putting on too much jewellery. You just need to have one really great piece … That's what we went out to achieve."
He likened Vancouver House's potential buyers to art collectors.
Adding to the appeal for international buyers will be an "asset management" programme for absentee owners, with managers performing such tasks as running water through the taps and regularly switching on appliances should an apartment lie vacant for an extended period. It is a concept bound to raise eyebrows in a city where vacancy rates are frequently cited as a downside of foreign participation in the housing market.
As for whether Vancouver House would have more local or international buyers, Gillespie said he had "no idea". "[But] what I can tell right now is that we're receiving a lot of input from all over the world, which is not the norm. The norm for the last number of years is that you receive input from Vancouver and China … [but] people are being emotionally drawn to that sculpture."
Gillespie said he was unconcerned by Canada's decision in February to axe the 28-year-old millionaire migration scheme.
The scheme, under which migrants worth a minimum of C$1.6 million received permanent residency in exchange for loaning the government C$800,000 interest-free for five years, helped Vancouver become the world's favourite destination for millionaire migrants.
Applications by millionaires, most of them Chinese, to move to British Columbia under the scheme in recent years far exceeded those under similar wealth migration schemes to move to the United States, Australia and Britain combined.
The cancellation of the programme goes into effect this month, along with the formal rejection of visa applications by about 60,000 would-be migrants, two-thirds of them planning to move to British Columbia.
Gillespie said the move had likely triggered a brief decline in Vancouver sales already, although he believed it would amount to nothing more than "a blip". Rich immigrants would continue to make their way to Vancouver regardless, he noted.
"The way to think of it is water running down the hill," he said. "You put a boulder in the middle of the creek and the water heads around it. It always finds a way. People find a way."
[*Update: this story has been updated to include a link to the latest Demographia study and to describe its scope]
This article appeared in the South China Morning Post print edition as: Developer targets the wealthy with Vancouver House