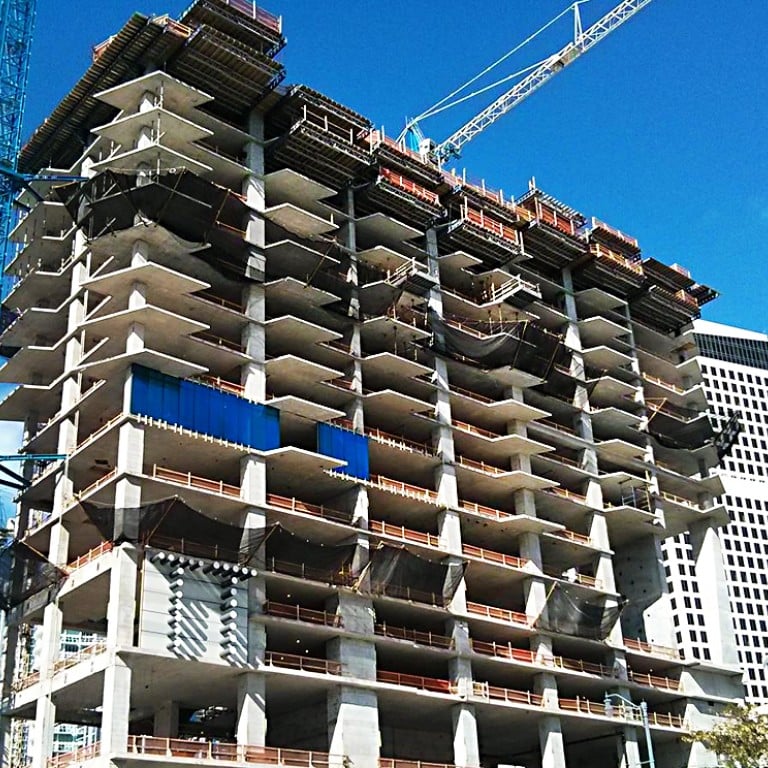 Swire Properties sells Miami flats at top prices
Chinese buyers lead surge of foreign purchases of homes in the US, with Swire's pre-sale success at its upmarket Florida tower a sign of the trend
Swire Properties has presold at record prices more than 40 per cent of the first residential tower at its large mixed-use project in Miami, Florida, as Chinese buyers lead a surge in foreign purchases of homes in the United States.
The developer released the first batch of 383 condominiums in the north tower, known as Reach, at its US$1 billion Brickell City Centre for presale on May 29, it said in a written reply to the .
"We have issued sales contracts to more than 150 potential buyers, with the units selling from US$550,000 to US$2.5 million," Swire Properties said.
It said more than 40 per cent have been sold to the international market, which "includes Asian buyers".
The firm said its pricing is among the highest in the area.
Prices for the units, ranging in size from 871 square feet to 2,740 sq ft gross floor area, were US$570 per square foot, almost double the US$305 per square foot average transaction price in the first quarter found in the quarterly survey of Miami coastal community sales by Douglas Elliman, the fourth-largest property agency in the US.
A survey by the National Association of Realtors found foreign purchases of US properties rose 35 per cent to US$92.2 billion last year, with Chinese as the largest group of international buyers.
Chinese purchases of US homes grew 29 per cent year on year to US$22 billion.
Last week, it was reported that the government in Beijing plans to tighten up on remittances of funds abroad, which could lead to a fall in offshore investment by mainlanders, including in residential property.
Patrick ONeill, chief executive of the ONeill Group, a firm that specialises in international residential and commercial real estate, said Chinese have been buying in Miami since 2011 and the numbers are increasing.
The combination of low prices, no state capital gains tax and high rental yields has made Florida the No1 state in the US for foreign investment, accounting for 23 per cent of all international purchases, followed by California at 17 per cent, ONeill said.
"Miami's growing appeal to Chinese buyers is a combination of the property value fundamentals and the internationally diverse culture of the city. Florida has been the top-selling region in our Hong Kong office for the past year," he said.
Douglas Elliman said home sales in the Miami coastal community rose 3.9 per cent year on year to 5,133 in the first quarter, making it the highest first-quarter total in the eight years this metric has been tracked.
Inventory rose 15.2 per cent year on year to 12,664 in the first quarter after it bottomed out in the second quarter of 2013.
The 43-storey Reach, which is scheduled to be completed next year, comprises 390 units, including the first batch of 383 one- to three-bedroom units. It also has seven penthouses ranging in size between 2,680 sq ft and 4,385 sq ft.
Located in Brickell, a financial district in Miami, Brickell City Centre has a total gross floor area of more then 2.89 million sq ft, comprising a shopping centre, three office buildings, two residential towers and a 294-room hotel with 87 serviced apartments.
Construction of Phase 1, including all elements except for one office tower, is expected to be completed next year, with Phase 2 due for completion in 2018.
The site was formed by joining five parcels of land acquired since the global financial crisis, at a time when Florida was one of the hardest-hit housing markets in the US.
Property prices plummeted up to 80 per cent from the peak in 2007 and stagnated for several years, even as the rest of the country rebounded.
This article appeared in the South China Morning Post print edition as: Swire's Miami flats a top draw