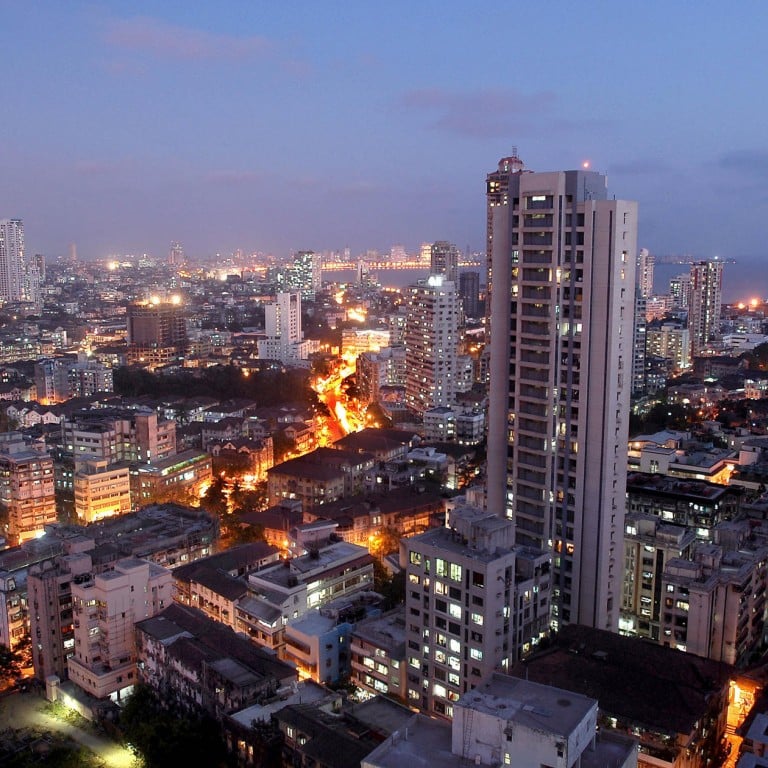 India paves way for reit market
Real estate investment trusts seen as new source of funds for debt-hit developers and could lead to US$20b of listings
India is laying the groundwork to make real estate investment trusts tax-exempt and allow them to trade on public exchanges, a move that may help unlock as much as US$20 billion of listings.
Regulations on taxation would be amended, Finance Minister Arun Jaitley said last month, and the stock market regulator is preparing to allow reits to be traded on exchanges, according to Edelweiss Securities.
The introduction of reits will provide a new source of cash to developers that have struggled to reduce debt with interest rates among the highest in Asia, while giving investors the ability to buy into the property market.
Assets that may qualify to be included in reits may reach US$20 billion by 2020, according to an estimate by property broker Cushman & Wakefield. In the first three to five years, as much as US$12 billion could be raised.
"Reits could be the game changer for India's property sector," said Priyaranjan Kumar, a regional director of capital markets at Cushman & Wakefield in Singapore. "It will force much needed transparency at least in the commercial sector, and lower the reliance on financing from banks and incentivise developers to own and manage assets with a long-term view."
Prime Minister Narendra Modi has promised changes in the property market, which was valued at US$66.8 billion in March 2011, according to India Brand Equity Foundation, a government agency.
Reits pool investor money to buy real estate such as shopping centres, office buildings and rental housing. India's reit market has the potential to grow to rank among the top five markets in Asia by market capitalisation, according to Cushman & Wakefield.
While the Securities and Exchange Board of India released the first draft of guidelines for reits in 2008, it never got final approval because of a lack of clarity on taxes and because the global financial crisis hurt the investment climate, according to a report by Knight Frank. Since then, the regulator released a new set of guidelines in October, outlining the eligibility criteria for setting up reits.
Reits will have to pay out at least 90 per cent of their net distributable income to investors as part of the requirements for tax-exempt status. The minimum initial offer size should be 2.5 billion rupees (HK$317.5 million) and the public float should be at least 25 per cent, according to the stock regulator.
Under the proposed framework, only domestic and foreign institutional and high-net-worth individuals will be allowed to invest initially, while retail investors will be able to participate later as the market develops. The minimum investment would be 200,000 rupees.
No date has been announced yet for the introduction of reits.
India has plenty of assets ready to be packaged into trusts. Asia's third-largest economy has been in the top five global office markets for at least seven years, with average annual net demand of more than 30 million sqft, Cushman & Wakefield said.
The country has top quality office space of about 350 million sqft across its six biggest cities, according to JLL. Of this, about 100 million sqft are potentially available for reit listings, which could be valued at as much as US$9 billion.
The combined debt of India's six largest developers rose to a record 394 billion rupees in the year to March, according to broker IIFL.
Among developers that may introduce reits are DLF, the country's largest developer by value, with about 28 million sqft of operational rental assets, according to HDFC Securities. Others include Prestige Estates Projects and Phoenix Mills.
An introduction of reits will reduce the cost of business for both domestic and foreign investors, said Rajeev Talwar, a director at DLF.
"It will help ease liquidity for developers and provide access to retail investors to benefit from regular income and appreciation from real estate," said Neeraj Bansal, a partner at KPMG.
Foreign institutional investors such as Blackstone Group and Brookfield Asset Management, have been accumulating rental assets to potentially create reits in the country, according to HDFC. Blackstone is the largest private equity landlord of office assets in India, with about 22 million sqft, while Brookfield has about 15 million sqft.
Not all agree that reits will be the investors' choice. The tax break might not be enough, said Adhidev Chattopadhyay, an analyst at HDFC.
Rents for assets included in the reit would need to appreciate 4 to 5 per cent annually, followed by an increase in capital values, to become attractive, Chattopadhyay said.
Reits would have post-tax yields of 7 to 8 per cent, lower than government bonds with yields of between 8 and 9 per cent, he said.
The government must address the differing stamp duties for purchase and sale of assets in India, which currently range from 5 per cent to as high as 14 per cent across the country, depending on the city, he said.
"Interest rates in the economy would need to decline meaningfully for a reit to become a viable financial vehicle," said Bhaskar Chakraborty, an analyst at IIFL.
The Reserve Bank of India's benchmark repurchase rate is 8 per cent.
The introduction of reits would help India's market become more institutionalised, said Shobhit Agarwal, a joint managing director of capital markets at JLL.
"The legislation has come at the right time," Agarwal said. "Markets, business and investors all will benefit."
This article appeared in the South China Morning Post print edition as: Push paves way for reit market