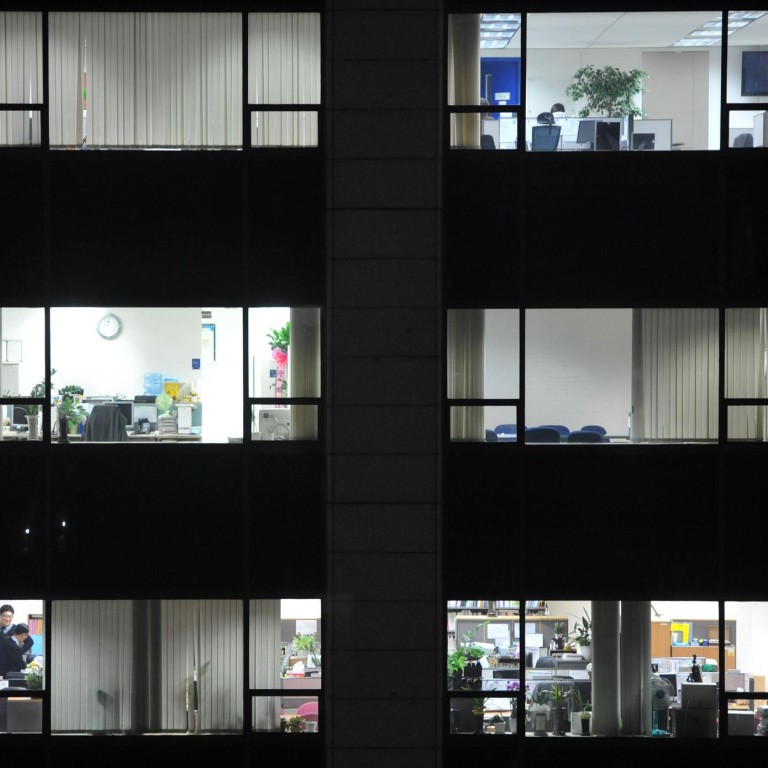 South Korea's Yeouido financial hub sees office vacancies rise to record
The level of empty offices in the Yeouido financial hub now double those of Seoul's central business district as brokerages cut staff
Lee Sang-kun does not need to read the real estate section to know South Korea's financial hub is emptying.
Lee, 65, who operates a coffee shop in Seoul's main financial district, said his regular customers had been disappearing for most of the past year. First it was the new hires sent to fetch lattes for the office, then the more senior people vanished as local brokerages' headcounts fell to the lowest since 2007.
The office vacancy rate in Yeouido, home of the stock exchange and known locally as Korea's Wall Street, soared to 24.8 per cent in the second quarter, the highest in Savills data going back to 2002, as brokerages shed staff and shut branches on falling profits.
By comparison, office vacancies in Manhattan, home to the original Wall Street, hit a post-global financial crisis high of 11.6 per cent in the first quarter of 2010, according to Cushman & Wakefield.
"New-building construction is lifting Seoul's vacancy rate in general," said JoAnn Hong, a Seoul-based director at Savills. "But Yeouido seems to be getting hit harder because it's a financially focused area and was already feeling the pinch."
Earnings in the brokerage industry last year fell to the lowest since the first half of 2005, while trading on the Korea Exchange dropped to a six-year low, data compiled by Bloomberg and the Financial Supervisory Service showed.
Vacancies have soared with the addition of new skyscrapers, including the three buildings that make up the International Finance Centre Seoul, which have more than 5.44 million sqft of gross floor area.
Lease agreements had been signed for about 20 per cent of the 55-story Three IFC, Savills said in a report on the second-quarter performance of Seoul's office market. If Three IFC, as the building is known, is excluded, the vacancy rate for the whole of Yeouido drops to 14.4 per cent, still the highest since 2002.
A low-lying island in the middle of Seoul's Han River, Yeouido was home to peanut farms and an oft-flooded airport before being marked for development by president Park Chung-hee, a military dictator who ruled for 18 years until his assassination in 1979. Current President Park Geun-hye is his daughter.
The island is home to the National Assembly building, which opened in 1975, while the country's stock exchange relocated there from central Seoul in 1979, according to the Korea Exchange's website. The district hosts 99 of the 287 financial institutions based in Seoul, 51 asset management companies and eight futures firms, according to Invest Seoul, a government business promotion unit.
Demand for Yeouido office space fell last quarter as brokerages including Tongyang Securities, HMC Investment Securities and Eugene Investment & Securities eliminated jobs, according to Savills.
About 4,000 people were shown the door in the 12 months to June, taking the number of workers at Korea's 61 brokerages to 37,723, the least since 2007, Financial Supervisory Service data showed. The number of domestic branches fell to 1,343, the least since 1999.
Individual investors, who account for about half of equity trading, have pulled a net 5.8 trillion won (HK$42 billion) from the Korea Composite Index stocks since the end of 2012 as record household debt curbs discretionary spending.
Korea's financial industry was weakening and the sector's contribution to the overall economy has fallen, Finance Minister Choi Kyung-hwan said at a meeting with industry association heads in Seoul on September 4. The industry needed to find a "breakthrough" for growth because it was critical to the economy, Choi said.
"Brokerages have been too dependent on their retail businesses, which have ups and downs, depending on the stock market, and fee income really suffered when online broking became mainstream," said Chun Byoung-jo, an executive vice-president at KB Investment & Securities.
"Brokerages in Korea need to become more like overseas investment banks such as Goldman Sachs by boosting principal investment business and proprietary trading."
Yeouido's vacancy rate compares with Seoul's average of 13.6 per cent and is more than twice the 12 per cent rate for buildings in Seoul's central business district, according to the Savills data. The city's fashionable Gangnam district, made famous by singer Psy's viral hit , has a vacancy rate of just 8 per cent.
While nominal rents are not falling yet, the real office-lease prices may be lower than those published in places such as Yeouido, where supply outstrips demand, according to Kim Kee-woong, a senior manager at Mate Plus, a property management firm in Seoul. Average monthly office rents rose 0.5 per cent from a year earlier in Yeouido, half of Seoul's average 1 per cent increase in the quarter to June, Savills data showed.
"Building owners are desperate to fill the space," said Kim. "So while they may not cut the rent, they may provide hefty rent-free periods for as long as several months."
Lee, the coffee-shop owner, said that as many of his customers lost their jobs, they were also losing hope of returning to finance.
"Now some customers ask me how to run a coffee shop," said Lee, the owner of Zephyr Beans in Yeouido's Gukjegeumyung-ro, which means International Finance Street in Korean. "They're only half-joking. Many lost their jobs this year and the reality is pretty serious."
The vacancy rate for prime office buildings in Yeouido is estimated to improve as much as 4 to 5 percentage points from the current level as large tenants such as Korean Teachers' Credit Union and IBM Korea relocate to buildings in the area, according to Savills.
High vacancies are not deterring investors, who are speculating that commercial property in Asia's fourth-largest economy will exceed returns available on other asset classes.
Seoul was Asia's most active office market outside Japan in the past 12 months, beating Hong Kong and Singapore by more than US$6.9 billion with US$14.5 billion of sales, Real Capital Analytics data showed.
"We're expecting the overall Seoul vacancy rate to drop from next year," Kim said. "Still, the recovery in Yeouido looks a bit tough. It all depends on when the district's main tenants - the brokerages and other financial institutions - regain their vitality."
This article appeared in the South China Morning Post print edition as: Financial hub sees vacancy rates rise