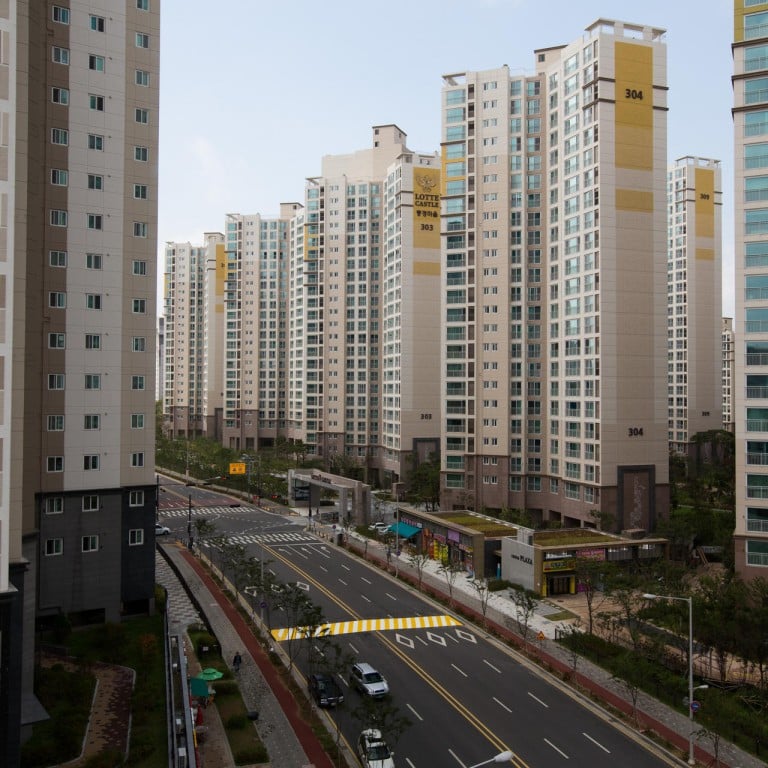 South Korea president's housing revival spurs plan for record bonds
Korea Housing Finance Corp will offer as much as eight trillion won of mortgage-backed debt
South Korean President Park Geun-hye's success in reviving the property market is prompting the country's sole issuer of bonds backed by home loans to plan record sales of the notes.
State-backed Korea Housing Finance Corp will offer as much as eight trillion won (HK$58.4 billion) of mortgage-backed debt this quarter, against 6.1 trillion won in the first nine months of the year, according to Choi Hyuk-soon, general manager of the securitisation business.
That would be a record, exceeding the 7.88 trillion won in the last three months of 2012, according to data from the Seoul-based lender.
Housing permits leapt 53 per cent in August after Park's government eased mortgage restrictions to shore up slowing growth in Asia's fourth-largest economy.
Interest in the Acroriver Park apartment complex being built by Daelim Industrial in Seoul's upmarket Gangnam area has surged on signals of government support for the property market, project sales director Jang Woo-hyun said.
"We're seeing more underlying assets packaged as [mortgage-backed securities] as the housing market regains vitality," Choi said recently. "We're quite optimistic about next year too."
The government increased the loan limit for homebuyers to 70 per cent of a property's value from as low as 50 per cent, starting from August.
Authorities also created a nationwide standard for how much of income can be used for mortgage payments and set it at 60 per cent. That figure is up from the previous cap for Seoul, which was 50 per cent.
An index of Korean apartment prices hit an all-time high last month, according to data from Kookmin Bank, the country's largest mortgage lender. Prices jumped 2.3 per cent from a year earlier, the most in two years.
KHFC sold 2.65 trillion won of mortgage-backed securities in the third quarter compared with 1.17 trillion won in the previous three months, according to company data.
Mounting issuance of mortgage-backed securities, which use home loans as collateral, frees up funds for further lending. That dovetails with Park's plan, including support for housing, to boost gross domestic product growth that slowed to the weakest pace in more than a year in the second quarter.
The measures to bolster the property market mark a shift after South Korea's efforts to address record household debt levels helped the country avoid the surge in home prices seen in Hong Kong and Singapore in the past five years.
South Korea's outstanding bank loans to households rose by five trillion won to 497 trillion won in August from a month earlier, the biggest gain since November 2006, as mortgage demand increased on higher home transactions, the Bank of Korea said on September 11.
The growing supply of mortgage-backed securities provides alternatives for investors struggling with a shortage of bonds issued by state-owned enterprises as authorities force the companies to trim their balance sheets.
Issuance by the government-backed borrowers has slumped 16 per cent to 57.1 trillion won this year from the same period last year, Korea Financial Investment Association data shows.
"Because sales of SOE bonds have plunged this year, MBS can quench the thirst of long-term investors such as pension funds" as some mortgage-note maturities are as long as 20 years, said Lee Kyoung-rok, a credit analyst at Daewoo Securities.
"With the government's policy and low interest rates, we expect mortgage-backed securities sales to increase further," said Lee.
This article appeared in the South China Morning Post print edition as: Park's revival spurs plan for record bonds