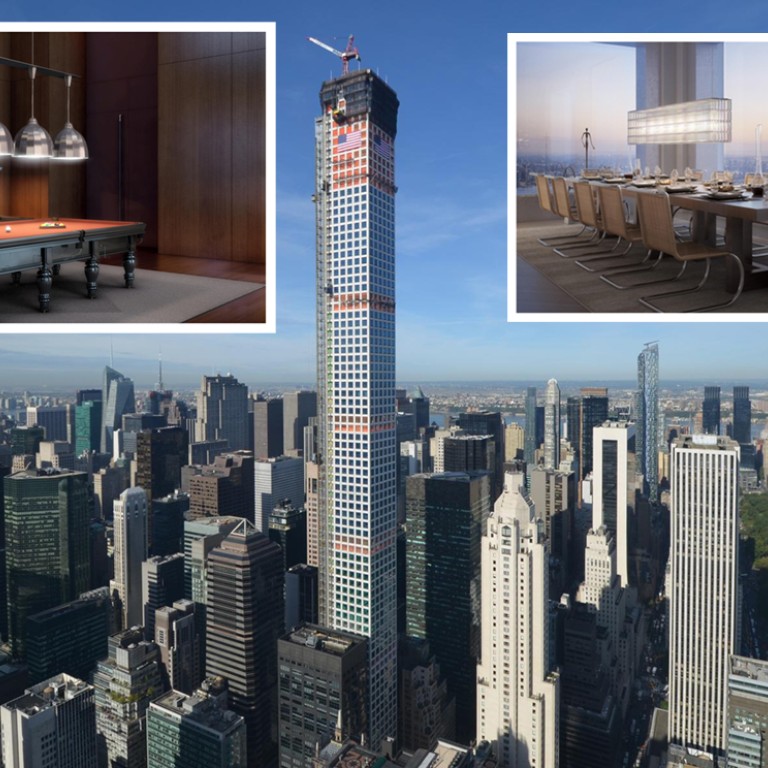 The Big Apple bears fruit
New York luxury sector is heading up in value as investors pile in, writes Mukul Munish
New York's luxury property market is on the way up as the United States' economic recovery gathers pace. Research by property consultants IP Global shows that investments in New York still offers excellent potential, with the median sale price for Manhattan luxury apartments rising an impressive 13.3 per cent in the second quarter of this year.
And CBRE added gloss to the US luxury property market when it revealed in a recent research report that Asian investors are on track to spend more on US multifamily assets this year than at any other point in history.
The CBRE research showed that investment volumes by Asian buyers, mainly in cities such as New York, San Francisco and Los Angeles, from January to August accounted for US$522 million of completed transactions, close to bettering last year's total of US$537 million.
One project that has caught the eye of Asian investors is 432 Park Avenue, located between 56th and 57th streets in New York. The 96-floor luxury tower is developed by CIM Group and Macklowe Properties. The 426-metre building is billed as the tallest residential building in the western hemisphere and has 104 residences.
According to Harry Macklowe, who founded Macklowe Properties more than five decades ago, 432 Park Avenue has already achieved nearly US$1 billion in sales and more than 50 per cent of the residences are already under contract.
In a show of confidence for the US economic recovery, two-thirds of the residences under contract have been signed by US-based buyers, mainly from California.
The remaining one-third of residences under contract have been signed by buyers from China, South America, the Middle East, Britain and Russia. Macklowe says five residences have been signed by buyers from Hong Kong, the mainland and Singapore.
Buying an apartment is not cheap at 432 Park Avenue. Asking prices range from US$7 million to US$95 million, with the latter already having been paid for the building's only top-floor penthouse.
The developer says only two-, three- and four-bedroom units are available and all one-bedroom units have sold out. The completion of the building is set for autumn next year.
Like other luxury residences, the Park Avenue building is unique and offers amenities on a grand scale. According to the developers, the amenities begin about 30 metres above ground and comprise three full floors. About 30,000 sq ft of amenities include a full floor dedicated to entertaining with a lounge, private restaurant and adjacent outdoor terrace for dining and events; a 23-metre indoor swimming pool; a spa and fitness centre with sauna, steam and massage rooms; a library; a billiard room; and other services.
Harry Macklowe says 432 Park Avenue is situated on an opportune site that demands an exceptional building with design and materials that will stand the test of time.
"The building has been designed for, and discreetly marketed to, a sophisticated audience that expects every detail and finish to be carefully considered and of the finest quality," he says.
Richard Wallgren, executive vice-president of sales and marketing at Macklowe Properties, says that since the launch of sales at 432 Park Avenue, the firm has experienced notable interest from Asian markets.
"We are also noticing a trend of young Chinese couples planning their children's education in the pre-eminent boarding schools of Upper East Side of New York and New England. As such, 432 Park Avenue is of great interest to them as a base," he says.
CBRE senior managing director Peter Donovan agrees that Asian investors are attracted to markets where fellow nationals are likely to live and to US metropolitan areas that closely mirror the investment conditions found in major Asian cities such as Beijing and Hong Kong.
"This makes densely populated urban centres such as New York, Los Angeles and San Francisco obvious choices," he says.
The Park Avenue address has also been a key factor in attracting interest from investors in Asia, particularly Hong Kong and the mainland. Park Avenue is renowned for being home to wealthy domestic and international families and global leaders, while its proximity to Fifth Avenue, known for its luxury brand shops including Harry Winston, Prada, Bulgari and Gucci, adds to its attractiveness for high-net-worth investors.
In addition, the trend of wealthy Chinese buying US businesses and major commercial property continues to strengthen. A case in point is the sale last month of an iconic New York landmark, the Waldorf Astoria Hotel, which was bought by Anbang Insurance Group, a mainland company.
Wallgren says apartments in 432 Park Avenue fit within the context of diversification through the acquisition of trophy assets.
This article appeared in the South China Morning Post print edition as: The Big Apple bears fruit