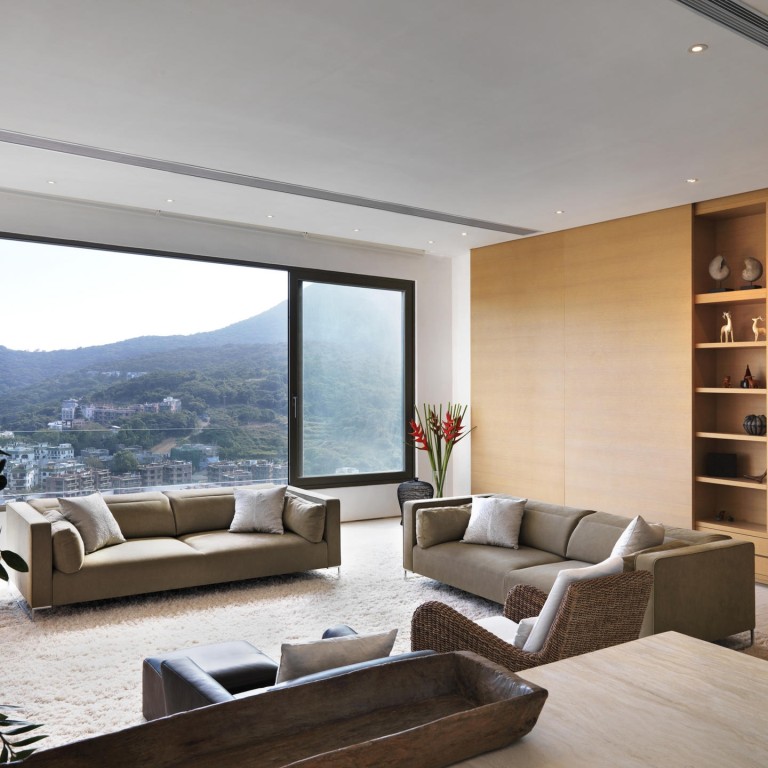 Hiding ugly infrastructure proving popular in homes
From air conditioners to cat litters, homeowners are asking for those necessary, but often ugly, bit and pieces to be disguised in elegant ways
There are some things the households of today just can't live without - like cool indoor air, whole- house connectivity, and a functional kitchen.
Just because we need the sources that deliver such comforts, doesn't mean we want to see them. Adrian McCarroll, managing director of Original Vision, finds that disguising ugly infrastructure tops the design brief for many of his clients, regardless of their home size. Air con units are the worst offenders.
Says McCarroll: "In a new build, we can duct the system so it's concealed. With existing wall-mounted air-cons, timber louvres help cover them up while still allowing a lovely air flow."
Adding structure around the unit - such as customised shelving or bookcases - can further play down its dominance on the wall, while providing additional storage.
No one wants to look at kitchen clutter but it seems unavoidable in open-plan homes. McCarroll's solution is to crib space from somewhere else to incorporate a "hold all" butler's pantry, keeping the benchtops clear. Because it can't be seen, the pantry's shelving can be left open which cuts down on the build cost. This also means that appliances are far more accessible - no more rummaging around at the back of cupboards or under benches, McCarroll says.
"People put things like fridges and ice makers in there, to keep everything neat and tidy. This works particularly well for open kitchens," he says. The pantry doesn't need to be large; nor does the flat: McCarroll has installed them in 700 sq ft village houses.
Another design trick is storage concealed behind sliding partitions in family rooms. Fitted shelves and compartments hold household detritus in an orderly manner, and when you want to restore a "presentable space", simply slide the screen and it disappears from sight.
The sliding door concept works well for laundry rooms, too, and can gain you floorspace if the panels are fitted directly in front of appliances. Or do away with the laundry altogether, and tuck a washer/dryer combo into the bathroom, utilising existing plumbing.
Latvian designer Rolands Landsbergs has a cunning way to keep the television out of sight when it is not in use. The MO wall TV stand from his Boxetti collection is a kinetic, functional wall-mounted cabinet with a twist: press a button on the remote control and the panels peel back to reveal the flat screen sitting snugly within.
Taking inspiration from the geometric forms explored by Russian artist Kazimir Malevich, Landsbergs' furniture incorporates various hidden functions designed to keep a space looking clutter-free. His TV cabinet has a matching MO coffee table with a slide-out compartment that the designer thought would be handy for keeping magazines or mini-bar supplies tucked away.
Dutch designer Nicole de Bie has a novel solution for making children's toys disappear in a jiffy: her soft storage box, the Hoppetee. Roll it out and it becomes a play mat, then bundle it up and everything stays neatly contained within. Tired of rounding up thousands of Lego bricks daily, American graphic designer and mother-of-two Sarah Kirk came up with the Swoop Bag, a sturdy canvas sack with a nylon drawstring. The large, circular bag acts as a play mat by day, and scoops up the tiny toys in one swift action when it is time for adults to reclaim the space. Made in kid-friendly colours, the Swoop Bag also comes in a smaller version for travel.
Constantly looking at pet necessities can be a bugbear for the human occupants of a shared household, but designers are handling that adroitly, too. The Designer Catbox Litter Box Enclosure by American cat-lovers Abby and Noah Cirincione looks like a stylish timber side table but, in fact, conceals your feline's litter tray and has a hinged lid for easy access. If remodelling the kitchen, another idea is to incorporate a floor-level drawer customised to hold the dog's bowls.
A narrow kitchen drawer can also be utilised as a concealed charging station. Have an electrician fit a power board to the back of the drawer (concealing the power cable behind the cabinetry) and you have a neat and tidy dedicated space to put away smart phones and notebooks.
But if you're renting or simply need a quick fix, you can always sling up a curtain to keep the ugly bits at bay - a cheap and cheerful way to restore homely order in a flash.
This article appeared in the South China Morning Post print edition as: Infrastructure cover-upproving popular in homes