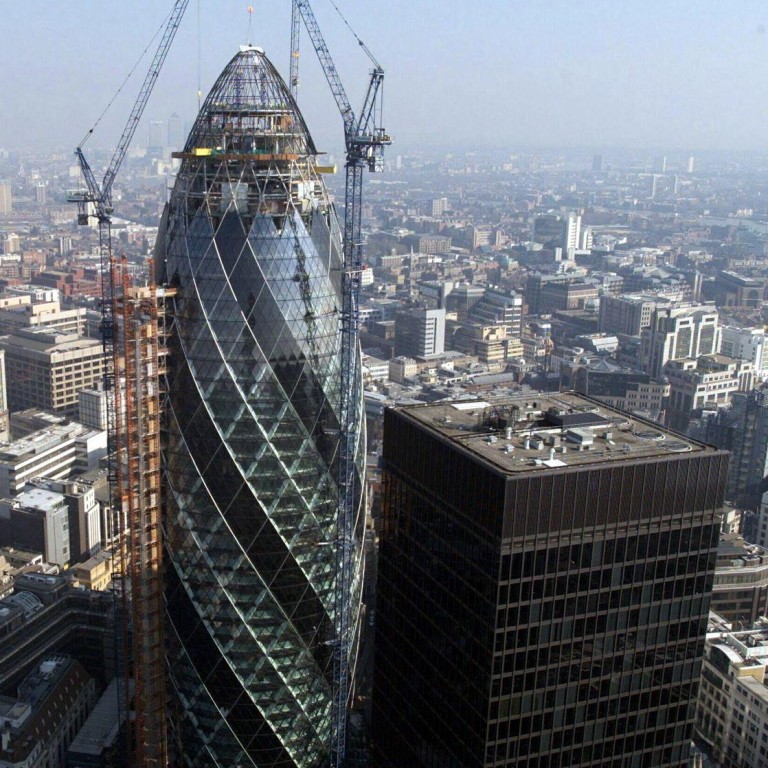 British-based banks planning for EU 'no' face lack of European office space
Global banks consider quitting London if Britain opts out of EU membership, but leaving the financial centre would be no simple task
A shortage of prime office space in rival European financial centres may torpedo plans by some of London's banks to quit the city if Britain opts out of European Union membership.
Prime Minister David Cameron has promised to renegotiate Britain's relationship with the EU and then hold a vote by the end of 2017 on whether to stay in the bloc or leave.
Deutsche Bank, the euro zone's second-largest bank by assets, confirmed last week it was considering cutting its British operations if the country pulled out, and other big global banks are expected to rethink the scale of their British operations under such an eventuality.
But decamping from their expansive London homes to Frankfurt, Paris or Dublin would be no simple task.
"None of the major European cities could cater for that kind of demand at the click of fingers or even with six months notice," said Mat Oakley, head of commercial research at global real estate consultancy Savills.
"The markets across Europe are pretty tight in terms of vacancy rates and lenders are so risk averse in terms of speculative office development that a bank would have to do a pre-let [commit to rent a property before it has been built], or buy a site," he said.
Both of those options would incur large unnecessary costs if Britain stays in the EU.
"The potential referendum on EU membership bothers many of our clients immensely," said Miles Gibson, head of UK Research at real estate adviser CBRE.
"Even though we think the PM would campaign for an 'in' vote and would ultimately win, the sooner he can resolve this issue, the better."
London's status as a global financial centre dates back to the 16th century, when it became a hotbed of merchant banking, international trade and commerce strategically placed between the "Old World" Europe and the "New World" Americas.
Fortune-seekers have flocked to the capital in every century since and a large financial services industry now thrives in two main financial districts - the historic City and the modern estate of Canary Wharf, built in the late 1980s to accommodate banks keen to cash in on an era of light-touch regulation.
London was home to 143,500 banking professionals at the end of 2014, according to lobby group TheCityUK.
Office occupiers in the British capital typically allow 11.3 square metres per workstation, according to the British Council for Offices.
London-based banks tend to occupy this size of space in large buildings where trading and lending teams can work in close contact. So if they wanted to move 100,000 staff out of London, they would need to find 1.13 million sq metres of equivalent prime space elsewhere.
But there is just 1.46 million sqmetres of vacant prime and non-prime quality office space in Frankfurt, 941,000 sq metres in Paris and 451,111 sq metres in Dublin, data from real estate firm CBRE shows.
Some banks have already shifted back-office and support functions to countries like Ireland.
But Dublin is not an easy option for any substantial future move either, having seen the largest annual increase in prime office space occupancy costs - a proxy for demand - worldwide, recording a 34.9 per cent rise year on year in 2014, CBRE said.
Just 1.8 per cent of the city's total Grade A office space - prime real estate in its two best postal districts of Dublin 2 and Dublin 4 - was available to rent at the end of the first quarter of 2015, further data from the real estate adviser showed.
As a result, says Oakley, many of his financial services clients have suggested they are likely to leave the bulk of their operations in place whatever the referendum outcome.
"The practicalities of hiring or moving 1,000 to 5,000 staff to comparatively small markets in Ireland, France or Germany were so spectacularly difficult, they couldn't envisage moving lock, stock and barrel," he said.
While other banks may be concerned about the impact of Britain leaving Europe, many of them are pressing ahead with building projects in London that would appear to secure the city's position as Europe's top financial centre.
Goldman Sachs, which employs about 5,500 people in Britain, is building a new 111,500 sq metre European headquarters in London's Farringdon business hub.
Separately, construction is under way to create a new 65,000 sq metre City base for Swiss bank UBS.
And even Deutsche Bank - despite its worst-case scenario contingency plans - is looking to rent additional space in Canary Wharf to house people from several London offices, according to a source with knowledge of the matter.
Deutsche employs about 9,000 people in Britain in 16 locations, with the bulk of them at its Moorgate headquarters.
"It's not as binary as just simply moving out of the UK altogether," said one investment banking source speaking on condition of anonymity.
"There are many reasons why banks are in the UK. Their clients are here, it has the biggest stock exchange in Europe. It's not all or nothing."
France's Societe Generale has also signed up to a 25-year lease on 26,000 sq metres of offices currently under construction in Canary Wharf. The bank is due to move in in 2019.
JP Morgan, meanwhile, which employs about 19,000 people in Britain including 11,000 in London, says it has no special task force in place to consider what an exit from the EU would mean for its British business.
Perhaps some remember a previous move away from London made by several major hedge funds in 2009. They included Brevan Howard, which moved its main office to Geneva as tax rate rises and tighter EU regulations loomed.
Three years later, however, it was on the hunt again for properties in London. Hedge fund industry sources said the plan suggested some traders were missing the city's buzzing night life.
"We could move our HQ wherever we want," said one senior investment banker who spoke on condition of anonymity.
"We would never do this as London is a market that allows you to attract talent.
"If you want to be close to the action, you have to be in London."
This article appeared in the South China Morning Post print edition as: Europe's lack of space killing U.K. exit plans