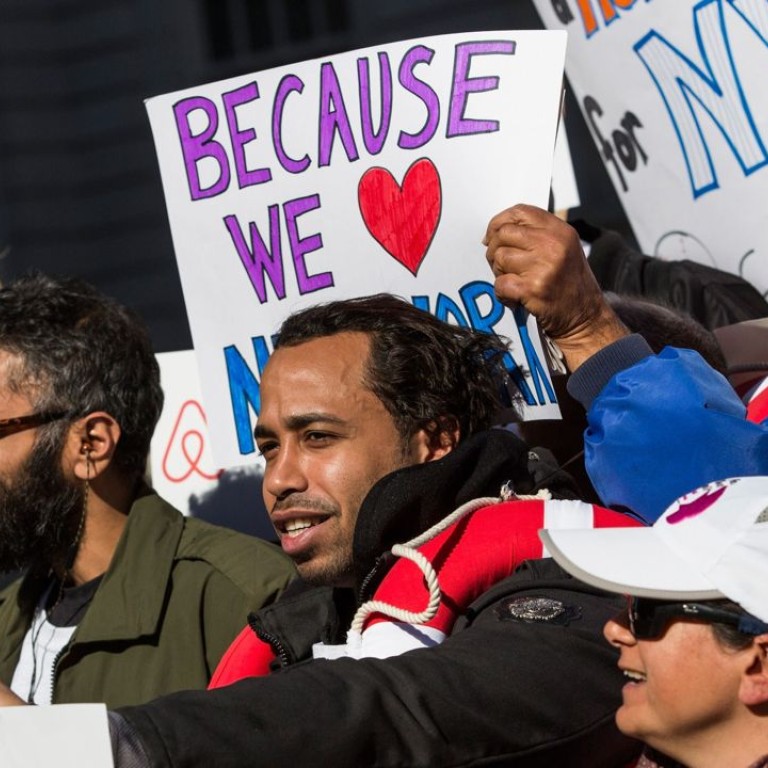 New

|
San Francisco votes on measure targeting rental site Airbnb
Residents to decide on proposal that may reduce the supply of short-term home rentals in city facing severe housing crunch
In a city where real estate is an intensely political and highly contentious topic, San Franciscans were to vote on Tuesday on a measure that would curtail use of short-term rental sites like Airbnb by cutting the number of allowable rentals to 75 nights a year per unit and adding other restrictions.
A severe housing crunch in San Francisco has made short-term rentals a major flashpoint. Supporters of Proposition F say Airbnb takes desperately needed rental units off the market. It is supported by hotels, hotel unions, landlords, housing activists and some neighbourhood groups.
"A lot of people think that San Francisco is becoming a rich person's city and their argument is that this is taking away housing stock from tenants," said Margaret Russell, a law professor.
Prop F opponents say sites like Airbnb allow residents to bring in extra income from unused rooms so they can afford to stay in a city where real estate values are going through the roof.
The No on F campaign is mainly supported by Airbnb and a coalition of its hosts. Airbnb, the San Francisco-based home-share site led by chief executive and co-founder Brian Chesky, has donated more than US$8 million to defeat the proposed measure, according to the San Francisco Chronicle.
"Prop F is a hotel-backed measure that is falsely drawing a line between regular San Franciscans sharing their homes and a decades-long housing crisis," said Christopher Nulty, an Airbnb spokesman.
Cities around the nation are grappling with the rapid proliferation of what is sometimes called the "peer-to-peer economy", whether it is rooms on Airbnb, car rides on Uber or odd jobs on TaskRabbit.
This spring, Santa Monica banned whole-apartment rentals for fewer than 30 days. Some New York City Council members have proposed raising fines for illegal short-term rentals to US$10,000. New Orleans is discussing regulations. A Massachusetts politician believes short-term rentals should be subject to inspection.
While Prop F is being touted by some as a referendum on the entire notion of the sharing economy, it was more a product of the politics around building in San Francisco, said Enrico Moretti, a professor of economics and expert on urban economies.
"Rents and housing prices are increasing in San Francisco by and large because San Francisco has constrained new housing", not because of Airbnb and short-term rentals, Moretti said.
Airbnb is the largest of multiple sites that allow people to rent out rooms or entire apartments and houses short-term, with all payments handled through the web.
The city of 837,000 has about 6,000 Airbnb "hosts" who use it for short-term rentals. About 35 per cent of Airbnb listings in the city are for entire apartments or homes, the rest for rooms, according to Airbnb.
For Blase Hents, renting out a room in his four-bedroom flat makes it possible for him to work at a non-profit and still afford San Francisco.
Hents and his partner share one room, they have roommates in two others and the fourth room he rents out on Airbnb for US$100 a night. He sometimes also rents out a tiny five-foot wide room that just fits a bed and a dresser.
Being an Airbnb host gives him flexibility. "If I had to get a tenant for one of those rooms, when my mother came I wouldn't have a place for her," he said.
Those who live near Airbnb rentals are not always so pleased.
Alan Resnik has lived on San Francisco's Telegraph Hill for five years. He said his block had gone from a community feel to more like a hotel, with one house and units in two apartment buildings being used almost completely for Airbnb rentals.
"People are coming and going with suitcases multiple times a week," he said. "These people are running businesses and it's really unregulated and it needs to be regulated."
Due in part to an influx of technology jobs and in part the difficulties of building housing in the often change-adverse city, housing prices in San Francisco in the past few years have gone through the roof.
A one-bedroom apartment without parking was renting for about US$3,000 in August, according to an analysis by the site .
Rental units make up 65 per cent of the city's housing stock, but home prices, too, are rising. The city has one of the nation's highest shares of homes worth more than US$1 million, 58 per cent, according to real estate site Trulia.
Under San Francisco rules, only permanent residents may rent out rooms or their homes for fewer than 30 days. They must register with the city and pay a 14 per cent hotel tax on what they earn from those rentals.
Those regulations themselves came as part of a fiercely fought battle earlier this year in the city's board of supervisors, the equivalent of a city council, which made short-term rentals legal.
If Prop F passes, hosts would only be able to rent for 75 days a year, down from 90. They would be required to submit quarterly reports to the city detailing how often they rented to travellers and how many days they lived in their home. Short-term rental of in-law units would be illegal. Building owners would be notified by the city if their tenants were renting out their units short term, as would everyone who lived within 100 feet of the unit being rented.
Prop F, brought to ballot as an initiative by a petition drive, requires majority voter approval to pass. If it does, it would go into effect in January next year.
One of the more contentious portions of the measure would allow neighbours to sue those who violated the rules for up to US$1,000 a day.
Current polling showed Prop F losing by 19 points, Nulty said.
A survey conducted from October 25 to 27 found that 55 per cent of likely San Francisco voters would vote no and 36 per cent yes.
Residents are being inundated with paper mailers on both sides of the issue, along with television advertisements and billboards. Airbnb got heat last week when it posted snarky advertisements implying residents should be grateful for the taxes it brings in.
The fight took a national turn last week when a New York-based group called ShareBetter launched an online aimed directly at Airbnb. Funded by hotel unions, elected officials and housing activists, the video accuses Airbnb of allowing corporate real estate interest to covert housing into hotels and evict tenants.
The real reason other cities should take notice of Prop F and the San Francisco election was because platforms like Airbnb created a parallel business system, a part of the economy that's beyond the reach of regulation, Russell said.
"If they don't like what's happening in San Francisco", they needed to get going with their own regulations, she said.