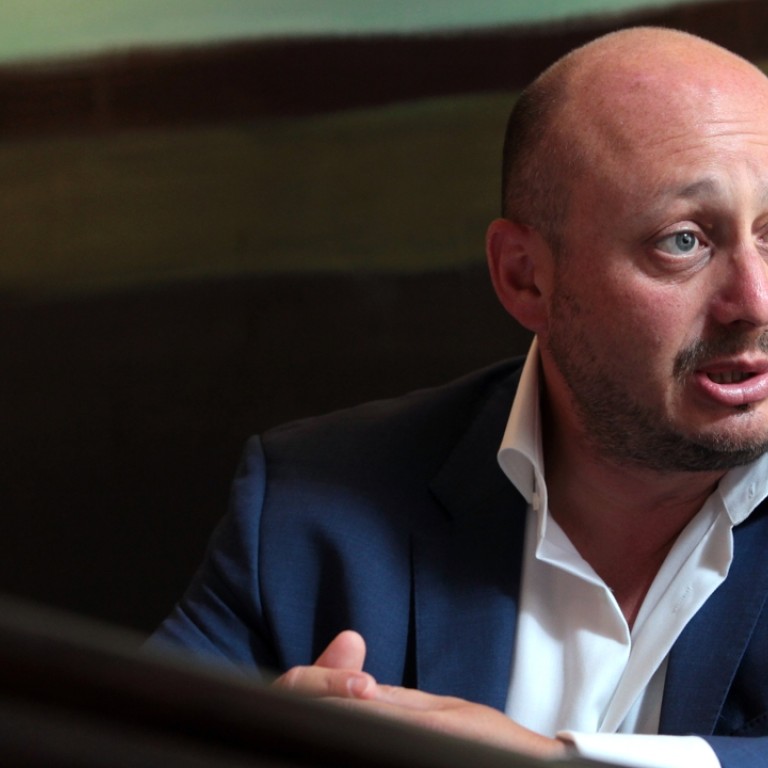 New
From property to basketball, Melbourne developer Larry Kestelman targets Asia market
Larry Kestelman, the developer of Melbourne's tallest apartment project, recently was in the spotlight in Hong Kong's luxury property circle by bringing Oscar-winning actress Charlize Theron to promote his luxury property development, Capitol Grand, to Asian buyers. Kestelman's other business ambitions include basketball. He has taken a controlling stake in Australia's National Basketball League, which launched its 2015 to 2016 season last month. Kestelman hopes to expand the league to include teams from Asia.
It had been reported that you paid Hollywood actress Charlize Theron A$3 million to promote the development. Is the figure correct?
I am not going to confirm or deny it. Of course she gets paid to do a job. But to get Charliz to endorse a product , you first have to have a right product.
Did she buy?
We will have an apartment set aside for people like her and other celebrities to come and stay there. She does not need to have an apartment there as she does not come to Melbourne on a regular basis.
Are wealthy Chinese buyers your company's target? How many units are planned to sell to Chinese buyers?
We had a great take-up in Australia by affluent Australian buyers. We sold about 100, out of 400 units.
Right now we are targeting Hong Kong and we will go to mainland China. We see Asia as a whole. We will sell units in Asia. We do believe there is a high demand.
What is the outlook of the Melbourne market? How to compare it with Sydney?
Melbourne is a playful city. It is all about lifestyle, fashion and events. Sydney is still more expensive. I would say Melbourne prices are 20 per cent cheaper than Sydney. But the outlook is good with growth expected to reach 7 million residents, compared to 5 million at present.
What is the rental yield of this property?
Whenever you make a property purchase, the main thing is to look at its capital growth. When there is something that cannot be replaced, I believe the capital appreciation will be great. I look for capital appreciation because of its uniqueness. If you compare Capitol Grand with the few other luxury developments in Melbourne, prices are 20-30 per cent higher.
You have stuck with Melbourne. Have you ever thought of investing elsewhere?
I have spent 25 years on Melbourne. We have done numerous developments in Melbourne, that is where I grew up. I know the market. I am quite happy in Melbourne. There is no reason [for me] to diversify. There are a lot of good developers in Hong Kong, they don't need me.
How can you obtain the site? What is the overall development cost?
Overall development costs will be somewhere A$800 million [HK$4.38 billion].
If helps to be a local. If you know the site and know the owners and you work with them for a long time. We were working with the owner before they actually got the permit. I know every corner and every street (in Melbourne).
There is a growing number of mainland developers investing into Australia. Have you considered teaming up with mainland developers to build properties in Melbourne?
I would be open to it. But I am used to do things over the years myself. This is something new to me.
What made you turn to property developer?
I actually started from property. When I was 25. I bought the first plot of land and divided it into two townhouses for resale.
When it comes to technology, how do you incorporate new trends into your projects?
When it comes to your own home living, a lot of people do not want it to be too complicated. There are many beautiful and simple things we need. When we start over complicated, it will become annoying. I love simple things. The basic thing I love is switching all lights in one go.
Apart from technology and property, you also have a big investment in the National Basketball League. You have an agenda of making basketball the number one sports entertainment product in Australia.What is the plan?
I love creating businesses and creating opportunities. I want to see it improving and flourishing. I take it as a business. I do not take it on as a hobby. I will be promoting it and building the league. We are opening doors inviting Asian players to participate . We are looking to bring in a club either from mainland China or from the Philippines or from the region to play our competitions.
I am very keen to make it into a good local league. In Asia and Australia, we love our basketball. China has raised the standard in a big way. There is no reason why we cannot work together to increase the popularity and standard.I have every intention next year for the business of basketball to be profitable.
How many hours do you work every day?
Twenty-six.