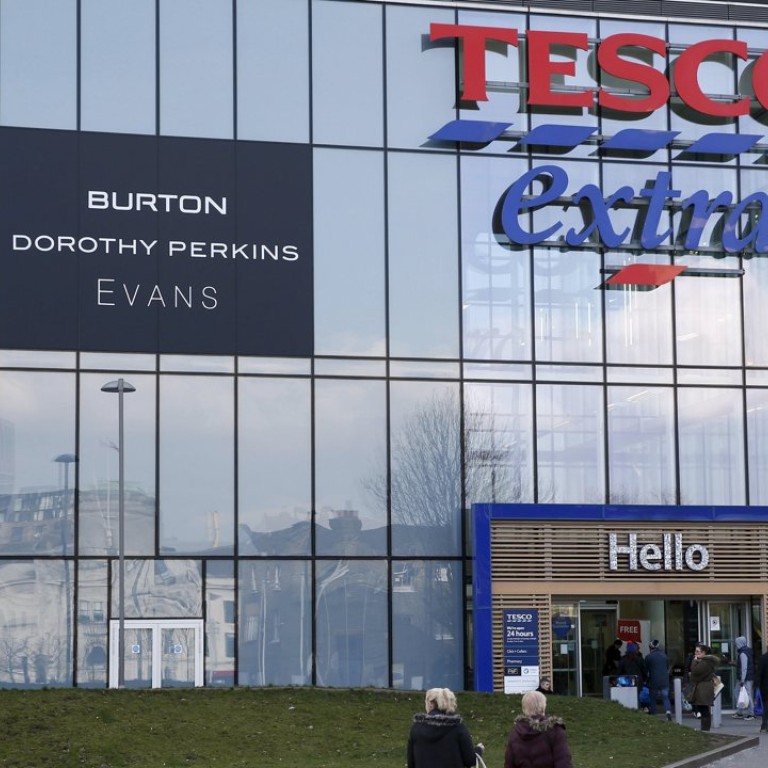 British retailers invite rival brands to fill their empty spaces
As online deliveries surge and shop sales fall, Britain's retailers are looking to fill their once bustling stores with new attractions – such as rivals' fashion brands
As online deliveries surge and shop sales fall, Britain's retailers are looking to refit their once bustling superstores with new attractions such as rivals' fashion brands to fill empty spaces and keep shoppers coming through the door.
In a shift in strategy aimed at making the space profitable and avoiding store closures, retailers such as Tesco have also started experimenting with gyms and children's play areas to entertain customers.
"You've got more choice. It's a bit like a shopping mall where you can come and look at different things," said healthcare worker Margaret O'Regan, who was browsing clothes from the privately-held Dorothy Perkins, Burton and Evans brands in a huge Tesco store in Woolwich, south east London.
The brands have 20,000 square feet of the store's 120,000 sq ft, replacing space previously taken up by Tesco's toys, stationery and technology offers, some of which are now only available on its website.
In the four months since the brands went in, shopper numbers at the Woolwich store have risen.
A Tesco spokesman said the changes at Woolwich were illustrative of Tesco Chief Executive Dave Lewis' strategy to turn around the business, giving shoppers more choice so they start to see superstores as the most convenient way to shop again.
"We are always looking at new ways our stores can meet the needs of local customers. We're pleased with the feedback from customers in Woolwich who tell us they like the store's convenient range of fashion options," he said.
Thousands of small shops have disappeared from British towns in recent years, unable to compete with the lower costs and prices of online outfits and bluechip retailers such as Tesco and Marks & Spencer could join the exodus.
"The UK is very advanced in terms of online shopping," said Neil Saunders, managing director of retail research firm Conlumino. "As other regions catch-up with that they will experience similar problems and similar issues."
In the UK online sales as a percentage of total sales rose to 15.2 per cent in 2015 from 13.5 per cent in 2014, according to the Centre for Retail Research, compared with 11.6 per cent in Germany, 8.0 per cent in France and just 2.5 per cent in Italy.
Britain's supermarket sector alone added around 35 million square feet between 2007 and 2014 even as online shopping rose and the digital shift looks unstoppable.
Sainsbury's, Britain's second biggest supermarket, has acknowledged that it now has around 6 per cent excess space, or about 1.5 million sq ft.
A big part of the rationale for its £1.3 billion (HK$14.3 billion) proposed takeover of Argos-owner Home Retail is to bring Argos concessions into its stores to absorb this space.
"The coming together of the two organisations would allow us to optimise the space and optimise the space quickly," said Sainsbury's chief executive Mike Coupe.
The Argos concessions will complement other moves by Sainsbury's to exploit under-utilised space through existing partnerships with Jessops, the photographic shop, and Timpsons, the shoe repair and key cutting firm.
Tesco has also struck deals for third party outlets with firms such as Sports Direct, Mothercare, Claire's Accessories and Sock Shop and is testing gyms and soft play areas in some stores. Similarly Wal-Mart's Asda recently agreed on a deal to give space over to Decathlon, the sports equipment and sportswear retailer.
Matthew Hopkinson director of retail property experts The Local Data Company expects a proliferation of retail tie-ups.
He said store groups are asking themselves: "What are the other things that you can bring in under the roof that make customers feel happier and therefore spend more?"
If retailers can't make stores profitable the alternative is closure.
Tesco has closed 61 stores since Lewis became CEO in 2014, while Morrisons, Britain's No 4 grocer, has closed 21 supermarkets and plans to close seven more, saying it can't see a way to make them profitable.
Analysts say Marks & Spencer, the country's biggest clothing retailer is ripe for a major store rationalisation.
In its Christmas quarter M&S grew online sales by 21 per cent and although it did not break out general merchandise sales for its stores only, analysts have estimated a year-on-year decline of over 8 per cent.
The firm has been tinkering with its near 900 UK stores, dedicating a little more space to the faster growing food over clothes.
There has been speculation that M&S, whose clothing offer is entirely own brand though it does sell some third-party food items, could bring in rival clothing brands. This has, however, been dismissed by CEO Marc Bolland, who will be replaced by Steve Rowe in April.