Britain
Get more with myNEWS
A personalised news feed of stories that matter to you
Learn more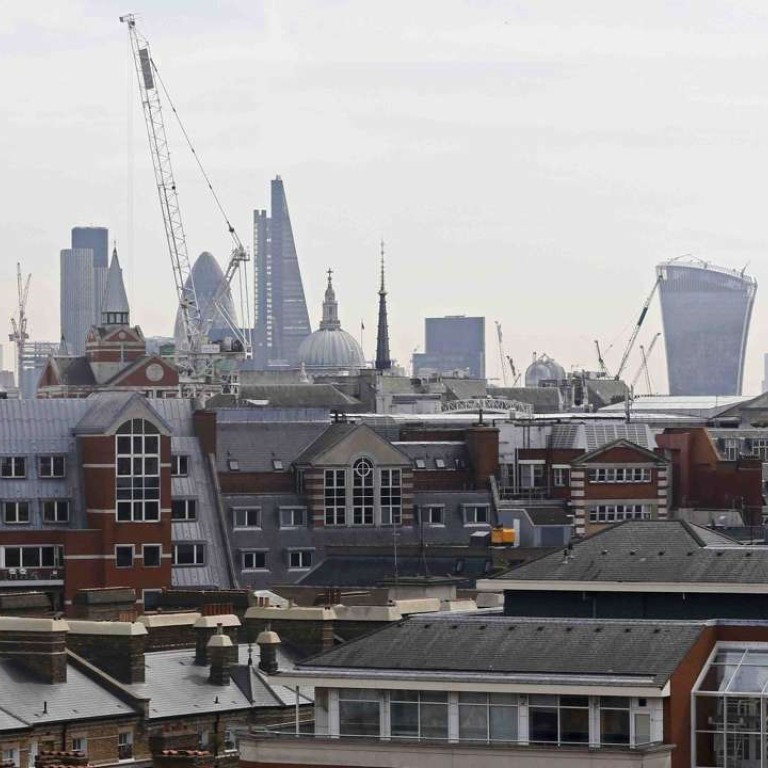 London's office market withstands Brexit flight risk
Vacancy rate in the City much lower than in Frankfurt and Paris in the first quarter
The prospect of Britain quitting the European Union has inflicted little damage so far on demand for space in London's financial hubs, first-quarter rental data suggests, despite some warning signs from investment banks.
A year after Prime Minister David Cameron's election win fired the starting gun on the European Union membership vote, London remains Europe's most "in-demand" office market, and there is little sign of an uptick in rivals Frankfurt and Paris.
Research from real estate broker CBRE shows only 2.9 per cent of office space in the City, London's historic financial district, was available for rent in the first three months of the year, compared with 12.2 per cent in Frankfurt, 6.3 per cent in Berlin and 6.8 per cent in Paris.
Rents are also rising, underlining demand among occupiers, although early second-quarter indicators on yields suggest investor confidence has started to wane.
Such figures may assuage concerns among those worried that firms would slash their London operations or even abandon the city altogether in the run-up to the June 23 referendum.
Uncertainty has infected broader market sentiment, with the pound losing 5.6 per cent of its value against the US dollar and 10.3 per cent against the euro in the past six months.
But London's real estate market is holding firm.
Prime rents in the City rose 7.7 per cent year on year in the first quarter, compared with 1.3 per cent growth in Frankfurt and zero growth in Paris, according to CBRE.
"Leasing is a pretty big decision for most companies and we have seen quite a scramble for space in London over the past few years. Most companies are still expecting a vote to remain," said Neil Blake, CBRE head of research.
Meanwhile, rents in London's skyscrapers are rising faster than those in any other global city, according to the latest Skyscraper Index from property services firm Knight Frank.
The report, which examines the rental performance of commercial buildings over 30 storeys across the world, shows that average rents in London skyscrapers rose 9.7 per cent to US$126 per square foot in the second half of last year.
Skyscraper rents in Paris' La Defense financial district were flat over the same period, while in Frankfurt, rents dropped 1.16 per cent.
"There has been much debate around the future of London's skyline but the rental performance of the capital's skyscrapers points to the fact there is huge demand for space in landmark, tall buildings," said Will Beardmore-Gray, head of Knight Frank's tenant rep and agency business. "We expect upward pressure on rents to continue."
One of the reasons is that major banks reckon there is no easy alternative to London, home to the European headquarters of the likes of Bank of America Merrill Lynch, Morgan Stanley, JPMorgan and Citi.
"Nowhere else has scale, nowhere has a major market in this time zone. Nowhere comes close to London," said one senior executive at an investment bank.
Reflecting this, Swiss bank UBS is preparing to move into a newly built 65,000 square metre City base, and construction is under way to create a 111,500 sq metre European headquarters for Goldman Sachs.
But despite the resilience of London's rental market, there are signs that investors are retreating as the referendum nears.
Average prime rental yields on British commercial property rose 7 basis points to 4.69 per cent in April, the biggest monthly change since June 2010, data from Savills shows.
This means buyers are demanding more annual income from a property deal to offset the risk of their investment. The caution follows speculation that some banks might consider moving if Britain does leave.
HSBC Holdings has said it could move about 1,000 employees from London to Paris in the event of a vote to leave the EU and other banks are privately making contingency plans for the activities they may have to shift out of the British capital.
Credit Suisse has already shifted some trading jobs to Dublin, and is looking at moving nearly 2,000 jobs out of London to lower-cost centres such as Poland and India.