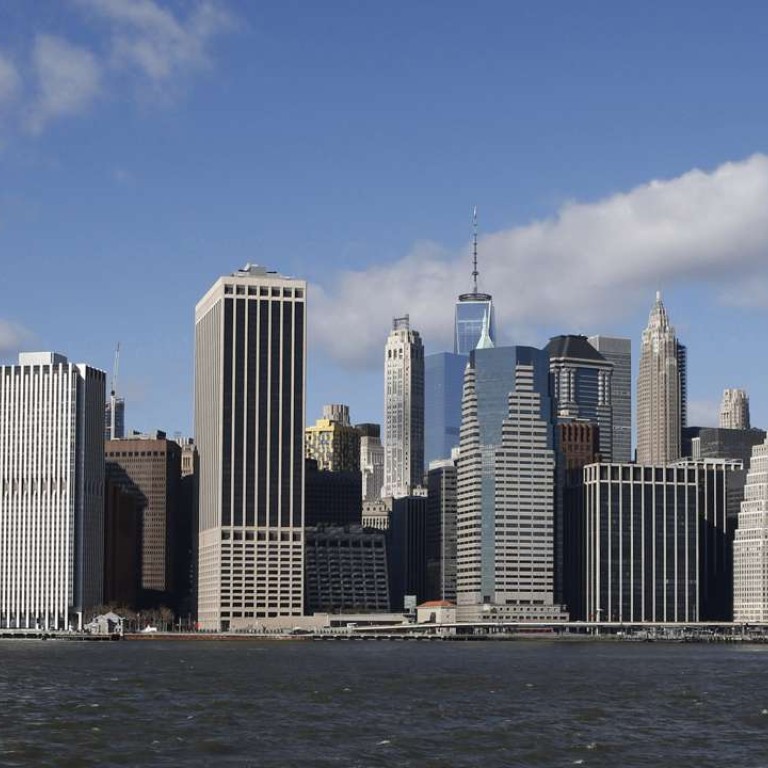 Manhattan luxury-condo glut ends developer rush for land deals
Sales of land parcels slump as buyers and sellers disagree over prices
New York's condo slowdown is upending the market for one of the most coveted assets in tightly packed Manhattan: land.
Sales of parcels for development are plummeting as builders, seeing signs that a once-hot property market is cooling, offer prices that sellers won't agree to. Just 48 land deals were completed in the first half of 2016, compared with 79 in the year-earlier period and 73 in 2014, according to brokerage Ariel Property Advisors. That may be a sign of a broader real estate slowdown to come, since land is often a leading indicator for the rest of the market.
"Land is always one of the first asset classes to drop in value when a market is transitioning," said Robert Knakal, chairman of New York investment sales at Cushman & Wakefield. It's "indicative of the perspective that developers have of what the market is going to be like two or three years from now."
Real estate investors bid up prices for Manhattan lots to records in recent years as they raced to build condominiums aimed at wealthy individuals, many of them foreigners seeking a haven to park cash. The soaring land values in turn fueled ever-higher prices for condos as developers sought to recoup their costs. Now, sales of high-end apartments have cooled as buyers from areas such as China and Brazil pull back amid slowing economic growth, a strengthening US dollar and a prolonged slump in oil.
Residential properties, typically the most profitable use of Manhattan plots, are the primary drivers of land values in New York, according to Jon Epstein, a principal at brokerage Avison Young. A year ago, the baseline assumption was that a condo project could generate US$2,500 per square foot when completed, he said. Now, that number is closer to US$2,100. Bids for development sites are coming in 20 per cent below what sellers were getting at the peak, leading to a stalemate, he said.
"You're not going to really see any real evidence of this," Epstein said. "Land sellers don't sell if they don't get near their ask."
Lenders are increasingly skittish when it comes to financing the construction of luxury residential buildings and other risky developments. Projects with approved designs and fully fleshed-out development plans are struggling to get bank funding, according to Scott Rechler, chief executive officer of RXR Realty, which has about US$15 billion of real estate throughout New York, New Jersey and Connecticut. It's even more difficult to get banks to fund the acquisition of a plot of land with no clear outcome in mind, he said.
As a result, there may be fewer cranes dotting the New York skyline over the next few years. That could make space for savvy developers to get a jump on the next market upturn, according to Samvir Sidhu, CEO of Megalith Capital Management, whose projects in the works include a condo building on the Upper West Side and a five-unit loft conversion in Tribeca. Megalith is evaluating opportunities to work with people who have recently acquired land and are looking for partners, he said.
"The phone does ring reasonably frequently with folks that have acquired land or are in contract to acquire land, and recognise that the market has changed," Sidhu said. "It could be advantageous to be one of the few projects starting in 2016."
While the downfall of a decadent condo boom tends to hog the spotlight, all corners of the New York real estate market are facing challenges. Apartment landlords are offering concessions to sign tenants as a slew of new units become available, while a glut of hotel construction is dragging down room rates. Office owners are contending with a shrinking financial-services industry and increased competition from new towers being erected downtown and at the sprawling Hudson Yards complex. All of these factors filter into land values.
There is "a lot that needs to be played out before we can really determine where prices are going to be in a year or two," said Shimon Shkury, president of Ariel Property. "We are in the beginning stages."
The average price paid for a square foot of land to build on in Manhattan was US$694 as of June 30 – slightly higher than the 2015 average, according to Cushman & Wakefield. But that figure is skewed both by deals that were agreed to last year and by the paucity of recent data points, Knakal said. 
Indicators such as the drop in land deals, deteriorating fundamentals and a plateau in real estate values suggest that a downturn in the Manhattan property market is already under way, Knakal said. Real estate weakness is being masked by low interest rates, a rising stock market and turmoil abroad, he said.
"Fear is a little more pervasive; people are being a little more cautious," Knakal said. "The market is correcting."
Prices for land vary widely, depending on the neighbourhoods and zoning, with developers at the most attractive sites paying twice the average, Shkury said. In one of the highest-profile deals, Ziel Feldman's HFZ Capital Group paid US$870 million for a full square block in Chelsea in May 2015. That price equates to about US$1,138 per buildable square foot, making it among the most expensive development sites ever sold, Ariel Property's data show.
HFZ is seeking to build smaller apartments, with prices starting at less than US$4 million, Feldman said in an interview shortly after the land purchase closed. The developer is currently excavating and driving pilings at the site, according to Harriet Weintraub, a spokeswoman for HFZ. She declined to comment further on plans for the project.
Smaller sites for more modest uses are still attracting buyers, Shkury said. His firm recently negotiated a contract for a 14,860-square-foot (1,380-square-meter) lot at the corner of Lexington Avenue and 29th Street.
"The condo market needs to be treated less monolithically," said Will Silverman, a New York-based managing director at Hodges Ward Elliott, real estate brokerage and investment banking firm. "Just because the market for Bentleys has slowed doesn't mean you can't sell Lexuses."
This article appeared in the South China Morning Post print edition as: Luxury condo glut ends Manhattan land rush