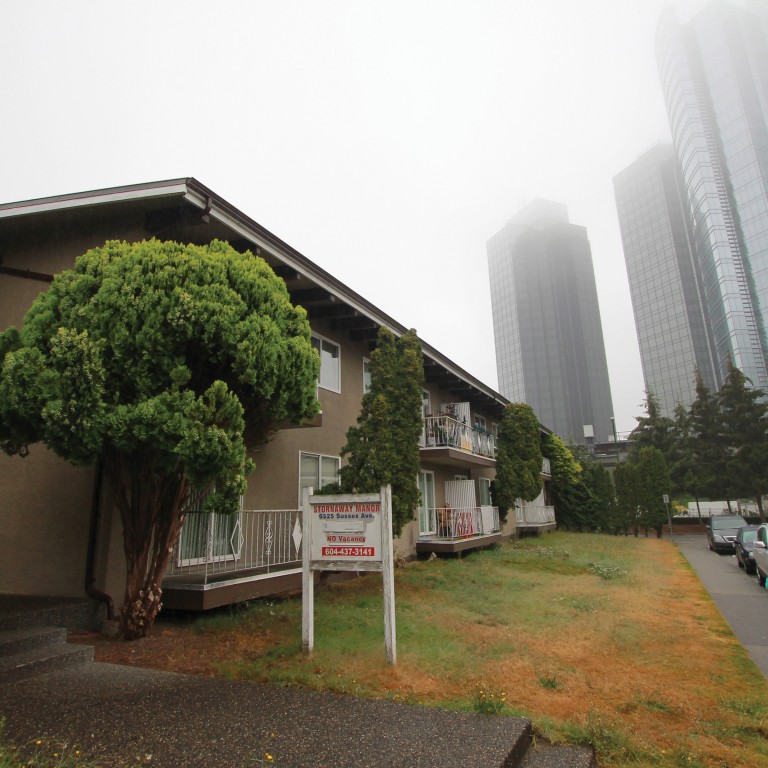 Duelling lawsuits over major Canadian city property deal expose area's worth
Businessman, realty firm in court fight after properties sell for almost triple assessed value
Three properties in Burnaby assessed for a total of less than C$15 million (US$11.7 million) sold for C$40 million (US$31 million) in May, and a pair of duelling lawsuits over the property deal has exposed details of just how much increased density in the Metrotown area is worth to developers.
On July 5, businessman Wen Xue Wang sued Vancouver Home Park Realty Ltd., agent Laura Zhao and her personal real estate corporation, and company president Raymond Zhao in BC Supreme Court. Wang claims he retained Laura Zhao when he bought three properties on Sussex Avenue in Burnaby. Prior to the sales and subsequent assignments, Wang claims the Zhaos had him sign a "bonus agreement" that he didn't understand.
"Wang, who is of Chinese ethnicity, and cannot understand, read nor speak English, asked Laura and Raymond to translate the bonus agreement so he did not understand its contents and relied on Laura and Raymond to explain it to him," the claim states. "Raymond and Laura informed Wang that the bonus agreement was for disclosure purposes as required by the Real Estate Council of BC."
But Wang claims he was induced to sign the agreement under false pretenses after discovering that C$300,000 (US$233,172) was "erroneously deducted from his portion of the assignment fee."
"The bonus agreement was created by Laura ... solely for her own personal gain and for no benefit whatsoever to Wang," the claim states.
While Wang's lawsuit contains few details about the deals for the properties at 6525, 6559, and 6585 Sussex Avenue, a suit filed on July 11 by Vancouver Home Park Realty Ltd. against Wang states that the properties ultimately sold for C$40 million. The realty firm claims in a notice of civil claim that Wang had an "exclusive listing agreement" with the firm for the three properties, listing them for C$38.7 million (US$30.1) between Nov. 30, 2015, and May 30, 2016.
"The plaintiff actively marketed the properties for the defendant in accordance with the terms of the exclusive listing agreement," the claim states. "Unbeknownst to the plaintiff, while the exclusive listing agreement was still in effect, the defendant hired another agent to market the properties."
Vancouver Home Park Realty claims Wang owes more than C$1.5 million (US$1.2 million) in commissions under the listing agreement.
The company's lawyer refused to comment on the lawsuit.
"At this time we would have no comment as to what Mr. Wang did, or didn't, do and we are not in a position to speak to his motivations," says Kevin McKenzie of Cummings McKenzie.
Wang's lawyer also refused to comment on the lawsuits or the size of the deal.
"At the heart of this litigation matter is the real estate commission bonus dispute, and not the purchase price of the properties in issue," according to Bernard Lau.
None of the lawsuits' allegations have been tested or proven in court.
Realtor Casey Weeks, a vice-president with Colliers International who handled the sale of 6585 Sussex, says he couldn't comment on the lawsuits involving Wang and Vancouver Home Park Realty. But Weeks said the deal's price and assessed values of the properties are so far apart because the current zoning allows for a 40-storey highrise on lands currently occupied by low-rise rental stock.
"It's a prime location," Weeks said. "It's right across from the SkyTrain station. Transit-oriented development is desirable for condo buyers and retailers and office users who will all be part of the mixed-use development whenever it's redeveloped. When you go from a very low- or medium-density site to a highrise site, it's going to fetch a much higher price, and that's what happened."
According to land title documents, all three properties are now owned by 6511 Sussex Height Development Ltd., which was formerly a numbered BC company. It shares an address with Thind Properties Ltd. on Kingsway, but no one from the company responded to BIV's request for comment by press time.
For broker Brandon Harding with NAI Commercial, the size of the deal at the heart of the lawsuits was surprising, but not unpredictable. Harding wrote in May of last year that Metrotown was experiencing a "calm before the storm" due to the City of Burnaby's aggressive land-use plan to raise density around the mall. Having been involved in many deals in the area, including the properties that were the subject of so-called "demoviction" protests, he said that prices in the area are indeed rising due to future development potential.
"The city picks where they want to throw highrises, and you just get, you know, a lottery ticket," Harding says. "Your profits basically double. When you can put a big tower on a little piece of land, it's obvious that the land values are going to skyrocket. And when you take away all that [rental] supply, obviously people are going to get upset."